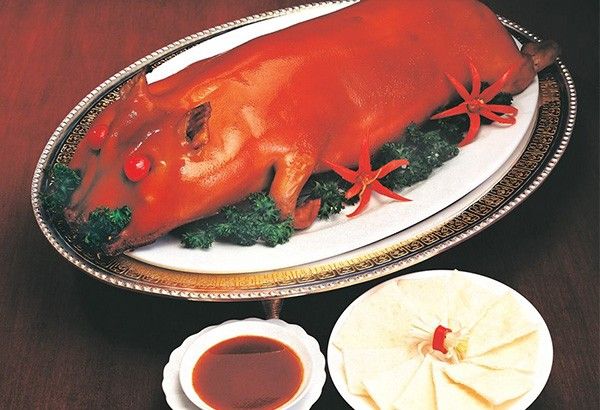 Suckling pig
Jade Garden/Released
LIST: 15 rainy days comfort food
MANILA, Philippines — Filipinos love to eat and want to try different cuisines along the way.
These rainy days, craving for food could be more intense. Fortunately, more and more food stores are opening in the country to satisfy one's hunger.
Philippines' cuisines under one roof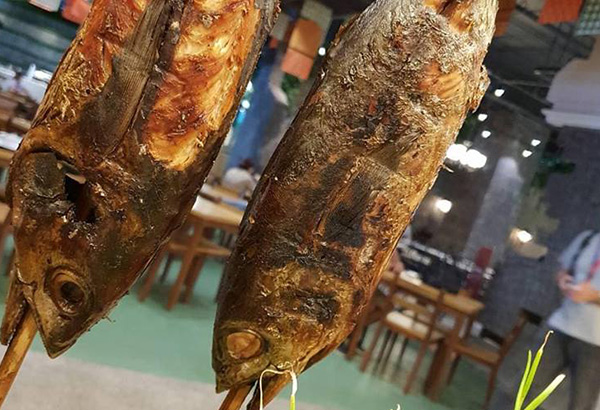 Facebook/Islas Pinas
Filipinos may want to taste the world, but surely, at the end of the day, they comeback to local dishes that make them feel at home.
Islas Pinas, an indoor "Filipino Food & Heritage Village," is now open at the DoubleDragon Plaza, DD Meridian Park, Macapagal Avenue corner EDSA Extension, Bay Area, Pasay City.
Designed to showcase the liveliness of the Filipino culture, this new establishment lets guests discover, explore and experience the Philippines' heritage sites, natural resources, hospitality and most importantly, its cuisine.
A collaboration between DoubleDragon Group and Chef Margarita Forés, Islas Pinas is a project that aims to inspire love for the Philippines and to cultivate patriotism by showcasing the country's beautiful sites and diverse regional cuisines. With a seating capacity of over 700 seats in an expansive 2,500 square meter space, the restaurant aims to give visitors a taste of the best that the Philippines has to offer.
Taste of Hong Kong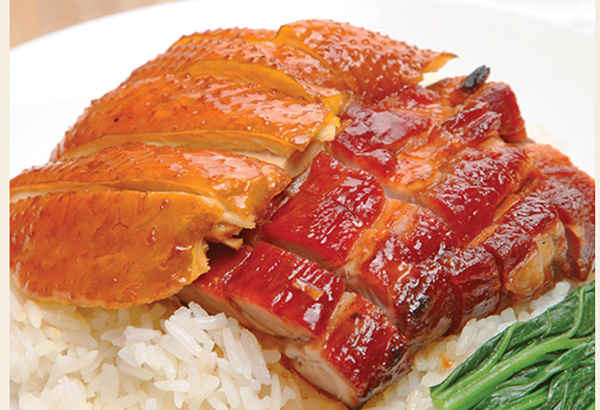 Kam's Roast/Released
People in Hong Kong queue up for hours just to taste their famous roasts. Now, the taste of Hong Kong is in the Philippines as Foodee Global Concepts brings another international favorite closer to local foodies by opening the first Kam's Roast restaurant in the Manila at SM Megamall.
The internationally-acclaimed and Michelin-starred restaurant came from the family behind Yung Kee Restaurant, with a culinary heritage that spans 75 years.
First-timers are encouraged to try the diner's specialties such as Kam's Roast Duck, Suckling Pig and Barbecued Pork.
A world of flavors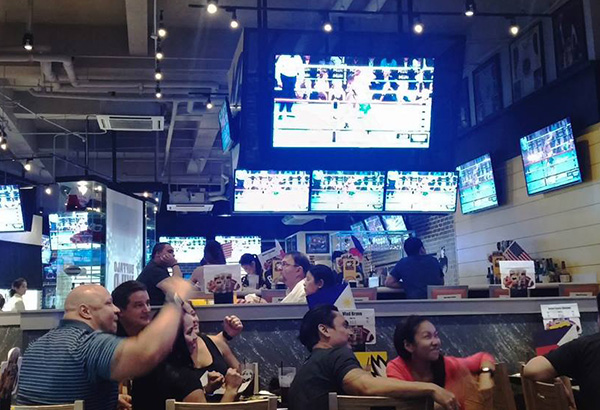 Facebook/Buffalo Wild Wings
As the World Cup kicks off its finals stages, a good place to dine these days is a diner with giant monitors broadcasting live football games.
As such, Buffalo Wild Wings introduces "A World of Flavors," new dishes that aim to tease one's appetite while watching an intense football game.
Among the must-try's are Smothered Chicken Quesadilla, filled with Honey barbecue seasoned chicken slices, blend of cheeses, and served with a side of potato wedges; and Zing Zing Wings, the restaurant's traditional wings spun in Asian BBQ sauce, then topped with cabbage, cucumber, pico de gallo, crispy strips and a zing zing sauce.
There is also the Mideast Allspice Burger, a double patty burger with pickled cucumbers, red onions, mozzarella, and lemon cream sauce. It also comes served with fries. Finally, there is Carne Asada Fries, French fries with asada seasoned sliced steak, mixed with a blend of cheeses, pico de gallo, lemon cream and jalapenos.
Tea from England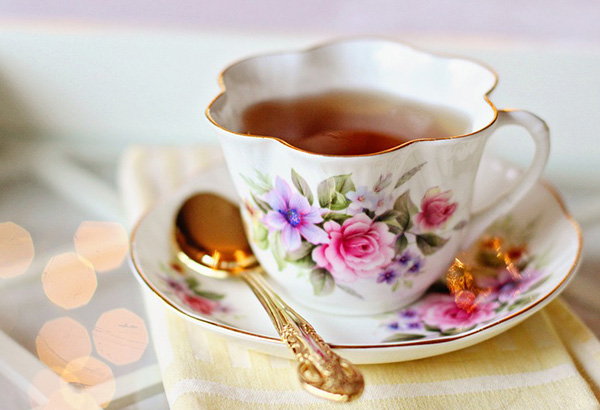 Philstar.com/File
Taking afternoon tea is a quintessential British pastime and has been part of the nation's culture for centuries. The origins of afternoon tea can be traced back to the early 1800s, a period when dinner was taken late in the evening.
Anna Russell, the seventh Duchess of Bedford, was annoyed by hunger pains caused by only having two meals during the day. Thus, the Duchess scheduled time to take tea and enjoy a snack in the afternoon that will tide her over to dinner. The Duchess first conducted this as a private ceremony but was eventually joined by her acquaintances, and the practice was perpetuated throughout England. Fast-forward to the present, afternoon tea is still considered a luxurious and favorite past time not only in Europe but across Asia as well.
Now, with the launch of UK organic tea brand in the Philippines, English Tea Shop, one has the choice to indulge in over 130 tea variants, from the classic English Breakfast to exotic combinations like Lemongrass Ginger & Citrus.
Exclusively available in most Robinsons Supermarkets nationwide, the brand claims to directly work with about 2,000 small farmers who lovingly grow its wide range of organic teas and ingredients. Last November 2017, the company won the prestigious Business Award for Sustainability, given by the Lloyds Bank National Business Awards.
Cabarnet Sauvignon from Chile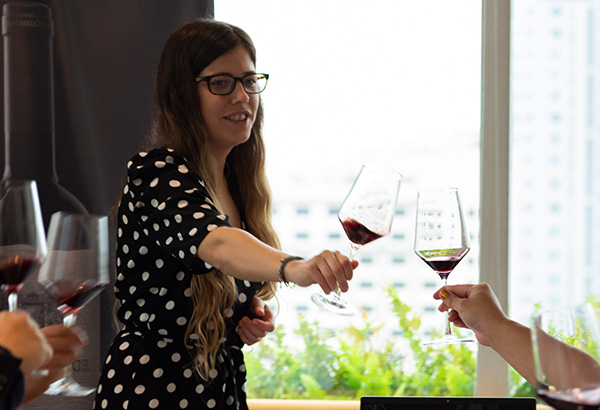 Wine maker and oenologist Isabel Mitarakis
Chilean brand of Cabernet Sauvignon, Don Melchor, brings one of its best vintages to Manila. This fine vintage line from Concha Y Toro has earned international accolades left and right and has garnered consistent topnotch ratings from wine critics all over the world.
Don Melchor 2015 Cabernet Sauvignon is the latest of the 29 vintages released to the market. It is produced from the grapes of Puente Alto vineyard that can be found at the foot of the Andes Mountains and on the oldest terrace of the Maipo River. It is a place that was selected as one of the best terroirs in the world for Cabernet Sauvignon.
From the type of soil to the semi-arid, Mediterranean climate, and the composition of the vineyard – everything came together to make this blend. The balanced vines and even ripening of the clusters, make for the vintage embodying the Puente Alto terroir. It's beauty, revealed in several layers of flavors and aromas.
Along with the arrival of the Cabernet Sauvignon in Manila is the visit of Concha y Toro's premier wine maker and oenologist Isabel Mitarakis, the first Chilean to be appointed to the Vinexpo Board, the organization responsible for the most important wine exhibitions in the world.
Spreading warmth from Canada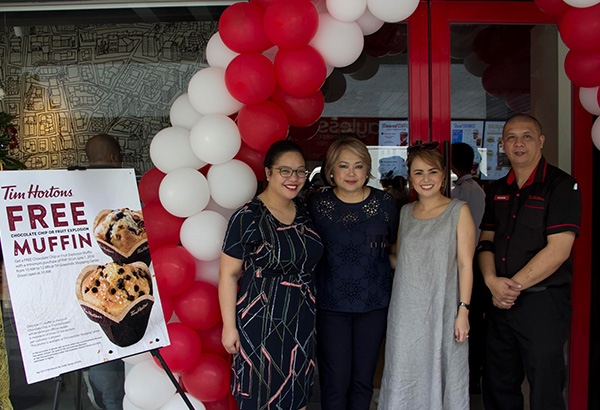 Tim Hortons officials at the cafe's 14th branch opening
Canadian café and bake shop Tim Hortons recently opened its 14th and new store at the heart of one of Manila's premier shopping destination, Greenhills Shopping Center.
"Our Greenhills branch is an opportunity to cheer up more people every day, especially students at nearby schools and families living within the district," said Stephanie Balois-Guerrero, Marketing Director of TH Coffee Services Philippines Corporation.
The café now offers Artisan-Style Grilled Cheese Panini sandwich and brewed iced tea, which comes in plain and passion fruit flavors. It is also known for its signature Double Double, Timbits, and other offerings at these branches: Uptown Place Mall, Netquad, Venice Grand Canal, One Central Building, The Link, San Lorenzo Place, Blue Bay, UN Square Mall, 1880 Eastwood, KIA Theatre, Insular Life Building, Glorietta, and Pearl Plaza.
Celebrating 25 years of Chinese traditions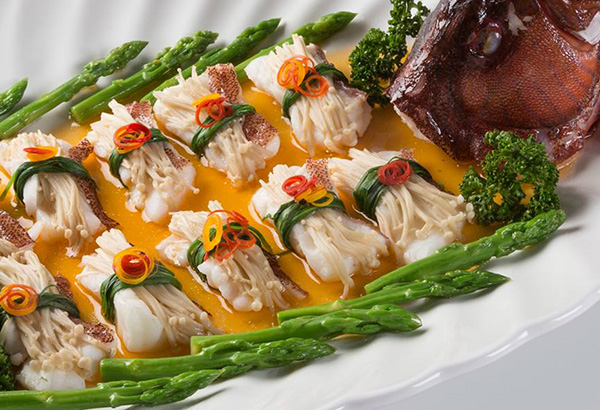 Photo release
Opening Jade Garden in the Philippines was the result of years of preparation, planning, and practice until everything was perfect. "We pulled out all the stops when we opened it in 1980. The service, the linens, the interiors, and the dishes – all were impeccable. There was no room for mistake," said Peter Ng, the second-generation owner who also runs the family-owned Makati Supermart group of malls and supermarkets.
It has been 25 years since the restaurant first opened its doors in Makati City's then premier commercial district, the Makati Commercial Center. But the opulence it serves has stood the test of time. The restaurant was opened by the inimitable First Lady Imelda Marcos. Today, dining at the restaurant is like traveling back in time.
Zoo-themed café from Korea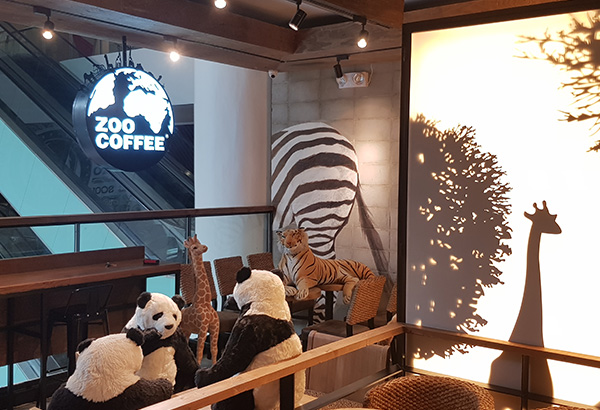 Zoo Coffee/Released
For animal-loving people, a zoo-themed café might be an ideal place to spend a special day.
Animal-themed Korean coffee chain Zoo Coffee launched its third and biggest branch to date at Ayala Malls Vertis North with new exclusive menu offerings.
The café is a combination of two cultures brought together to create a relaxing ambiance. With its signature barrisol, tree, laser cut light box, and its huggable stuffed animals, the cafe is a respite from the stress of everyday life with its cozy environment.
Apart from its best-selling waffles and bingsu, and the popular "I'm Korean" menu, the store's customers might also be delighted with its new menu offerings that include Churro Waffle and Oreo Waffle.
Beer, lots of it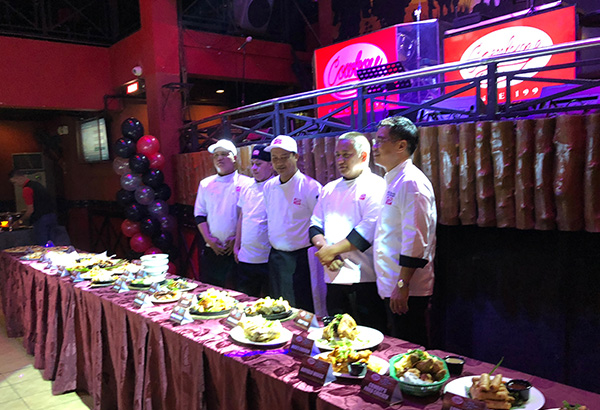 Philstar.com/Jan Milo Severo
Known for its live bands and good food, Cowboy Grill celebrates its 24th anniversary with new innovations and product concepts.
To this day, its guests enjoy freshly prepared items such as its famous Sisig dishes, Crispy Pata, Buffalo Wings, and nachos. Though they still serve their bestsellers, the diner has adapted with the times and now served pasta and chicken meals, as well as pizza choices such as Cowboy Especiale, Nachos Pizza, All-Meat Pizza, Seafood Pizza, Sisig Supreme and Manila Pizza, to cater to a much wider taste preference of its customers.
A food hall that is also a market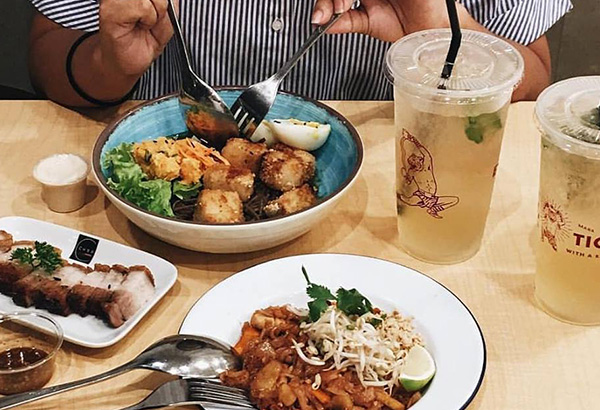 Facebook/Corner Market
Claiming to be the country's first food hall with its own farmers' market, Corner Market at The Podium has 17 different merchants serving world cuisine, as well as a dining area for 450 diners. Unique to the food hall are Catch of the Day by Cold Storage and The Meat Depot, where customers can choose their own kind of seafood and meat parts. There are also merchants that have an herb garden, as well as fresh produce and flowers.
A 'ginstronomic' adventure
For hard drinkers, gin is one of the drinks for them as Filipinos for 184 years share to the world the country's pioneering spirit. Drinks are meant to be shared and enjoyed with friends. This same feeling of camaraderie, friendship, togetherness and unity is what Ginebra San Miguel aims to cultivate further as it celebrates World Gin Day as One Gin Nation.
During this year's World Gin Day, the gin brand gathered some of the country's top master mixologists, a highly-acclaimed chef, popular celebrity performers, and a nation of gin lovers in one big celebration held at the Axon in Green Sun Hotel Makati.
The brand took guests on a "ginstronomic" and a gastronomic tour of the Philippines. Master mixologists Enzo Lim, Kalel Demetrio and Icy Mariñas created special cocktails to represent the country's three island groups.
Yakitori from Japan now in Manila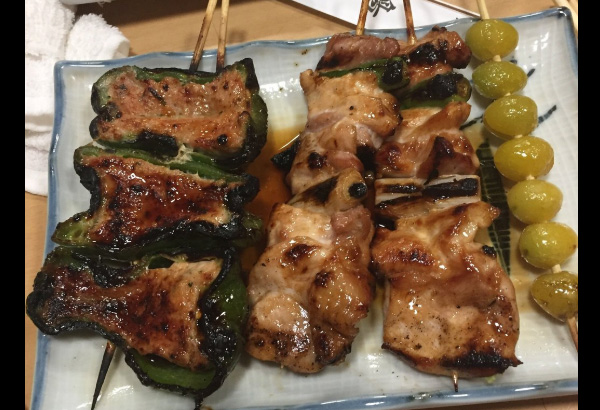 Toritake/Released
Fresh from Sibuya, Japan, Toritake aims to offer authentic Yakitori at UP Town Center. The restaurant owes its success to its traditional yet meticulous standards in the kitchen and it starts with the delicate process of sourcing meat. Every chicken must weigh two kilograms or more to ensure every serving comes at the right size. The restaurant also never uses chicken meat that has been frozen or thawed, so the result is tender, tastier and juicier Yakitori.
"Many Yakitori places in Japan have adapted a modern look and style in cooking. But we prefer to provide our diners the experience of eating yakitori in a traditional Japanese restaurant setting," said the restaurant's representative.
Even the décor at the restaurant's original spot has remained the same since 1963.
Nutrition boost one glass at a time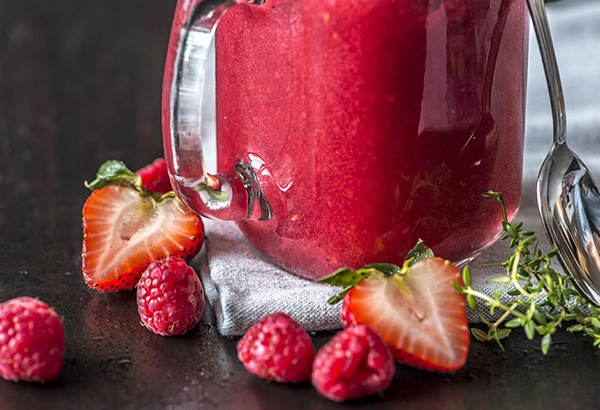 Philstar.com/File
Powdered beverage brand Tang recently introduced a new flavor: Mixed Berries. Unlike carbonated soft drinks, a glass of the beverage has Vitamins A, B3, B6, Iron, and Folate to help meet your child's daily nutrient needs, based on the 2002 Philippines Recommended Energy and Nutrients Intake (RENI). Made with real fruit extracts, the beverage also has Vitamin B2 and 100 percent Vitamin C, which help boost the immune system.
Spaghetti made better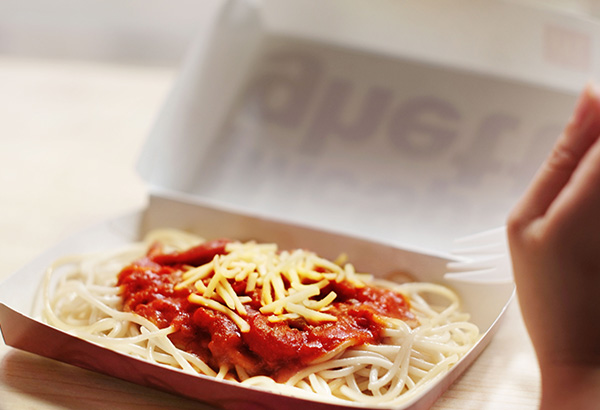 McDonald's/Released
Spaghetti has always been a meal that brings back fond memories of youth, with special occasions almost regularly being celebrated with a delicious plate of this staple pasta dish. Kids' faces light up at the simple sight of it.
At McDonald's, their version of this well-loved dish is the new and improved McSpaghetti that has been made meatier and cheesier, just how kids and kids-at-heart like their spaghetti to be. Noodles that are cooked just right are covered with a sweet and savory blend of tomato sauce, mixed with ground beef and hotdog slices, topped off with more grated cheese.
Sweet endings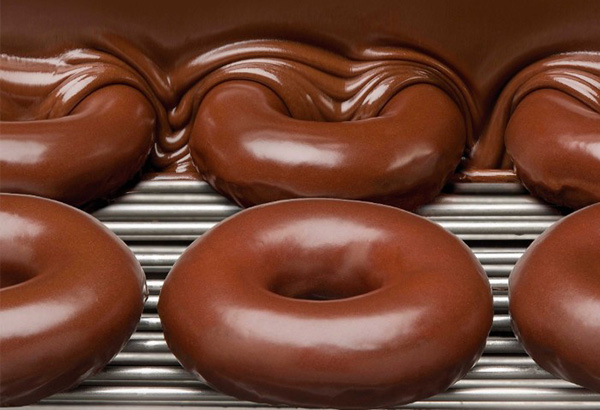 Krispy Kreme/Released
Max's Group kicks off a selection of product offerings and promos across its brands. Create delightful moments with loved ones this year over stories, good company, and real food through the group's brands.
With a mission to create more joyful moments for chocoholics, Krispy Kreme transforms its bestselling Original Glazed Doughnut into rich, velvety chocolate treats as it introduces three new variants: Chocolate Glazed, Chocolate Glazed with Sprinkles, and Double Chocolate Cake.