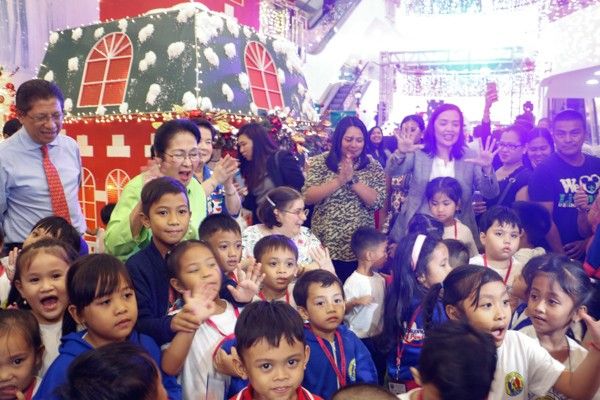 Students of San Perfecto Day Care Center in San Juan City became the first visitors of the Greenhills Christmas Village.
Philstar.com/EC Toledo
The spirit of Greenhills' Christmas on Display lives on
MANILA, Philippines—The country's premiere shopping, entertainment and dining destination, Greenhills Mall, has opened up a world of magic and splendor on November 8 with the unveiling of its first-of-a-kind Christmas attraction.
This is the Greenhills Christmas Village that shines bright and stands jolly at the lobby of V-Mall. It features five mini villages, the Gingerbread House, Chocolate Factory, North Pole Office, Mrs. Claus Daycare and Santa's Workshop. Each is adorned with snow covered houses, Christmas trees and lush leaves, lights and lamp posts, holiday trinkets and even chimneys.
"We thought of the Christmas Village theme, which caters to different ages and really simulate the Christmas spirit in an indoor environment," Ortigas & Co. president and CEO Jaime Ysmael told Philstar.com.
And while the iconic Christmas on Display will be missed this year, Ortigas & Co. promised the same experience to all who has been spending Christmas at Greenhills every year.
"This year's attraction is a little bit different from the traditional Christmas on Display primarily because we wanted to bring people to the mall, plus the fact that we don't have a space outside because of development. But it's going to be the same kind of experience that we offer to all of our shoppers," Ysmael added.
San Juan City May Guia Gomez, who graced the event and personally toured the Christmas Village, commented, "This is also a very intimate one where everybody can enjoy."
She then lauded how Christmas at Greenhills had always been about giving back to the community. "Ortigas & Co. and Greenhills Shopping Center, Christmas for them is always (about) sharing. The many blessings that they have, they share it to so many."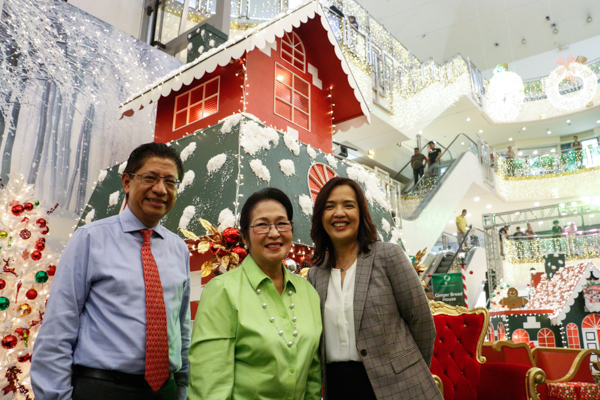 (From left) Ortigas & Co. president and CEO Jaime Ysmael, San Juan City Mayor Guia Gomez and Ortigas & Co. vice president, Arch. Renee Bacani. Philstar.com/EC Toledo
As proof, the property developer invited students from San Perfecto Day Care Center to be the first visitors of the Christmas Village. And because the Yuletide is made for them, the little yet VIP guests also received early Christmas gifts.
Kids can also catch meet-and-greet opportunities with Santa at his workshop every weekend of December.
For adults, they can look forward to many exciting activities at Greenhills Mall. The Mrs. Claus Bazaar is now open daily at the V-Mall Lobby, while the Night Market will run from November 18 to January 7. There will be fireworks displays on all Saturdays of December. Lastly, everyone can complete the Simbang Gabi at the Greenhills chapel.
"So we'd like to invite all our shoppers to take a look at the Christmas Village and participate in the activities. We promise to make it as good—if not better—than our previous years," Ysmael ended.