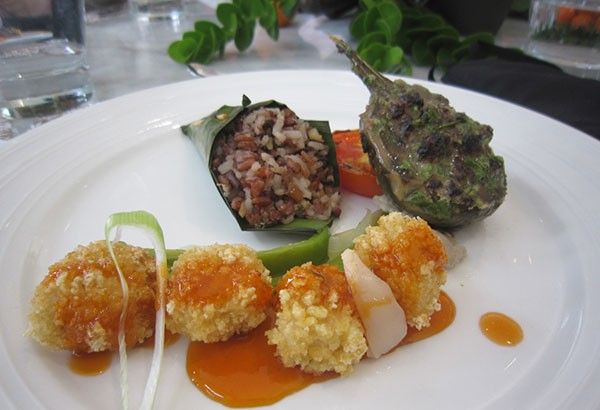 Easy to make at home: Sweet-sour Quorn and Quorn tortang talong
It's not meat, it's Quorn
MANILA, Philippines - British Ambassador Asif Ahmad first experienced Quorn when he was a student in England. "That was way back when I was younger," he says. "It was a cheap alternative to meat."
The good ambassador, who is known to dabble happily in his home kitchen, remembers that it was frozen minced "beef" that he prepared with spaghetti.
Quorn is a meat-free protein product that was developed in the UK and is now available in the Philippines. It replicates the taste and texture of meat but, unlike meat, it has zero cholesterol, is low in saturated fat, and high in fiber. Soya, which is also used as a meat substitute, has protein but no fiber. Quorn has both protein and fiber, which the body needs.
"Its production follows a simple process," Quorn CEO Kevin Brennan explains. "Its main ingredient is mycoprotein, which is derived from a type of fungus. It is grown using a fermentation process similar to the production of beer or yogurt."
Quorn is nutritious and extremely versatile. "In England, we have it in deli products such as sausages and pies," Brennan says.
Quorn is now available in ready-to-cook form such as nuggets, as well as in ingredient-type products such as chunks and grounds, which can be used in a variety of preparations.
At the press lunch held recently at Florabel in Estancia Mall, guests were served savory dishes that used Quorn as the main ingredient.
"We prepared Filipino-Asian-influenced dishes using Quorn as meat substitute, and you can't tell the difference," said noted chef Florabel Co-Yatco, who is said to be a hardcore carnivore.
Chef JP Anglo of the popular Filipino restaurant Sarsa said, "It was easy for us to come up with the menu. We did not want to get too fancy. We chose to do the sweet-sour Quorn because everyone at home can make a sweet-and-sour dish."
They made the Quorn chunks crispy by coating it with crushed rice crackers. Tortang talong, a typical Filipino dish, was another dish that used ground Quorn. Other dishes that were served included Quorn xiu mai with truffle, Quorn inasal and satay, as well as Quorn creamed soup with fresh corn kernels and malunggay leaves.
"It's so easy to work with," Anglo shares. "We used different cooking techniques, from grilling the inasal and satay, to frying the sweet-sour Quorn, to steaming the xiu mai, and boiling the soup."
Other dishes that would work well with Quorn are sisig and adobo. You can try it with gata or coconut milk. "It will taste whatever you want it to taste," Anglo remarks. "It's very porous. It absorbs whatever flavor you put in."
"One thing I like about Quorn is that it's neutral, so you can experiment with the taste and it will come through," Ambassador Ahmad says. "People mistakenly assume that Quorn will change your lifestyle entirely, that you have to be a vegan or never eat meat again, but that is not so. What it is is a choice. It's about trying different things.
It is also about balance. It is not that I don't eat meat or fish anymore, but I would have vegetarian days. Now I have a more balanced diet. "
Generally, people around the world are eating less meat, for sustainability reasons. "In a world struggling with the population problem, where are we as human beings going to get the protein that we need in order to survive?" Ahmad asked. "In the Philippines where food is a national obsession, meat is a big part of your diet. So when you cut down on meat, this product serves as a good replacement. Quorn is not just a good British product, but it is owned entirely by Filipinos," he added.
Founded in 1985 in the UK, it was acquired by Filipino snack-food giant Monde Nissin in 2015.
"You are always in the market for new things," Ahmad said. "We ask you to embrace this product, going into the future, as it makes it into the mainstream."