Kampai! Dohtonbori SM North EDSA finally opens: At the opening are Jaime T. Cruz (CEO of JTC Group of Companies), Winnie Oliver (assistant VP for leasing of SM North EDSA), Herbert T. Sy (director of SM Prime Holdings), Kimberly Cruz (president of Dohtonbori Philippines Inc.), Steven Tan (senior VP of SM Supermalls), Hiroyuki Inaba (CEO of Dohtonbori Co. LTD), and Satoshi Yokote (general manager of Dohtonbori Co. Ltd.).
GEREMY PINTOLO
An authentic okonomiyaki experience
Abby Rebong
(The Philippine Star) - May 26, 2016 - 12:00am
MANILA, Philippines – With its second Philippine branch already serving plate after plate of mouthwatering Japanese fare even before its official launch, it's pretty clear that people have already developed a fondness for Japanese franchise Dohtonbori Philippines. It's amusing to think that before Dohtonbori came on the local dining scene, diners weren't familiar with okonomiyaki. After a few visits to this popular Japanese franchise, okonomiyaki, as well as other Dohtonbori dishes, are now something they crave for.
Popularly known for treating guests to an authentic okonomiyaki experience, Dohtonbori sets the tone just right, starting with its unique interiors that are reminiscent of old-world Japan. Made to look like a traditional Japanese store, Dohtonbori's SM North EDSA branch features various curios like traditional candies and children's toys and a comfortable dining layout with private rooms for special occasions or bigger groups.
Just like at its Greenhills branch, servers at the SM North EDSA branch are very accommodating, eagerly answering queries from guests, as well as assisting them in case they choose to make use of the teppan and try their hand at making their own okonomiyaki. This reflects how Dohtonbori Philippines strives to keep up with Japanese standards even in providing impeccable service.
A favorite among families, even couples out on a date, Dohtonbori appeals to a broad range of customers mainly due to its delicious selection of Japanese dishes that are reasonably priced and make use of ingredients that are specially flown in from Japan, so much so that there's almost always a line of eager customers waiting outside the store. Japan's No. 1 okonomiyaki restaurant chain, Dohtonbori is also proud to be the first of its kind in the Philippines, hence making each visit special.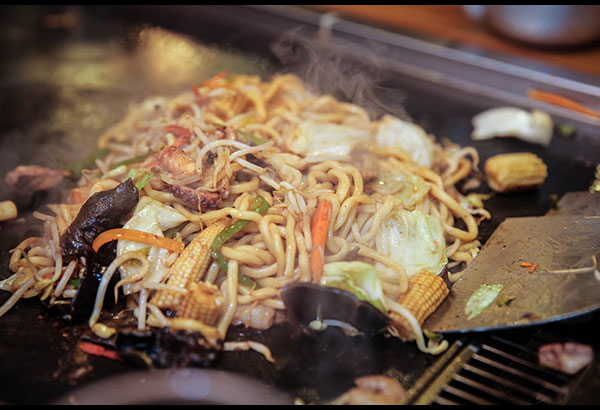 Mixed yakisoba
The Dohtonbori Experience
Start your Dohtonbori experience with a serving of their famous okonomiyaki, a type of Japanese pancake that usually has savory fillings and is cooked using the teppan grill.
While guests are encouraged to try making their own okonomiyaki, Dohtonbori's friendly servers will also make the okonomiyaki of your choice fresh from the teppan grill for you. A sampling of the okonomiyaki variants they offer include 4 Cheese (mozzarella, cheddar, Parmesan, mixed cheese, tomato, tempura bits, red pickled ginger, spring onion, egg, cabbage, and okonomiyaki paste), Butatama (pork, tempura bits, red pickled ginger, spring onion, egg, cabbage, and okonomiyaki paste), Mixed Okonomiyaki (squid, pork, shrimp, octopus, tempura bits, red pickled ginger, spring onion, egg, cabbage, okonomiyaki paste), Seoul Style (kimchi, pork, tempura bits, red pickled ginger, spring onion, egg, cabbage, okonomiyaki paste), and Umigo (mentaiko, scallop, squid, shrimp, octopus, tempura bits, red pickled ginger, spring onion, egg, cabbage, okonomiyaki paste).
However, Dohtonbori doesn't limit its selection of delicious Japanese food to just okonomiyaki. The restaurant also gives diners the chance to sample other yummy treats like the monjayaki (pan-fried batter), their own take on pizza (which will also be cooked on the teppan grill), different types of yakisoba, yakiniku, kaisenyaki (try the Grilled Salmon Chanchan), various side dishes and appetizers like fried calamari, karaage, tempura moriawase, miso cheese yaki onigiri, steak yakimeshi, radish and seaweed salad, as well as popular Japanese dishes like katsudon, gyudon, ramen, soba, and udon.
There's also a Kid's Menu for the little ones to enjoy as well as yummy desserts to cap off their delicious Dohtonbori dining experience. Try the Berries Mini Parfait, Okonomi-Cake Café Au Lait, and the restaurant's unique ice cream flavors: cherry blossom, black sesame and green tea.
Customers will certainly have a happy time trying out the different dishes available with each Dohtobonri visit.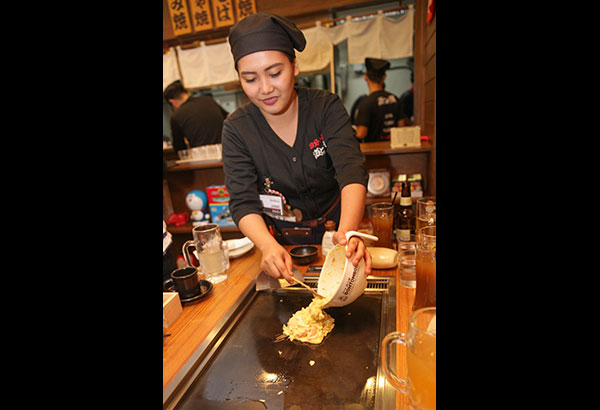 Cooked just the way you like it: Dohtonbori encourages diners to try their hand at cooking their own okonomiyaki, but in case you need a bit of help, the friendly servers are always around to assist you.
* * *
Visit Dohtonbori at Greenhills and SM North EDSA.