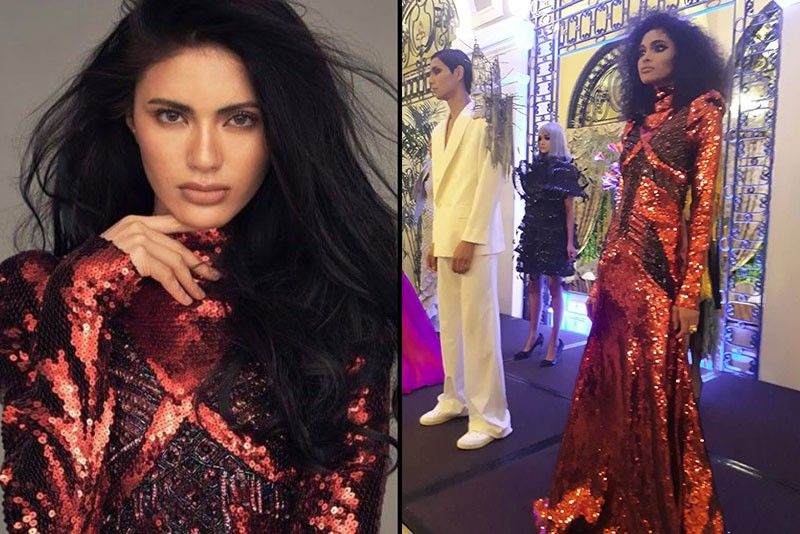 Lost and found: Miss Universe Philippines 2019 Gazini Ganados wearing the "missing" Lesley Mobo dress; the dress recently presented to the press as a preview to Red Charity Gala 2019.
Instagram/Gazini Ganados; Philstar.com/Deni Rose M. Afinidad-Bernardo
Red Charity Gala to include 'missing' dress worn by Miss Universe bet Gazini Ganados
MANILA, Philippines — The controversial red sequined dress Miss Universe Philippines 2019 Gazini Ganados wore in a photo shoot is among the looks to watch out for at the upcoming Red Charity Gala, one of the country's premier fashion and philanthropic events.
For its 11th year, the gala will assemble all the master Filipino designers it featured in the past 10 years, including the designer of the red sequined gown, Lesley Mobo.
According to socialite Tessa Prieto-Valdes, who founded the gala together with Kaye Tinga, the dress has been returned to Mobo since it went "missing" in 2015.
'Something borrowed'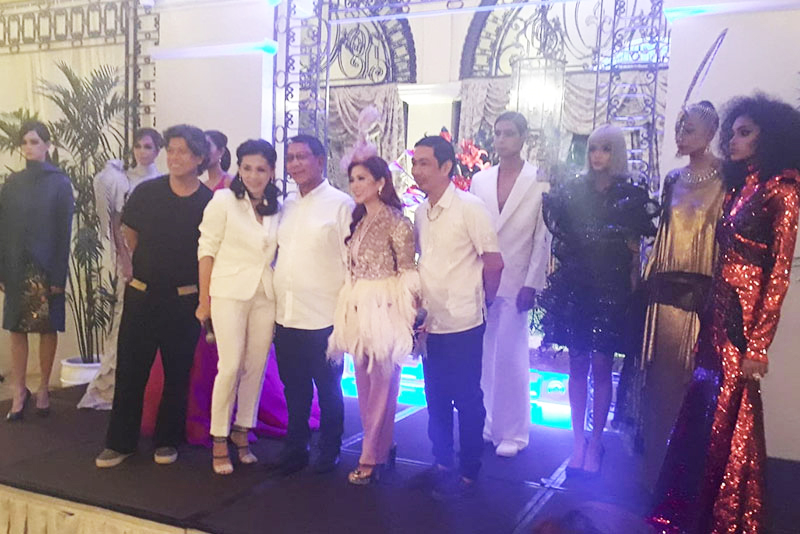 Red Charity Gala 2019 organizers and designers. Philstar.com/Deni Rose M. Afinidad-Bernardo
The gala, Tessa said, will showcase not only new designs but also "something borrowed."
It can be recalled that last month, the London-based Filipino designer told a Philstar.com contributor that the dress, which was among the collection he presented at 2015's Red Charity Gala, was "borrowed" for a photo shoot.
Since then, he has never seen the dress again, until it resurfaced in Gazini's Instagram page.
READ: Filipino designer finds 'missing' dress on Miss Universe bet Gazini Ganados
"What would u do if u…find your missing archive dress suddenly being worn by a beauty queen and u'r not even aware of it…and not even credited. I think she looks good on it…but…could do with a little help.. been looking for it since 2015 (how it landed there?).how can I get it back? should I buy it back? can I even buy it back?" Lesley wrote in the caption of a Facebook post.
In another Facebook post, Lesley shared a screenshot of his "missing" dress being sold online.
"Omg someone just sent this to me..someone out there is letting or selling this gown? But with a retail price? How come? Hindi naman for sale ang damit? What website is this please! Can I buy it privately?" Lesley said.
Philstar.com learned through insider sources that it was celebrity stylist Pam Quiñones, who Gazini credited as the stylist of her photo shoot, who allegedly borrowed Lesley's gown. It was also Quiñones' online store, according to sources, that allegedly put the gown on sale.
Lesley told Philstar.com's contributor that he took down his Facebook posts because he struck a deal with Quiñones to have the gown back.
In an exclusive interview with Philstar.com, Gazini said she spoke with Pam, who allegedly told her that Lesley "forgot" he gave the gown to Pam.
RELATED: WATCH: Miss Universe bet Gazini Ganados shares how she got designer's 'missing' gown
Lesley reacted to Gazini's interview and told Philstar.com's contributor that Quiñones was lying.
Philstar.com tried to get Pam's side, but the celebrity stylist declined interviews and did not respond to a Facebook message.
But now that the gown is back, will it be all's well that ends well for Lesley and Pam?
Once-in-a-lifetime gathering
Controversies aside, the gala this year, titled "The First Ten," is a must-see as it is a once-in-a-lifetime gathering of some of the Philippines' world-renowned designers for the benefit of Philippine Red Cross, Assumption HS 81 Foundation and various charities throughout the country.
Among the roster of talented designers is Dennis Lustico, who was the gala's first featured designer back in 2009.
Known for his neo-romantic style, Lustico will return to the runway with a collection titled "The Story of Mei," which will show his hyper-glam interpretation of the Chinese form-fitting dress, Cheongsam.
Dubai-based Filipino designer Furne One will also amaze the audience with a collection displaying his distinctive way of incorporating lace, tulles, feathers and other intricate details to his masterpieces.
Joining Furne is fellow Dubai-based Filipino couturier Michael Cinco. Famous for his dramatic and intricate ball gowns, Cinco took inspiration from his recent trip to India to come up with a collection inspired by the culture and aesthetics of the country.
Seven years after his breathtaking 35-piece origami-inspired collection, Cebuano designer Cary Santiago's collection will be a spectacle with the perfect combination of edge, femininity, sophistication and modernity.
Ezra Santos, the third UAE-based designer in the lineup, will exhibit a collection reflecting his modern classic interpretation of the Arab culture and its women.
Jojie Lloren, on the other hand, will modernize the Philippines' Barong Tagalog, Terno and Traje de Mestiza with his architectural and minimal style while utilizing reengineered versions of Filipino garments.
Mobo, who is also the youngest of the group, was inspired by the classic period in film history. His collection will embody the charm and femme fatale characterization captured in the '40s and '50s.
A self-proclaimed maximalist, Chito Vijandre's collection will comprise of fantasy couture pieces inspired by 18th and 19th century artists. Chito explained that his creations will mirror how he experienced the world in his lifetime.
Meanwhile, Joey Samson will be presenting a line of menswear that he described as androgynous and will show a balance between contemporary and classic elements. His collection will be filled with details and structures that are both unexpected and traditional.
After successfully headlining last year's event, Rajo Laurel will once again show his outstanding creations that will pay homage to energy, colors and joy of the Ati-Atihan festival. Titled "Hala-Bira," his collection will reflect his penchant for romanticism and luxury while featuring women materials by marginalized women from Davao and Bicol.
The gala will be held on October 12, 6 p.m., in Shangri-La at the Fort in Taguig City.