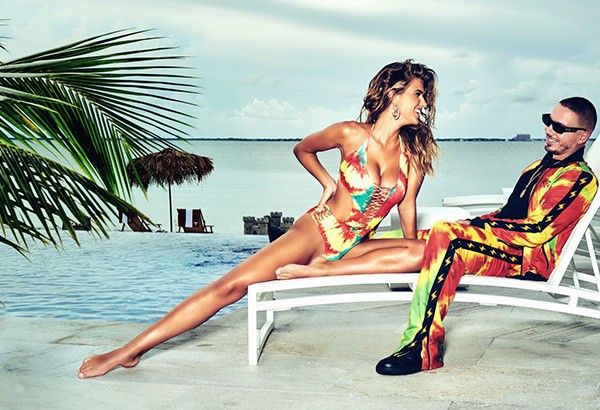 Tie-dye is a big summer 2019 trend, as seen in these pieces designed in collaboration with Latin Grammy winner J Balvin.
Guess/Released
LIST: 'Haute' summer trends
MANILA, Philippines — At this time of the year, when sprucing up your wardrobe, dare to go bold with color statements from pastels to brights, and inject a little bit of edge with roaring animal prints.
This is the season to put the fun in functional!
As one welcomes the summer heat, dive into these trends that can add hints of freshness into one's style.
Empowering statements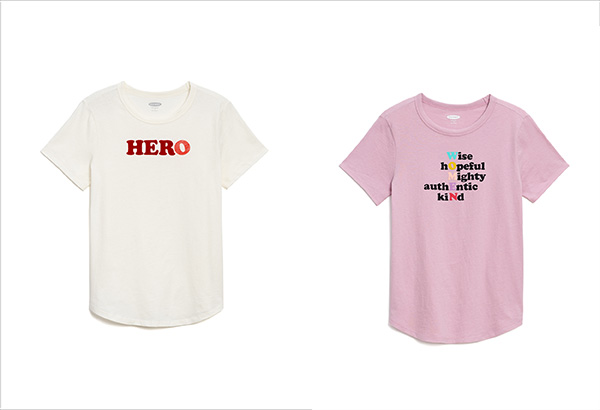 Shirts with empowering statements for International Women's Month. Old Navy/Released
In time for International Women's Month, American apparel retailer Old Navy introduces shirts with women's empowerment messages such as Her-o and "I'm with Mama."
This season, the American brand gives a playful take on spring classics such as preppy rugby stripes, borrowed-from-the-boys shirting and flirty dresses. Key pieces and details include bold stripes, lobster prints, waist button-through midi or a classic dress with a utility button-down twist; and retro sport details in tops and bottoms including side stripes, tipping and retro heritage graphics.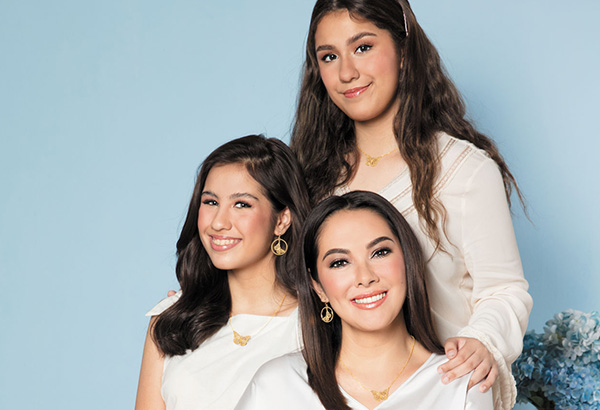 Ruffa Gutierrez and daughters Lorin and Venice Gutierrez serve as celebrity ambassadors for the campaign. Avon Philippines/Released
Also in time for Women's Month, Avon Philippines renews its promise to help end gender-based violence by introducing a fundraising product to support partner non-government organizations.
Violence continues to affect millions of women around the world – we have witnessed it, and some of us may even have experienced it. In the Philippines, harassment cases continue to rise alarmingly, and are not at all limited to the physical kind of abuse.
Take a look at these numbers: one out of four married Filipinas have experienced abuse from their partners; three in five Filipinas have been sexually harassed in their lifetime; while online harassment has victimized mostly women aged 15 to 35.
With the international community celebrating Women's Month, Avon Philippines, a company that has long supported women's causes, renews its Promise to Help End Violence Against Women and Girls, as part of the company's recently launched global plan Stand4Her, which aims to improve the lives of 100 million women by advancing their earning potential, freedom of expression, and ability to live a safe and healthy life.
Ruffa Gutierrez and her daughters Lorin and Venice Gutierrez are serving as celebrity ambassadors for the campaign, helping shine a light on the different forms of abuse, and encouraging everyone to join the crusade against violence through their own stories.
In a series of online videos, Ruffa and her daughters share their personal experiences and insights on catcalling, online harassment, and abusive relationships – encouraging women to stand up for each other and to never tolerate such behavior.
As part of the campaign, Avon has also created the limited-edition Free as a Butterfly jewelry, available starting March, to help fund partner NGOs that empower abused victims and survivors through support, guidance, and inspiration with proceeds of the collection sales.
If you are experiencing abuse or suspect someone who is, contact: Luna Legal Resource Center for Women and Children in Davao at (082) 306-5761, Gender Watch Against Violence and Exploitation (GWAVE) in Dumaguete at (035) 422-8405 or 0915 259 3029, Women's Care Center, Inc. (WCCI) in Manila at (02) 514-4104 or 0999 577 963, and Ing MakababayingAksyon (IMA) in Pampanga at (045) 323-4750.
Little Miss Sunshine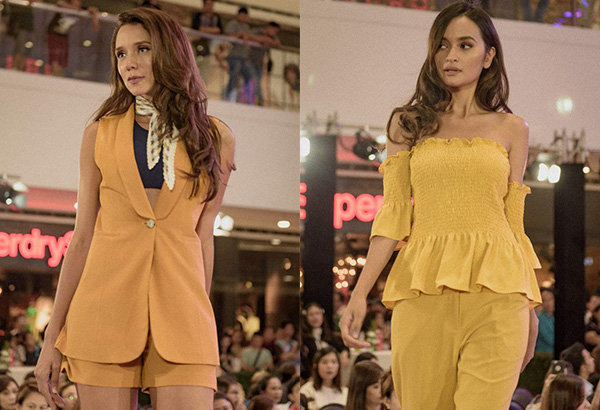 Sunshine colors are in season. Facebook/SM Woman
Vibrant yellows, oranges, reds and the colors of sunshine in general, are in trend this season and can be found in the latest summer collection of local department store brand SM Woman.
The collection is a celebration of all shapes, ages and sizes, said Jo Dy Juanco, Senior Vice President for Events of The SM Store.
Apart from sunshine or sunset colors, nudes, pastels, florals, bows, stripes, shirt dresses and beach wear are other details and pieces to look forward to in the collection, which is offered with discounts every Wednesday for the entire Women's Month.
Safari prints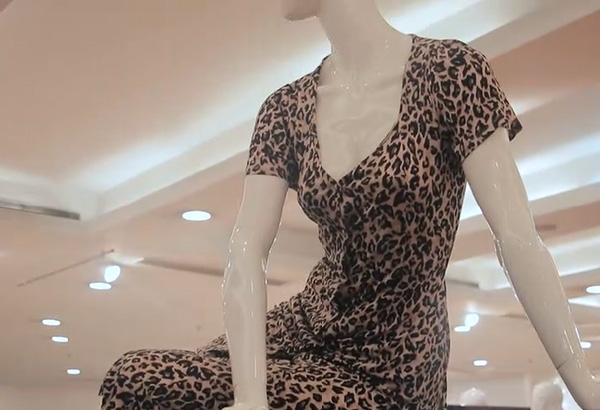 Animal prints are back in season. Philstar.com/Erwin Cagadas Jr.
In women's wear, exotic fashion takes center stage at the spring-summer showcase of British brand Debenhams, taking inspiration from wild safari adventures with its muted palette of beige, khaki, rust and tan.
Red Herring's spring-summer must-haves include the feminized resort shirt with classic cuts and pocket detailing. Principles also set the pace for the season with rustic earthy tones, inspired by natural fabrications building on the utility trend, where functionality is key.
Likewise, Julien MacDonald introduces animal print dresses and power ensembles as summer showstoppers. Meanwhile, Bluezoo offers chinos for adventurous boys, graphic jersey dresses for girls, and a range of printed tees and prints in denim and jersey for toddlers. Mantaray also has a range of styles that comes embroidered with whimsical and dainty designs.
The maximalist trend continues into the season, as seen in the MW by Matthew Williamson, where dramatic yet ethereal palm tree prints and tropical pineapples are brought to life on textiles and accessories.
'80s gypsy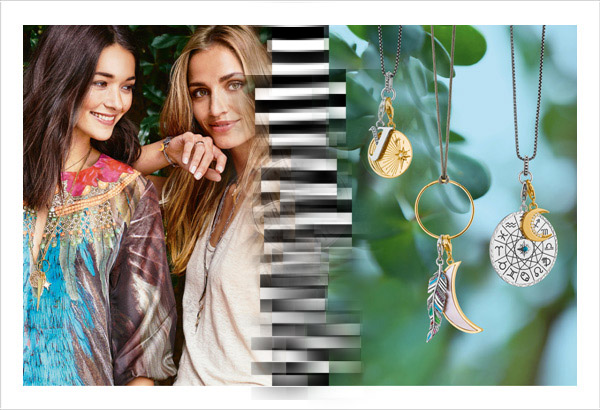 Bohemian motifs meet '80s colors and prints. Thomas Sabo/Released
From last year, the '80s comeback in fashion continues with the surge of '80s handkerchief prints, but this time, rendered in Bohemian silhouettes such as loose tops with keyhole necklines and billowing sleeves, and floor-sweeping skirts with asymmetrical hemlines.
International accessories brand Thomas Sabo complements the '80s Boho trend with its Bohemian-inspired accessories in motifs such as feathers and gypsy insignia. The brand, alongside Original Penguin, Ben Sherman, Nomination and Perry Ellis, is distributed in the Philippines by Anthem Group, which recently introduced its VIP card that offers lifetime membership and discounts.
The group has recently acquired Nautica and has been in the process of revamping the brand's in-store look.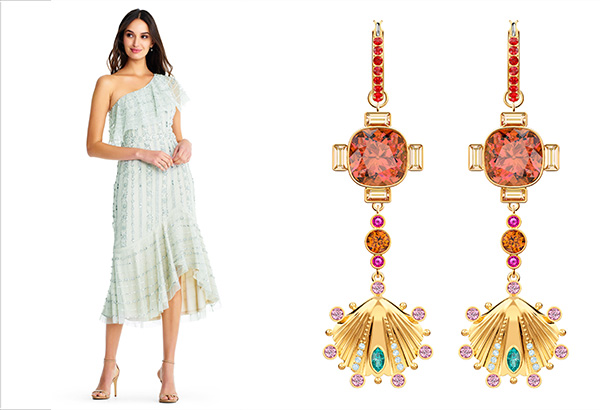 Asymmetrical dress (left) and earrings that nod to the '80s (right). Rustan's/Released
Likewise, Bohemian and retro pieces abound Rustan's latest women's summer selection, which includes summer pieces from brands such as Bardot, Finders Keepers, Nicole Miller and Seafolly. For beach weddings, there are the likes of Adriana Papel, Aidan Mattox, Bari Jay, Josie Natori, Keepsake, and Tadashi. Complete your summer looks with shoes and bags from the likes of Arezzo, Aquazzura, Chiara Ferragni, Danse Lente, Sergio Rossi and Swarovski.
Go casual and sporty for country club afternoons or summer road trips with pieces from Adidas, Dorfman Pacific, Hackett, New Balance, Pedro del Hierro, Ricardo Preto, Tricker and Smythson.
For kids' day trips, there are shirts, dresses, footwear, bathing essentials and accessories from Rustan's Jr., Neck and Neck, Bibi, Banz, Zoocchini, Stephen Joseph, Zoggs, Chicco and Good Baby.
In the mood for nude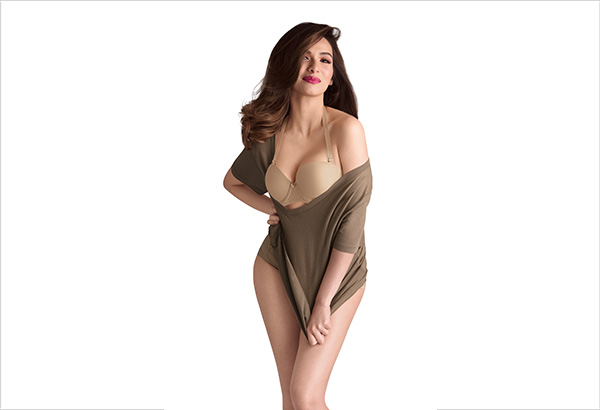 Jennylyn Mercado - Avon/Released
Nude bras are part of any woman's closet essentials, and it's a must that they have more than just one pair. Just like bras' different styles and functions, women come in many shapes, sizes, and colors, which what inspired Avon Fashions to release a line that celebrates the different shades of nude.
The brand recently introduced Body Invisible powered by Invisilite technology, lingerie that avows twice the stretch for more flexibility and a seamless fit even in skin-tight clothes, available in bigger sizes and in nude and pale pink colors.
Retro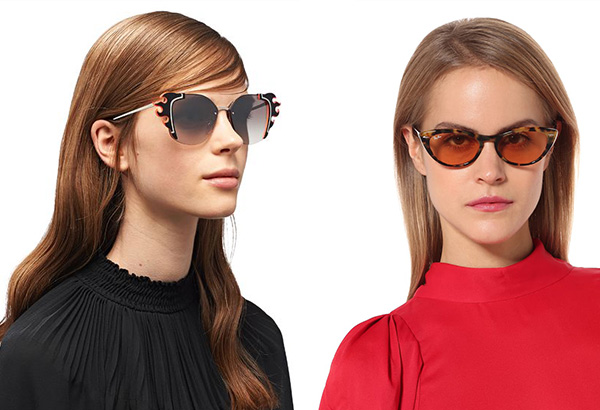 Models wearing Prada's flames-inspired shades (left) and cat-eye Nina Ray-Bans (right).
Modern twists to vintage classics are present not only in apparel, but also in accessories such as sunglasses.
The cat eye shape is particularly popular this season, specifically in brands in Eye Society and Vision Express such as Prada, Tom Ford, Giorgio Armani and Maui Jim. Ray-Ban also introduces its new cat eye shape called Nina.
Prada's Ornate collection features iconic retro shapes such as the flames eyewear shown in last year's fall-winter 2018 fashion show.
Meanwhile, Miu Miu and Dior eyewear feature brow bars or thick parts reminiscent of thick eyebrows. There are also frames inspired by nature, such as Bulgari's serpent eyes and Celine's butterfly. Dolce & Gabbana's hexagon frames, Tony Morgan's clip-ons and Gucci's aviator shapes complete the retro nod.
Meanwhile, Kate Spade New York celebrated spring in the Philippines with a party event showcasing looks straight from the New York Fashion Week runaway show.
The event featured the debut collection of the brand's new Creative Director, Nicola Glass, who joined last January 2018. As an expression of Nicola's reimagination of the brand, the art venue was transformed into a modern and feminine environment with the brand's new signature pink as the focus of the party, surrounded by gentle and warm atmosphere that welcomed guests into an intimate but celebratory party. Updated brand elements were seen throughout the space, including the use of plush pink carpet and the iconic spade floral print design.
Related video: Retro-inspired summer 2019 collection
Tie-dye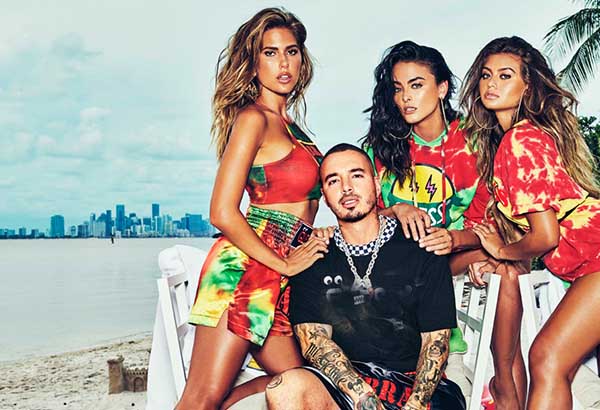 Latin Grammy award winner J Balvin with models wearing his latest collaboration collection. Guess/Released
Oversized men's shirts dipped in red, yellow and green tie-dye are among the highlights of Guess' new Vibras collection, which also offers a variety of swimwear for both men and women in a bright and bold color palette.
The 42-piece capsule collection was designed by multiple Latin Grammy award winner J Balvin.
Hailing from Medellín, Colombia, Balvin is a leader of the second-generation reggaetón revolution propelling Latin Urban music to unprecedented global success. Balvin has quickly notched 12 no. 1 Latin singles, more than 50 million social media followers, and over 11 billion total YouTube views.
"Everything in this capsule is very 90's Miami inspired," said J Balvin. "The collection is about 'Vibras'; nice energy nice vibes, just smile and that's what we need, all love."
J Balvin will headline this year's edition of Lollapalooza, organizers of the festival announced Wednesday, a landmark moment for Latin music in the US mainstream.
Balvin will play alongside the other seven headliners including Ariana Grande and Childish Gambino at the top music festival in Chicago, set for August 1-4.
The 33-year-old superstar achieved mass appeal in 2017, thanks to the smash success of "Mi Gente," a hit rooted in the African dance beats of French DJ Willy William's "Voodoo Song."
After recording the initial version, Balvin worked on a remix with pop royalty Beyonce to produce a charity version for hurricane relief later that year.
Lollapalooza -- a festival conceived in the 1990s as a celebration of alternative culture -- has never featured a Latin act that performs in Spanish so prominently on its billing.
Medellin-born Balvin did perform twice at last year's Coachella festival -- but only as a guest alongside Cardi B and Beyonce, with whom he had collaborated.
This year, both Balvin and Bad Bunny, the Puerto Rican Latin rap sensation, will do solo sets at Coachella, set for April 12 to 14 and April 19 to 21 in Indio, California.
And Spanish innovator Rosalia -- who debuted in 2017 with a revisionist version of traditional flamenco infused with pop, R&B and electronic sounds -- will play both Lollapalooza and Coachella.
The decidedly Latin flair at major US festivals signals the circuit's effort to embrace the 41 million people living in US who claim Spanish as their mother tongue.
"Chicago, we're coming to see you this summer," tweeted Balvin as the announcement dropped. "Get ready to party." — Video by Kat Leandicho