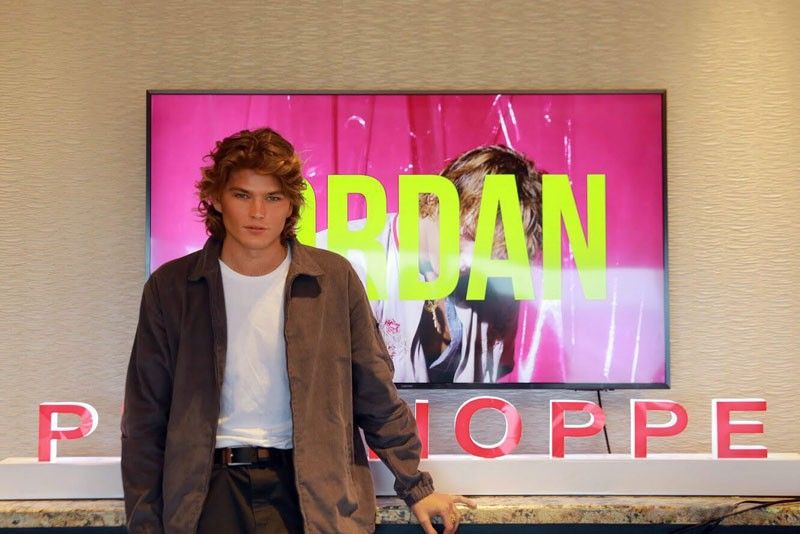 Jordan Barretton Penshoppe holiday 2018: "This collection is all about the textures and the fact that you can mix and match them."
Jordan Barrett: 'Penshoppe's jackets & pants are very much my style'
Fashion's wild child Jordan Barrett is the latest addition to Penshoppe's roster of international celebrity endorsers, as he joins Zayn Malik and Paris Jackson in the fashion brand's holiday campaign.
The 22-year-old Aussie stands out in the current modeling industry with his feline blue-steel eyes, razor-sharp cheekbones and jawline, leonine mane, sun-kissed skin, and fluid, bohemian sensuality — he's often described as a cross between Hollywood greats like '90s Leonardo Di Caprio and River Phoenix.
Velvet ropes open up wherever he goes: Jordan is a fixture at the hottest parties around the world with his beautiful posse, as well as on magazine covers and fashion campaigns like the latest Versace. He's been named 2017's Male Model of the Year, Vogue's "Model It Boy of the New Era," and GQ's latest "Man of Style."
Off-duty, Jordan's comfortable, effortless yet standout style philosophy perfectly complements Penshoppe's aesthetic.
"He's a super-cool guy, and always a breeze to work with," says Penshoppe's brand director Jeff Bascon. "It's great to have one of the biggest names in fashion representing Penshoppe."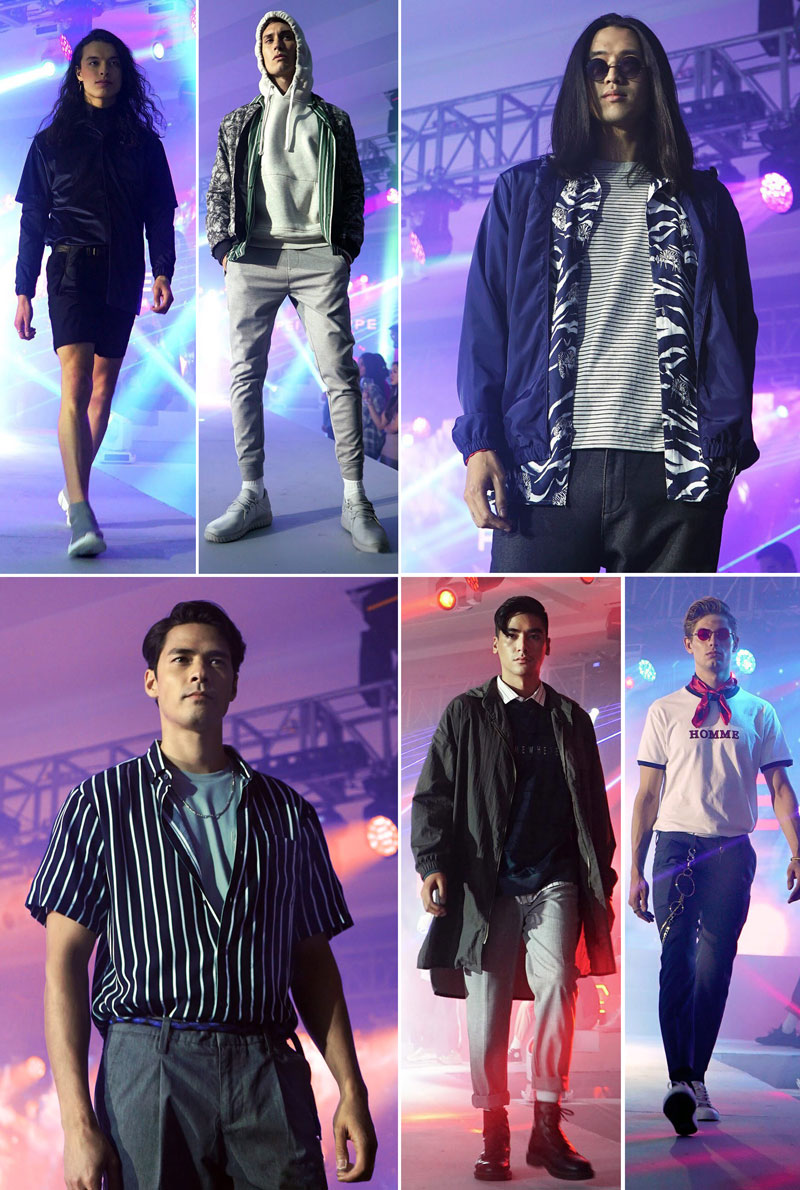 Cosmic utilitarian: Elasticated cords, chunky clips and thick straps contrast plush, velvety and lustrous, liquid-like fabrics in deep grays, greens, violets and blacks, complemented with fiery oranges, reds and yellows and playful, futuristic metallics as accents.
The holiday collection features futuristic pieces like luxe tracksuits, high-neck tops, exaggerated wide trousers, and cargo pants. Heavy with functional details, the collection adds an urban dimension with technical performance weaves, including touches like elasticated cords, chunky clips and thick straps. The textile story contrasts the utilitarian silhouette with plush, velvety and lustrous, liquid-like fabrics in deep grays, greens, violets and blacks, complemented with fiery oranges, reds and yellows and playful, futuristic metallics as accents.
Over the weekend, Jordan closed the show in a striped button-down, cargo pants, and his signature sway. We caught up with Jordan fresh from a Palawan holiday.
The Philippine STAR: How did you first learn about Penshoppe?
Jordan Barrett: They've always featured iconic people in their ads with Kaia (Gerber) and Bella (Hadid). They are my friends. But I never thought Penshoppe would use me, so I was stoked when they approached me! It has been such a nice experience from start to — I don't want to say end. This is only the beginning.
What are your style essentials?
Statement jackets and baggy pants that are comfortable. I always need pockets. My style is quite utilitarian. It always comes down to comfort.
You went on a shopping spree at Penshoppe's Mall of Asia store this morning. It's already stocked with their latest collection. What did you pick up?
This collection is all about the textures and the fact that you can mix and match them. I'm wearing one of my favorites, a bowler jacket in corduroy. It's as comfy as a jumper that I'd wear on a plane, but the corduroy keeps it statement. These cargo pants have deep pockets. It's very much my style. There's a bright-colored version with the straps on the side. I got velvet track pants and jackets. I went with my best friend and my sister and they got some nice velvet tops and cropped pants. Penshoppe always has such crazy textures. During our campaign shoot, I was always asking, "Do you think I can keep this?" After the shoot, they filled up my SUV! (Laughs) My friends come over and try to take it, I'm like, "No!"
You have a diverse range of interests, but it's your interest in photography that features prominently in your Instagram, @iblamejordan. Can you tell us more about it?
It started when my dad gave me a film camera, a Contax T2. I like documenting things with a photo to preserve a memory and a moment in time. I have a drawer at home with photos of my best memories. When I travel — and I've been living in my suitcase for 30 days now — I have one bag that I keep with me that has my Polaroid and Contax with my favorite memories. I took photos on set when we wrapped up the Penshoppe shoot in Brooklyn while facing the Manhattan view.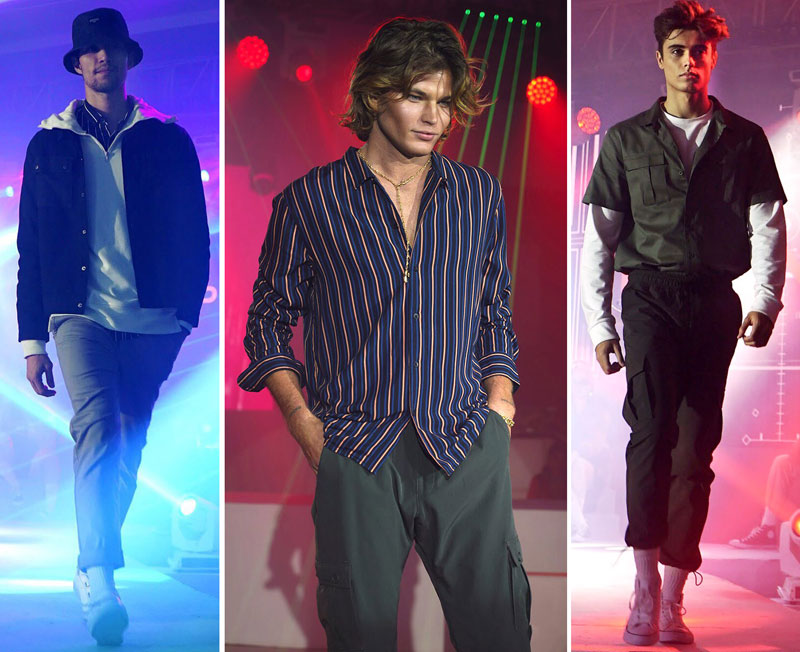 Urban futuristic: Penshoppe Holiday features luxe tracksuits, high-neck tops, exaggerated wide trousers, and cargo pants.
Does your interest in photography inform your work as a model?
No, because I'm always learning how to photograph. (Laughs) I studied photography but the greatest thing about my job is I work with my favorite photographers, who I would've died to see or assist. If I wasn't doing it with them in front of their camera, I would've died to be their assistant. On my first shoot with Collier Schorr, I asked him and we ended up collaborating for the I Blame Jordan book for MoMA PS1 New York. I asked Mario Sorrenti, "Please, can I be your assistant?" He said it just wouldn't make sense. I find that I learn so much by working with these people and I gather this bank of knowledge of art, film and photography.
You're already a published photographer. You photographed Emily Ratajkowski for the cover of Paper magazine's fall fashion issue.
It was more like a lunch conversation between friends. I've always wanted to do a mugshot series of my friends and Paper magazine published that. I did 12 of my best friends and one of them is a computer scientist. It was a personal project. I'm not a photographer.
It's interesting that in the age of the multi-hyphenate, you are careful to make the distinction between yourself as a model and your interest in photography.
I'm not a slashie. I have nothing against them. I don't want to put myself in five categories unless I'm really good at one of them. I'm still learning. As a model, I put 100 percent of what I do when I'm on set. You have to earn it.
* * *
Penshoppe has over 400 stores across Bahrain, Cambodia, Indonesia, Kingdom of Saudi Arabia, Myanmar, Thailand, Vietnam and the Philippines and online in Singapore, Malaysia, Hong Kong, Taiwan, Thailand, Vietnam, Myanmar, and Indonesia via penshoppe.com or the Penshoppe App on iOS and Google Play Store.