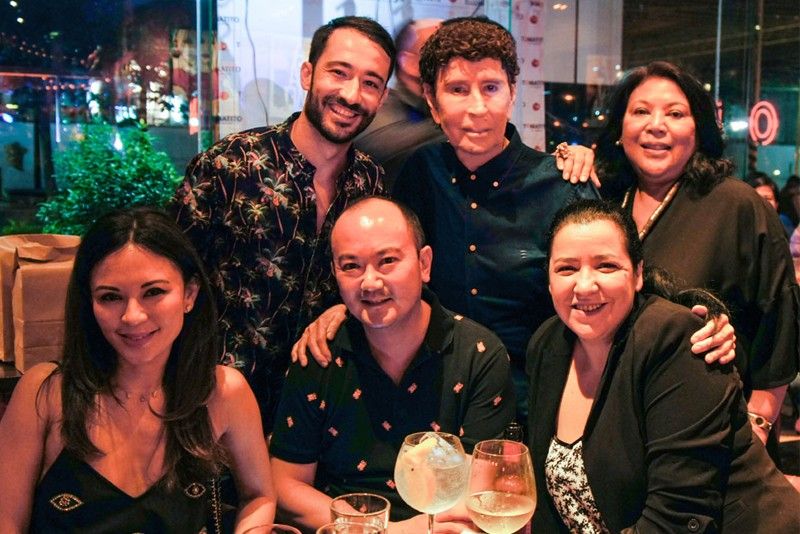 Dani Aliaga with the author and Lorrie Reynoso; (front) Wendy Puyat, Pepper Teehankee and Marlene Bonnin. Photos by Alex Van Hagen, powered by MAC Center
Tomatito marks first year
It has been one year filled with awesome memories and amazing dining experiences at one of our favorite restos, the buzzing Tomatito Manille, dahlings. The group behind Las Flores and Rambla has done it again, and made sure you partied as though it was the weekend. The evening was extra special as that vibrant and talented chef Willy Trullas Moreno, brains behind Tomatito, was here in Manila to celebrate this special milestone with the group.
It was a very breezy Thursday evening when guests started arriving at Tomatito, hearts pumping with excitement and bellies waiting to be filled. Wines were poured into glasses, making sure everyone was having a blast and preparing themselves for a hot night of fantastic fun to remember.
The place was packed shoulder-to-shoulder with enough space to dance along to songs close to their hearts. People were dancing like crazy as the clock struck half past nine in the evening. Food started to come out of the kitchen like fire.
It was almost midnight, but you couldn't see anyone leaving the room! It seemed like the party just got started!
An overflow of beer, cava, wine and the likes were matched with happy smiles and it was one for the books.
The event was defined by a "kaleidoscope" of happy memories, supportive clientele, new friends and enduring relationships. The year past has been successful, despite some paths slightly difficult to travel; yet even with the struggles we have emerged stronger with lessons that will define the brand.
We look forward to more wonderful years, building more lasting relationships and creating fantastic memories that will build more milestones and achieve the vision and mission that we stand for; while the night at Tomatito brought us back to Andalucía in Spain, with its fiesta red bulbs all over the ceiling and flamenco music. Wow!!
Muchas gracias, one and all, especially mi amigo Dani Aliaga who was the grand host with the most, for standing beside us this past year: may you continue to share more sexy tapas and love with us in the years to come!
Salud, Euros, and muchos amores para todo.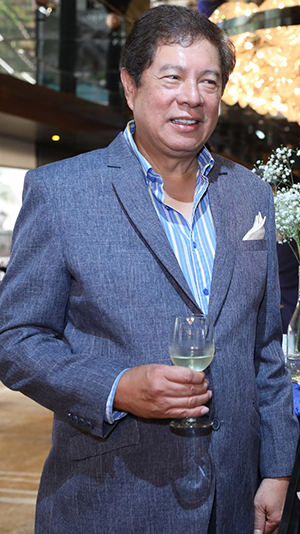 RAROCO Insurance's Founder and president Ramon "Monchito" Roco
RAROCO Insurance Brokers, Inc. celebrates 35th Anniversary
It was another bash, palanggas, where the renowned RAROCO Insurance Brokers, Inc. celebrated its 35th year in our cutthroat industry with the theme "Staying Alive at 35" at the Luzon Ballroom of the Sofitel Philippine Plaza Hotel, Manila.
Philippine Insurance hotshot Commissioner Atty. Dennis Funa was trés visible at this momentous occasion as the Guest of Honor, while gorgeous host Bianca Valerio delighted and amused the tons of invitees that included notable insurance principals and, naturellement, a huge crowd of clients that have loyally stayed with RAROCO Insurance Brokers through the years servicing all their insurance needs.
The event was well attended led by Le Donne's Gilda Salonga and sister Annie Salonga of Milani Shoes, Elena Sy of The Lift Company, Marriane Cadungog-Rivera of Integrated Montessori School, Multicare Pharmaceuticals' Allena Areola, JP Caboboy of Le Firenze, Emily Litton-Bengzon and husband Nandy Bengzon plus others like them, dahlings.
Pop rock band Orange & Lemons spread some good vibes with their upbeat songs while guests were treated to a sumptuous heavy cocktail buffet.
Then the big moment arrived, palanggas, with a grand raffle prize given by platinum sponsor Pacific Cross Philippines, while major sponsors Sunlife Financial, Starr International Insurance, Philippine British, The Mercantile Insurance and Insular Healthcare provided the major raffle prizes. Minor raffle prizes were also given by minor sponsors, like Standard Insurance, First Life, Pioneer Insurance, Oriental Insurance, Cocolife Healthcare, Intellicare, Malayan and Philippines First.
RAROCO Insurance founder and president Ramon "Monchito" Roco has long followed his entrepreneurial gut, which has led him to glory. He was initially a life insurance agent who ventured in non-life insurance in order to complete both needs of his clients. His persistence successfully led him to open RAROCO Insurance Agency in 1983. By 2004, the company officially became RAROCO Insurance Brokers, Inc. "RAROCO has been a consistent annual top producer in medical and travel insurance for Pacific Cross (formerly Blue Cross)," explained VP of Sales & Marketing and VP of Admin & Finance Denise Roco-De Leon.
The happening formally launched the company's updated website and mobile app, dahlings, to provide ease of service for all clients. As the company sets its sight to reach 100 years and more, they are grateful for this milestone and for the next in the making.
Wrapping it all in one package, Ramon Roco shows us the path to success with hard work and dedication, palanggas.
Art made public 2018 at SM Aura Premier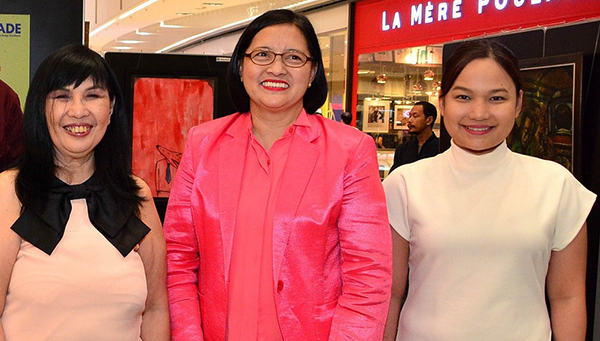 SM SVP for marketing Millie Dizon with Metrobank Foundation's assistant executive director Irene Labitad and SM Aura Premier mall manager Margie de Leon (right) during the Art Made Public 2018 Exhibit launch at SM Aura Premier
The launching of the 2018 Metrobank Art & Design Excellence (MADE) showcases effort to weave together an advocacy for the visual arts and cultural heritage through three interrelated components — Connections Made, Meet the Met in MADE, and Masjid, dahlings.
A joint partnership between the Metrobank Foundation, Inc. (MBFI) and SM, it features a series of art exhibits, lectures and workshops on art and cultural heritage, dahlings.
This year's works exhibited at the Art MADE Public highlights Connections Made, showing how past winners relate to each other — mentor-apprentice, young artists inspired by established and senior ones, artists related by blood, and contemporaries within artist groups of different eras.
"The exhibit aims to present the diversity and richness of influences between and among past MADE winners. It is also about tackling their themes, messaging, and styles that have changed and emerged among contemporaries over time," said MBFI president Aniceto Sobrepeña.
Meet the Met at MADE, on the other hand, highlights the ongoing restoration program for the Manila Metropolitan Theater through an exhibit of the different decorative art elements and colorful costumes worn by actors during their theater performances.
Completed in 1931, the Manila Metropolitan Theatre, where our country's mega namedroppable members of society and the conglomerate world were present — also known as the Met — has witnessed several cycles of destruction and revival throughout its 85 years of existence. The edifice was declared a National Historical Landmark in 1973 and a National Cultural Treasure in 2010 because of its status as the only existing Art Deco building of its scale and integrity in Asia.
As a traveling exhibition, Art MADE Public will give us all a chance to visit the Mindanao region where it will display images of over 30 mosques, showcasing the anatomy of Islamic architecture and their aesthetic principles in Masjid.
Art Made Public, one of the exciting cultural events in SM, will then go to SM City Manila on March 13-21.
Yes, palanggas: leave it to SM to always brings us "the best of the best"!!