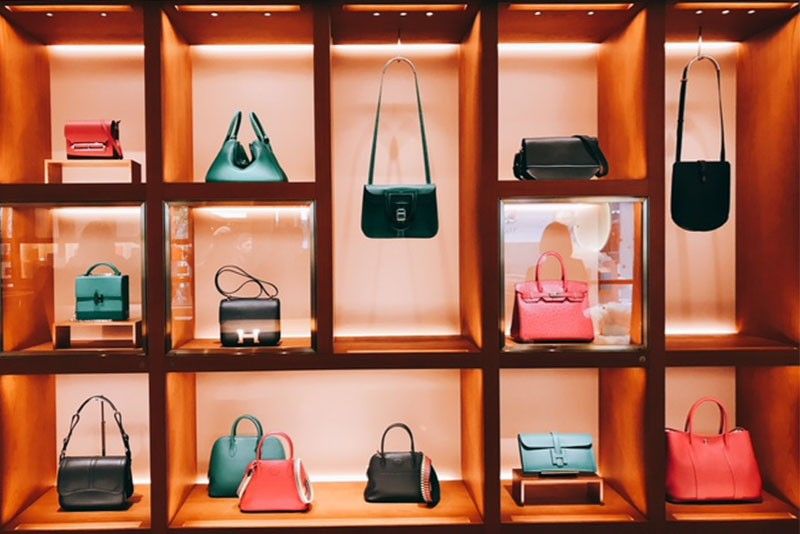 A new three-story Hermès flagship store opens at Central in Hong Kong with a retail area of 9,167 square feet. Photo shows a wall of bags displays Hermes' coveted and current icons in the store.
Hermès opens flagship store in Hong Kong
HONG KONG — On Jan. 10 Hermès opened a new store at Landmark Prince's, a tony location in Central, Hong Kong that the French company has had its eye on for about 10 years.
Not just any store, the three-story flagship offers a retail area of 9,167 square feet — a wealth of space to display the depth and variety of its 16 metiers, from silk to leather goods to ready-to-wear, while making a strong statement about expansion and its unwavering confidence in the market.
"We really wanted to have something special in Hong Kong," said Axel Dumas, CEO of Hermès. "It was really difficult to find a place, and the business is more complicated in Hong Kong because we decided to take such a big place, but we believe in the future of Hong Kong very strongly."
Entering the store you're greeted by the sight of colorful scarves and silk collections, with perfume on one side and fashion jewelry on the other. Go deeper in and you enter the men's universe, with leather to the left and ready-to-wear to the right, facing a dedicated shoe area.
Up the bamboo staircase to the second, or mezzanine floor, you'll find yourself in the women's universe, along with jewelry accessories, the watch department, and a VIP room called "L'ecrin" for jewelry.
The third floor is devoted to Hermès Maison, with home decor, furniture tableaus, a dining area laid out with exquisite tableware, and even a "game room" with a Hermès foosball table inviting customers to play.
"The idea as always is to try to show you as much of our product as possible and try to seduce you with that," Dumas says.
As with all Hermès stores worldwide, the Hong Kong flagship was designed and created by the Parisian agency RDAI under the artistic direction of Denis Montel. Featuring a three-dimensional vertical façade inspired by the traditional bamboo scaffolding used in Hong Kong buildings, Montel gave the bamboo slats a modern interpretation that allows enough natural light to come in and brighten the store.
"I asked the architect is to do something local, something unique, something bespoke for the country to create emotion for our clients," said Dumas.
With the main entrance on Ice House Street and a second entrance on Des Voeux Road, the corner features a giant, two-story window through which passers-by can view a new installation from French artists Zim & Zou.
Both Dumas and his cousin, Hermès artistic director Pierre-Alexis Dumas, recall Hong Kong fondly as they lived and worked there as young men.
"Hong Kong is a very, very dear city to us and Hermès," said Pierre-Alexis, recalling Hermès' entry into the Hong Kong market 45 years ago, retailing ties and suitcases at Lane Crawford.
"This was the first place to find Hermès ties in the '60s," he noted. "Then in the '70s, my father had an office in The Peninsula. Now we pay homage to our ancestors who built and developed Hermès."
To celebrate the opening Hermès is releasing a special, limited-edition Malice collection of small handbags sporting graphic illustrations of Hong Kong icons like the city skyline, a birdcage, and rolling dice, which also illustrates the brand's theme this year: "Let's play." The bags are available only at the Landmark Prince's store.
"Twenty-five years ago in my wildest dreams I thought one day we'll open a store here and it's dangerous because we are completing a fantasy," says Pierre-Alexis. "So what's the next dream? We have to do even better."