Japan's new fashion revolutionizers
Japan proved once again its dominance in fashion design and innovation in the recently concluded Mercedes-Benz Fashion Week Tokyo. If Paris has "fashion revolutionizers" Demna Gvasalia of Vetements (and now Balenciaga) and Simon Port Jacquemus of Jacquemus, then Tokyo has Keiichiro Yuri of Keiichirosense, Keisuke Imazaki of Plastic Tokyo and Yoshio Kubo with his namesake brand, along with a roster of equally gifted designers.
In my opinion, domestically based Japanese designers are an under-appreciated lot on the international fashion scene; quite honestly, what certain "it" designers are currently doing in Europe, Japanese designers have been doing below the radar for a long time.
Sure, Japan has given the world Chitose Abe of Sacai, Jun Takahashi of Undercover, Rei Kawakubo and Junya Watanabe of Comme des Garçons, Yohji Yamamoto and Issey Miyake, but there is certainly tremendous talent at the MBFWT waiting to break out and join them on the global fashion stage.
While I wasn't able to catch all the collections, those that I saw were all technically masterful, including two by foreign designers. Made primarily but not exclusively for the domestic market, the designs carried a broad range of appeal worthy of international recognition.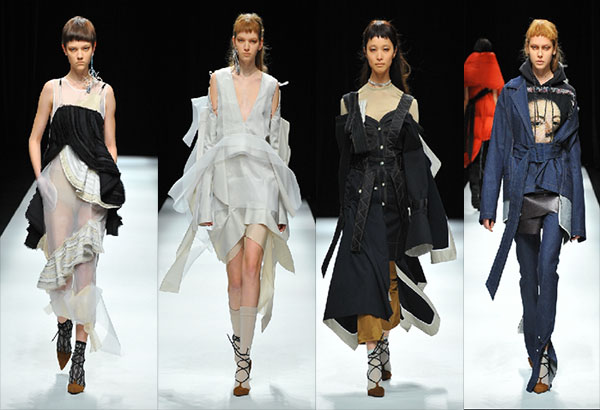 Anne Sofie Madsen
One of only three established foreign designers at the MBFWT, this young Danish, John Galliano-trained designer worked for Alexander McQueen as a junior designer before going solo in 2011. With a clear vision for her brand, Anne Sofie Madsen is creating a name for herself based on a fashion ideal built on contrasts and ambivalence. A delicate design balancing act to successfully pull off, her A/W 2016 collection did not disappoint; the clothes were both inviting and out of reach, streetwise and ladylike, boyish and feminine at the same time, straddling fanciful fun and serious intricacy of detail. Having been mentored by two fashion greats has definitely worked in Madsen's favor.

Hanae Mori
This decades-old Japanese brand has found new life with its young designer Yu Amatsu; just like Hedi Slimane has built a strong collection based on the design aesthetic of Yves Saint Laurent, Amatsu breathes newness into the everlasting theme of the Hanae Mori brand: elegance. Simple silhouettes are given unexpected twists: oversized double one-sided pockets on a wool dress, fur peeking out of a black silk dress and a giant knot cinching a burgundy skirt, giving the brand renewed appeal among the active contemporary and cosmopolitan women of Japan. Of course, the Hanae Mori collection would not be complete without the appearance of its iconic butterfly motif, this time on gorgeous eveningwear.

Keiichirosense
Originally a bag designer, Keiichiro Yuri fused traditional Japanese textile with new materials and leather from Himeji in his debut collection for MBFWT A/W 2016. Not one to conform, his structural single pieces with laborious detailing speak of his preference for unconventional, art-like designs and of his skill at manipulating materials into exciting, wearable shapes. On the other end, he displays a softer side to his craft by using lighter materials but with equally juxtaposed elaborate accents, lending them a sense of precociousness. He considers his clothes progressive silhouettes and I could not agree more.

Asian Fashion Meets Tokyo
For the second installment of the Japan Fashion Week project "Asian Fashion Meets Tokyo," designer Nguyen Cong Tri from Vietnam showcased an exquisite collection inspired by images of the female Vietnamese farmer in her traditional farming garb called the ao ba ba. The predominantly black, deep-toned brown, moss green and goldenrod yellow designs were painstakingly interlaced, woven, fringed, dyed, embroidered and embellished with appliqué as a reaffirmation of their traditional identity but given a modern, western aesthetic. Taking centerstage in the 41-piece collection is the Lanh My A silk from the Mac Nua fruit, a rare material now considered a national treasure of Vietnam.

In-Process
A mainstay of the MBFWT, In-Process is a successful fashion brand that turns out very commercial designs for the conservative young female adult segment of the Japanese market. Rather than turning out highly elaborate pieces, the design duo of Yuriko Ohara and Scott Hall concentrates on patterns and prints to express their straightforward, uncomplicated design aesthetic. Minimalist separates that allow for fluid movement define their collection; for this season, they took their cue from the colors of the artwork of Hamburg-based artist Jadranko Rebec, which are equal parts playful and modern.

Motohiro Tanji
This experimental knitwear label named after the designer himself is an incredibly ingenious display of the infinite ways knitwear can be manipulated into beautiful pieces of clothing. Created in unique textures utilizing both hand and machine knitting, the sweaters, shrugs, scarves, dresses, skirts and cardigans in solid colors are head-turning wearable art that can be worn day or night. If anyone ever says knitwear is boring, then they have not made their acquaintance with the Motohiro Tanji brand.

Divka
The design team of Takayuki Tanaka and Motoyuki Matsumoto highlighted the process by which their clothes come to life in their latest collection "In Progress." Unfinished fabric edges during basting, unintended fringes from cutting, and natural creases from the weight of the fabric during sewing are all utilized to finish off this "incomplete" yet powerful, polished collection. Why fix or adjust what is not broken? Just like travel, with the Divka label, the journey is just as important as the destination.

Johan Ku
London-based Taiwanese designer Johan Ku has been a favorite since I started covering MBFWT. His expertly edited collection in patented knitted fabric is flawless, breaking through the boundary that sets fashion and art apart, creating sculpture-like silhouettes that are precisely cut yet soft to the touch, and on the eyes. Inspired by the sci-fi movie The Thing, the mostly black and white (some glow in the dark) collection was youthful with a tinge of drama towards the end. His use of the zipper as a definitive design element gave the clothes just the right amount of edge.

Plastic Tokyo
Keisuke Imazaki brilliantly translates Japanese culture for the world via his street-style brand Plastic Tokyo. The "no rule, no concept" menswear brand presented a unisex collection that highlighted the Japanese penchant for unusual fashion. Whimsical but not absurd, exaggerated but not tacky, playful but mature, Imazaki's layered interpretations are his vision for the modern Japanese fashion age.

Theatre Products
Entitled "Unnatural," the collection of Theatre Products is an ode to the saying, "Don't take fashion too seriously." Since Akira Takeuchi and Miwa Morita, the designers for the brand, consider clothing to be all about theater with a healthy dose of entertainment, there was no unifying theme to the collection. With fun, layered pantsuit styles, '80s-inspired ensembles, eclectic one pieces in fake fur, polyester, leather , vinyl, tulle, lace and denim, Theatre Products's message is clear: Fashion is for everyone.

Yuma Koshino
The second-generation Koshino is the daughter of Michiko, one of three fashion designer sisters popular in the '80s. With her fashion design gene strongly on display, Yuma Koshino pulled off an Art Deco x Pop collection that evoked modern luxury to a T. By combining the intrinsic qualities of fabrics such as jacquard, denim, wool, lace and plush velvet with the latest trends, she successfully presented an ultra-feminine collection that was enthusiastically received by the mostly female audience.

Yoshio Kubo
The persona of the slight and very timid designer Yoshio Kubo is the complete opposite of the designs he expertly turns out season after season at MBFWT. "Bold," "fierce," "unexpected," "provocative" and "out-of-the-box" are some of the adjectives often associated with his creations and his A/W 2016 is no exception. The designer, who does not subscribe to making typical clothes for everyday life, likes to challenge people's mentality and attitude towards dressing. As he makes his way to Paris for an exhibition, he will clearly continue to push the envelope for the brash, unapologetic Yoshio Kubo brand of style.

5351 Pour Les Hommes
Brand designer Kazuhisa Komura yet again delivered a solid collection of modern, elegant, London-inspired styles for his multi-generational, fashionable-forward male clients. Entitled "Antithese" and held at Omotesando Hills, military and British skin fashion inspired models with temporary tattoos inked strategically on their necks and faces walking to acid music in layered looks that were at times boyish and at other times manly, at times deliberate and other times nonchalant, one moment rocker-chic, another moment dapper, tough then vulnerable. Most of the separates were versatile enough to transcend seasons and trends. Kudos to Komura-San for pulling off the "pseudo skirt" look because they were effortlessly stylish and fresh. The black leather pants with metallic inscriptions were so utterly sexy they should make a womenswear version, a certified hit guaranteed.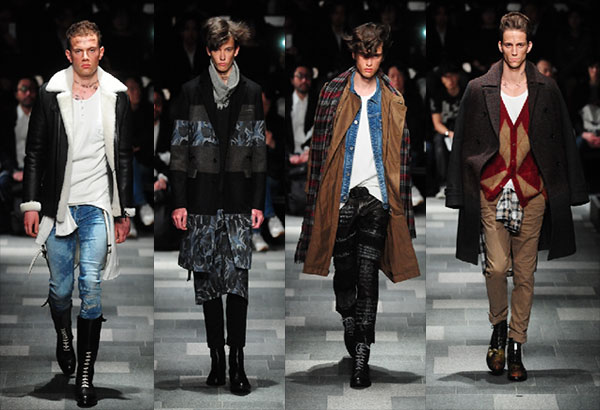 * * *
Follow me on Instagram @tettaortiz.