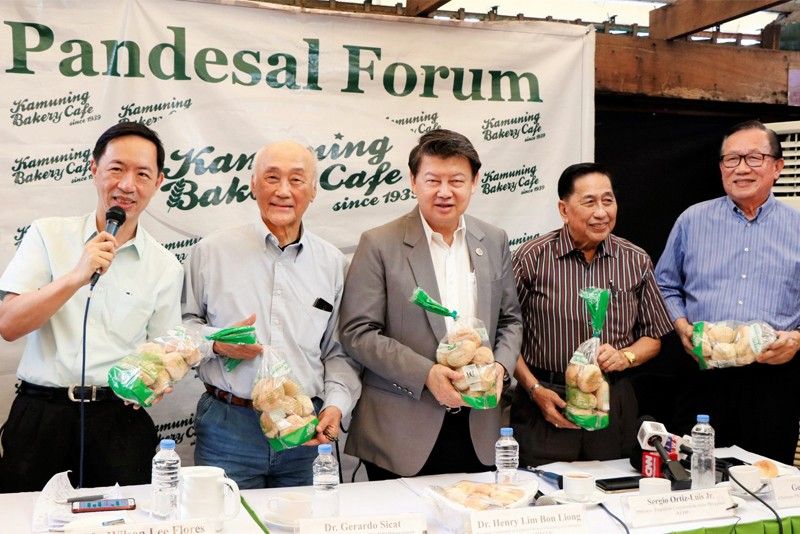 Author Wilson Flores at his Pandesal Forum with (from left) economist Dr. Gerardo P. Sicat, Federation of Filipino Chinese Chambers of Commerce & Industry, Inc. president Dr. Henry Lim Bon Liong, Employers Confederation of the Philippines president Sergio Ortiz-Luis Jr., and Philippine Chamber of Commerce & Industry, Inc. chairman George Barcelon.
How businessmen rate 'Dutertenomics'
Who would have a better vantage point to assess the genuine state of the Philippine economy than the entrepreneurs on the ground and economists who monitor our economy?
Three days before the country's annual State of the Nation Address, or SONA, I invited four leaders to give their own pre-SONA at the Pandesal Forum of Kamuning Bakery Café in Quezon City.
They are Massachusetts Institute of Technology-educated UP professor Dr. Gerardo P. Sicat, a foremost economist and first director-general of the National Development Authority (NEDA); Employers Confederation of the Philippines (ECOP) president Sergio Ortiz-Luis Jr.; Philippine Chamber of Commerce & Industry, Inc. (PCCI) chairman George Barcelon and Federation of Filipino Chinese Chambers of Commerce & Industry, Inc. (FFCCCII) president Dr. Henry Lim Bon Liong.
All four leaders were unanimous on these issues: the Philippine economy is resilient and fast-growing, but reforms are urgently needed to accelerate progress and inclusive growth by boosting the "Build, Build, Build" program of new infrastructure, loosening our now "very rigid" labor policies to make them "more flexible in order to generate increased employment," welcoming foreign direct investments (FDI) by changing the restrictive economic provisions of the Philippine Constitution, and implementing "ease of doing business."
How do these four business leaders assess President Rody Duterte's handling of the Philippine economy in the last two and a half years?
From a range of one to 10, Dr. Lim gave President Duterte a rating of eight based on the recent satisfaction rating by SWS and Pulse Asia surveys on his leadership, while Barcelon gave Dutertenomics a rating of 7.5 "based on fulfillment of his election campaign promises."
Ortiz-Luis gave Duterte the highest marks, 8.5 to 9, adding: "President Duterte has excellent and decisive leadership, especially compared to the previous administration; there's no comparison to his political will and reforms."
Dr. Sicat said, "The Philippine economy has been on long-run uninterrupted growth for a period of two decades now, at a pace of five percent-per-year growth of GDP. In recent years that average growth rate has gained traction at six percent per year. Over time, the country's macroeconomic position gradually improved as a result of propitious factors that have sustained themselves."
Sicat said that, instead of the consumption-led economic growth of the past, the Duterte administration has taken "a more pronounced, investment-driven process." He also lauded the reform of rice tariffication, which will help make consumer prices or inflation low, thus lessening the pressure to increase wages.
Sicat urged the Duterte government to complete its other TRAIN, or tax reform plans, to reform the Philippine Constitution's restrictive economic provisions on foreign direct investments, and make labor policies more flexible to boost job creation and homegrown industries.
Rice-ing disagreements
On the reform of rice tariffication to allow rice imports and do away with the monopoly on imports by the National Food Authority (NFA), Dr. Sicat and hybrid rice seedling exponent Dr. Henry Lim Bon Liong disagreed. Sicat said this reform is beneficial for the Philippine economy, will ease inflation and encourage farmers to shift to other high-value crops in which the Philippines has a better comparative advantage.
In contrast, Lim said there should be a balance, because Philippine society also needs to protect the welfare of two million rice farmers versus the flood of rice imports. He said, "Aside from these programs, I hope that in the next three years, the government will further set its focus on agriculture for our food security and self-sufficiency. We appeal to government, our leaders and other sectors to assist and support our rural farmers."
Lim said the Philippines is primarily an agricultural country. "Many Filipinos living in the countryside depend on agriculture. Many MSMEs are engaged in agriculture directly or indirectly. Developing agriculture is one sure way of lifting our people out of poverty and strengthening our Philippine economy… We cannot depend on imports. I join the call of industry stakeholders to review the rice import liberalization law because this is affecting our Filipino farmers very much with the continuous decline of palay's buying price. We cannot ignore the urgent concerns of farmers. The rice industry contributes P400 billion a year to the economy."
On the spate of seemingly anti-business, pro-labor policies by our politicians in recent decades, which have actually harmed the welfare of Philippine workers, Dr. Sicat said, "A complementary policy towards improving our policies to open the economy toward more FDIs is to focus on employment policies in our laws. In the 1970s, when then labor secretary Blas Ople wanted to rename the Department of Labor into what it is now, DOLE — with emphasis on the Employment part — I welcomed it. I thought that would change the mindset."
Sicat added, "Unfortunately, it did not. In fact, instead of holding back on modernizing our labor laws to look like those dominantly in effect in industrial Europe and America, DOLE has continued to be a mouthpiece for pushing for labor laws to be close to their Euro-American image. Our neighbors have been more sensible. By being pragmatic on these issues, they have made their laborers richer, more comfortable, and more highly respected within the world's labor movements, because they have achieved high productivity through hard work. This is what our DOLE and labor leaders must learn to inculcate in their advocacies."
Independent foreign policy
On the government's independent foreign policy, Ortiz-Luis lauded President Duterte's bold and pragmatic reforms, which, he explained, have resulted in "the Philippines now being taken more seriously by all the world's big powers and now gaining more substantial economic benefits from China, Japan, etc."
Ortiz bewailed "the problem of some politicians each wanting to craft their own foreign policies. President Duterte is wise and doing well with his independent-minded and pragmatic diplomacy, especially our territorial dispute over small islets with China."
Barcelon said he supports Duterte's balanced foreign policies, especially the opening of many new foreign markets for the Philippine economy.
Dr. Lim concurred, saying that the Duterte administration has done well in foreign policy to benefit our Philippine economy, not just his diplomats but his top economic managers in the Department of Finance and Department of Trade & Industry, in pursuing economic diplomacy with all countries.
On the government's handling of the territorial dispute with China, Lim said that President Duterte "sees the bigger picture" of the important comprehensive economic, diplomatic and other cooperation between our two countries.
* * *
Thanks for your feedback at willsoonflourish@gmail.com! Follow @wilsonleeflores on Instagram, Twitter, and Facebook. Buy PhilSTAR's Tagalog tabloid Pilipino STAR Ngayon every Friday and read my column "Kuwentong Panadero." Read also https://investment.fwd.com.ph/experts/asia-s-business-leaders-and-what-we-can-learn-from-them.