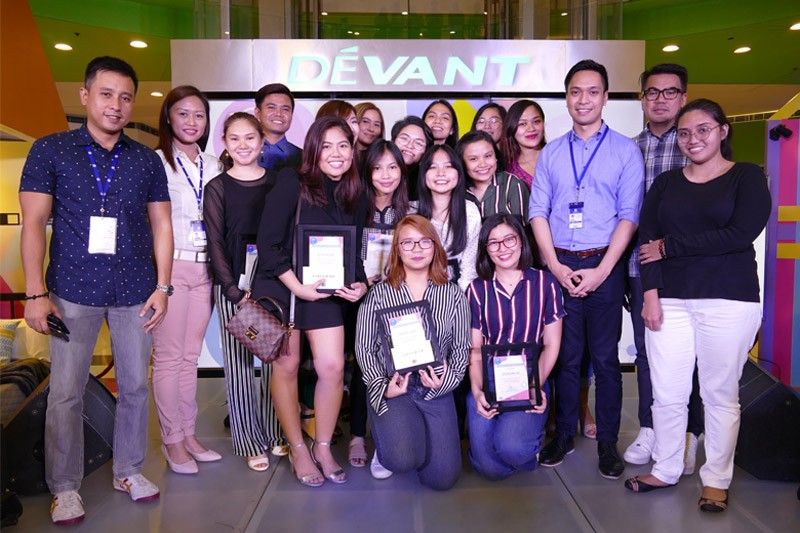 Since 1967, the Philippine School of Interior Design has produced more and more design professionals who continue to make their mark in the world by evolving humdrum spaces into inspired homes.
Released
Home designs come to life at LiveXDesign
MANILA, Philippines — Bringing to life home designs suited for different lifestyles, the Philippine School of Interior Design officially opened "LiveXDesign" on August 24 at SM City Sucat.
In partnership with SM, Davies Paints and MAARTSY.com, LiveXDesign is an exhibit that showcases how simple home spaces can be transformed into meaningful living spaces befitting a modern homeowner.
At the exhibit, enter four rooms: Home Office, Dining Room, Bedroom and Living Room, each with unique inspirations and design concepts.
Inspired by abstract geometric patterns, the Home Office conveys energy and motion with strategic use of complementary blue and orange hues.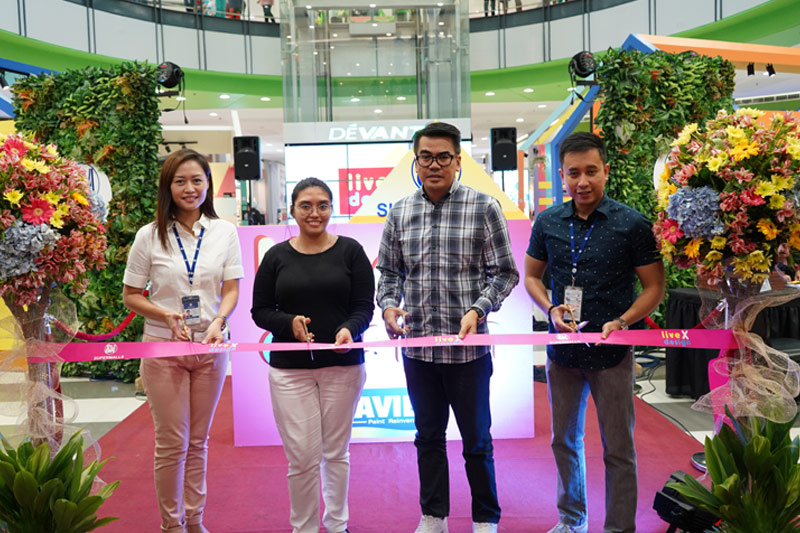 Following the ribbon cutting, the LiveXDesign was finally open to showcase how simple home spaces can be transformed into meaningful living spaces befitting modern homeowners. (From left) Nelicia Torres, assistant mall manager for SM City Sucat, Kat Mendiola, marketing officer for Davies Paints, Allan Brosas, senior assistant vice president for Operations Central Region and John Brian M. Tarnate, regional operations manager for Central 5 Region. Released
Conceptualized and created through the Memphis Design, the Dining Room is inspired by the 1980s when geometric shapes were popular, along with bold and contrasting colors.
Pioneered by Ettore Sottsass in 1980, Memphis Design is a movement characterized by radical motifs, exploding colors and asymmetrical shapes.
The Bedroom, meanwhile, is conceptualized with a Scandinavian Minimalist point of view, which is characterized by simplicity and functionality. Featuring pale colors and industrial materials, the room gives a sophisticated yet simple and laid-back feel.
Lastly, the Living Room is inspired by picturesque sights in the Philippines to resemble the beauty of Mother Earth. The designers incorporated the tropics indoors with its bright and light colors, inviting one to connect with one's surroundings.
Make home the respite it needs to be
PSID understands how our spaces greatly influence our outlook and our lifestyle. As such, designers for LiveXDesign give recommendations on making our homes a respite in a fast-paced society, a place to have meaningful downtimes after a long day.
Designers behind LiveXDesign prefer the use of light colors and huge visual mirrors to create depth and the illusion of a bigger breathing space.
To maximize a room, use storage in the form of multifunctional furniture (e.g., a coffee table that can be turned into a desk or a sofa bed) preferably made of light materials to make the room feel equally lighter. In this respect, the idea of "less is more" becomes even more prominent.
LiveXDesign also presents the importance of color as a powerful tool that gives each room a personality. Color creates atmosphere—it can be calming or exciting, and so on—as well as defines moods of an interior space.
When it comes to bringing color to every room, rely on Davies Paints.
"When it comes to design, it's largely about colors kasi, and Davies Paints is known to be the number one in this aspect. [This exhibit] is a great opportunity to showcase our variety—in whatever the designers want to achieve," Katherine Mendiola, media and public relations supervisor for Davies Paints, said.
Davies Paints currently holds the Colors of the Philippines Collection, a campaign that proudly tells the story of the Filipino people through rich colors and hues, which you can check out here.
Get the chance to win a home makeover
"A well-designed home is a happy home," announced Patricia Asturias who hosted the event—truer words have never been spoken.
LiveXDesign is open to the public from August 24 to 31 at SM City Sucat, September 21 to 30 at SM Bicutan and October 15-23 at SM City Paranaque.
As part of the partnership, homeowners can join a home makeover promo.
Just shop at any Ace Hardware store, SM Store or SM Hypermarket from August 28 to September 30. For every single or accumulated purchase worth P1,000, one is automatically entitled to one raffle coupon. To claim the raffle coupon, just head to the designated redemption center, present proof of purchase, fill out the necessary details, then drop the raffle stubs in designated drop boxes.
One lucky winner will be drawn on October 1 and will take home P30,000 worth of SM Gift certificates for SM Home and Ace Hardware, plus P30,000 worth of Davies items.
For exclusive news about SM Supermalls and details about the #LiveXDesign, visit https://www.smsupermalls.com. Follow SM's official social media accounts on Facebook, Twitter and Instagram.