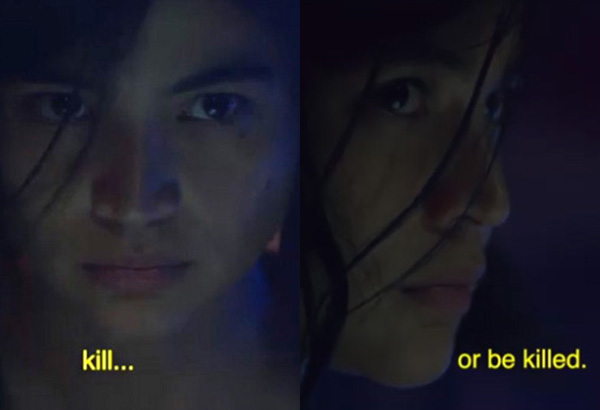 Scenes from 'Buy Bust' starring Anne Curtis.
'BuyBust,' Anne Curtis get rave reviews from Hollywood press
HOLLYWOOD — Following the premiere of Filipino action film "BuyBust" in New York last month, several Hollywood publications, including the New York Times, gave the Erik Matti-directed film a two-thumbs up.
"'BuyBust' Delivers a Thriller in Manila," Jeannette Catsoulis said in the title of her review for New York Times, published on August 9.
"'BuyBust' is surprisingly funny for a movie that's basically a massacre in progress. Wrapping a political-corruption yarn in a blanket of bullets and blood, the Filipino director and co-writer, Erik Matti, slides visual and textual jokes into the mayhem in ways both sly and blatant. This tongue-in-cheek approach (including a delicious little ditty played over the end credits) doesn't lessen the impact of his heroine's journey, but it does significantly ease the tedium of the virtually nonstop slaughter," Catsoulis wrote.
Catsoulis described the performance of the movie's star, Anne Curtis, as "impressive."
Meanwhile, Richard Kuipers of Variety said in his July 16 review: "Pulsating action and lacerating social commentary are the ingredients of an oustanding genre outing by Filipino filmmaker Erik Matti."
"'BuyBust' is a superbly executed action film… Director and co-writer Erik Matti has delivered an explosive exercise in kinetic cinema that also offers potent commentary on the devastating social consequences of the Philippine government's war on drugs," Kuipers wrote.
"Following its world premiere at New York Asian Film Festival, 'BuyBust' will become a must-see item for genre fans. It looks certain to spark controversy and attract large audiences when it releases locally Aug. 1, and should enjoy a successful run in selected North American cities from Aug. 10."
Of Curtis' performance, Kuipers said: "In a radical departure from her usual rom-com roles, dual Australian-Filipino national Curtis is convincing and charismatic as the determined and amazingly resourceful heroine. Performances from the rest of a huge cast are spot-on, right down to bit parts."
Kuipers also praised the Filipino movie's technical aspects such as sound, fight choreography and cinematography.
"The film's technical package features stellar work across the board. Cinematographer Neil Derrick Bion pulls off any number of mind-boggling tracking shots in narrow alleys and across rooftops that are filled with fight director Sonny Sison's brilliantly staged mayhem. Topping things off is a terrific score by Erwin Romulo and Malek Lopez that employs everything from jaw harp to fuzztone guitar and pulse-quickening drumbeats."
On the other hand, Hollywood Reporter's Clarence Tsui wrote in a July 17 review that "BuyBust" is a "furious and ultraviolent action thriller."
"'BuyBust' is a rare beast: It actually invites the viewer to root for cops who shoot, stab, pummel and behead people in a poverty-stricken shantytown," Tsui said.
"Bombastic in some parts and derivative in others, BuyBust plays a significant part in the development of a socially charged genre cinema in the Philippines, while adding to the debate about the country's social realities," he noted.
Tsui also compared Matti to other great directors and Matti's opus to that of other iconic films.
"Revolving around an elite squad's attempt to escape from a slum after a botched operation, 'BuyBust' boasts a body count that's so ever-spiraling it could make Quentin Tarantino quiver, and enough bone-crunching brawls to outstrip those of the no-holds-barred Indonesian actioner 'The Raid.' These visceral representations of death and destruction aside, Matti's stylistic and thematic frame of reference seems to be George A. Romero's 'Night of the Living Dead' or 'Dawn of the Dead,' as his protagonists battle with crazed, zombie-like mobs while they try to navigate their way to ultimate survival."
According to him, Anne's fans would be surprised as the movie shows her in a new light.
"Philippine audiences will be drawn by the transformation of matinee idol Anne Curtis into a brutal killing machine," Tsui said.
"To the credit of Matti and his co-screenwriter, Anton Santamaria, Manigan (Anne) isn't doing all this to avenge a dead lover or save a son in peril; she's in it because it's her job, which is a progressive approach to female character motivations."