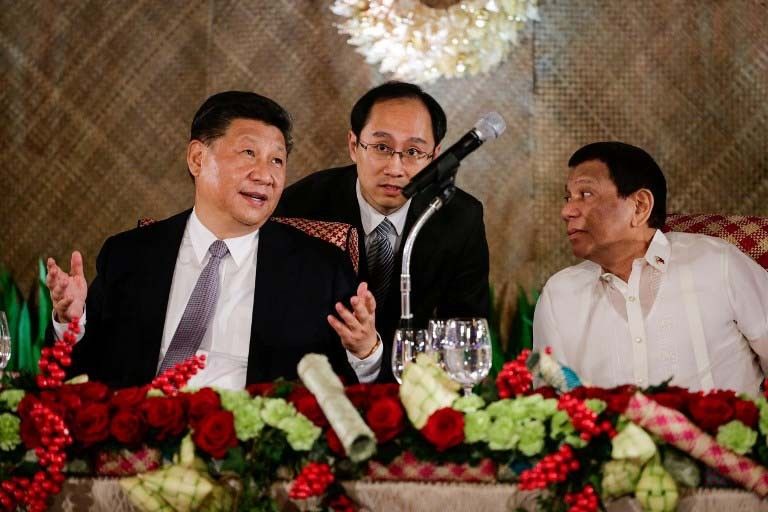 Chinese President Xi Jinping (L) gestures as Philippines' President Rodrigo Duterte (R) looks on during a state banquet at the Malacanang Presidential Palace in Manila on November 20, 2018. Chinese President Xi Jinping called his visit on November 20 to long-time US ally the Philippines a "milestone", as he aimed to boost blossoming ties on the promise of billions of dollars in backing for mega-projects.
Pool/AFP/Mark R. Cristino
'Philippines would be better off shunning Chinese investment altogether'
MANILA, Philippines — Philippine President Rodrigo Duterte risks repeating the mistakes made by other countries in the region that suffered from rising debt by accepting Chinese infrastructure investments, a London-based think tank warned.
Duterte plans to spend trillions of peso to bridge the Philippines' infrastructure gap, and to do so he sought Beijing and other countries' help for funding to reduce strain on his government's budget.
Manila and Beijing on Tuesday signed 29 bilateral deals, including new plans for increased infrastructure investments and a preliminary agreement to cooperate on oil and gas exploration in the disputed South China Sea, part of which is the West Philippine Sea.
In a commentary on Thursday, Capital Economics said given the "corruption problems" associated with Chinese infrastructure projects and the Philippines' current account gap "already approaching unsustainable levels," Chinese investment "could make problems worse."
The think tank cited Sri Lanka and Pakistan's recent dealings with Chinese loans as a cautionary tale for the Philippines.
"The upshot is that while improvements to the country's infrastructure are desperately needed, the pace of increase needs to be managed properly in order to avoid further balance of payments strains," Capital Economics said.
"If Chinese plans do eventually go ahead, the Philippines would need to row back on its own spending plans," it added.
Some analysts believe Chinese President Xi Jinping's Manila visit early this week did not yield material gains for the Philippines, saying the deals signed in the presence of Duterte and the Chinese leader were in broad strokes and vague.
Critics have warned that the Philippines could be the next victim of what they say is China's "debt trap diplomacy," where Beijing gives "friendly" loans to bankroll infrastructure projects in financially weak states in exchange for control over strategic assets.
Debt trap?
Duterte's ambitious plan to upgrade the Philippines' dilapidated infrastructure has led to twin deficits on the budget and current accounts, pressuring the peso, and fueling inflation concerns.
The Duterte government has been pushing for a wider budget gap to accommodate increased spending on infrastructure. High demand for imports of construction-related goods has reversed the country's current account surplus to a deficit, which was estimated to be equivalent to around 1.9 percent of gross domestic product in the first half of 2018.
READ: Philippines' current account buffer deteriorates further in H1
"Given the relatively high level of foreign currency debt in the country, and with inflation well above target, a sharp fall in the peso would pose a major threat to the economy," Capital Economics said.
A surge in Chinese infrastructure investment in Pakistan has led to a wider current account deficit, prompting Pakistani officials to seek a bailout from the International Monetary Fund amid a crashing currency.
Struggling to pay its obligation, Sri Lanka in December last year gave the strategic port of Hambantota to Beijing on a 99-year lease as a way of repaying Chinese loans. Meanwhile, Malaysia has recently canceled a number of Chinese-backed projects due to worries about corruption.
READ: Malaysia's Anwar cautions Philippines on 'dubious' infra loan deals
Of the 10 big-ticket projects in the pipeline that China promised to finance, the Philippines has so far completed only two loan agreements — the $62.09 million Chico River Pump Irrigation Project and $232.5 million New Centennial Water Source Kaliwa Dam Project in Rizal.
Philippine policymakers have repeatedly said the country won't fall into an alleged "debt trap" with China.
"Given the experience of other countries in the region which have suffered from rising debt and increased corruption, the Philippines would be better off shunning Chinese investment altogether," Capital Economics said.