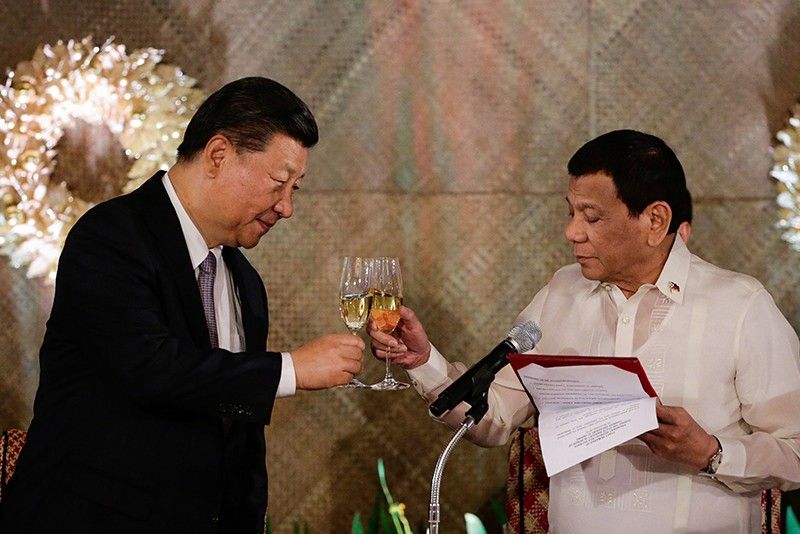 Philippine President Rodrigo Duterte, right, proposes a toast to Chinese President Xi Jinping during a state banquet at Malacanang Palace in Manila, Philippines, Tuesday, Nov. 20, 2018. President Xi Jinping is on a two-day state visit, the first by a Chinese leader in 13 years.
Mark R. Cristino, Pool Photo via AP
Fitch: Philippines-China ties to get warmer, but pain may lie ahead
MANILA, Philippines — Following the state visit of Chinese President Xi Jinping to Manila early this week, ties between the Philippines and China are expected to get cozier. But they may yet face a turbulent future.
Manila and Beijing on Tuesday signed 29 bilateral deals, including a preliminary agreement to cooperate on oil and gas exploration in the South China Sea — control of which is at the heart of a bitter maritime dispute between the two countries.
However, some analysts believe the Chinese leader's visit did not yield material gains, saying the deals signed in the presence of Philippine President Rodrigo Duterte and visiting Xi were in broad strokes and vague.
In a commentary, Fitch Solutions Macro Research said it expects bilateral ties and economic cooperation between China and the Philippines to "deepen further over the coming years."
"In particular, China has significant involvement in President Duterte's flagship $180-billion infrastructure program," the Fitch Group unit said.
"There is also plenty of room to increase Philippine exports of goods and services to China, in line with its pivot towards a consumption-driven economy," it added.
Ties between the Philippines and China have significantly improved under Duterte, who has set aside a ruling from a United Nations-backed tribunal that invalidated Beijing's claim to sovereignty over most of the resource-rich South China Sea.
In 2016, Duterte secured a pledge for $9-billion official development assistance during his trip to Beijing — which highlighted his "separation" from the Philippines' only treaty ally, the US.
Duterte's management of the maritime dispute has frustrated nationalists, who criticized his seeming inaction towards China's military buildup in the South China Sea.
A few hours before Xi landed on Philippine soil, an opinion poll was released showing 84 percent of Filipinos protesting the government's apparent neglect of the country's sovereign rights to resources in the disputed waters, where China has been aggressively staking its claim.
'Downside risks'
Philippine officials were hopeful Xi's visit would help hasten the implementation of China-backed infrastructure projects, amid concerns the Duterte administration's pivot to Beijing only undermined the country's sovereignty and is not paying off.
In the same commentary, Fitch Solutions warned that while Beijing's economic largesse would be supportive of the Philippines in the near-term, the Chinese economy is also struggling to sustain its growth momentum amid rising trade tensions with Washington.
The think tank also noted Filipinos' mistrust of China, which it said could have negative implications for Duterte's allies at the upcoming May 2019 mid-term elections.
"A pivot towards Beijing at the expense of relationship with the West poses downside risks to growth sustainability in the event that Chinese financing dries up," Fitch Solutions said.
"In addition, a flare up of tensions between both sides would damage economic cooperation and could see China pull out of infrastructure investments in the Philippines," it added.
Related video: