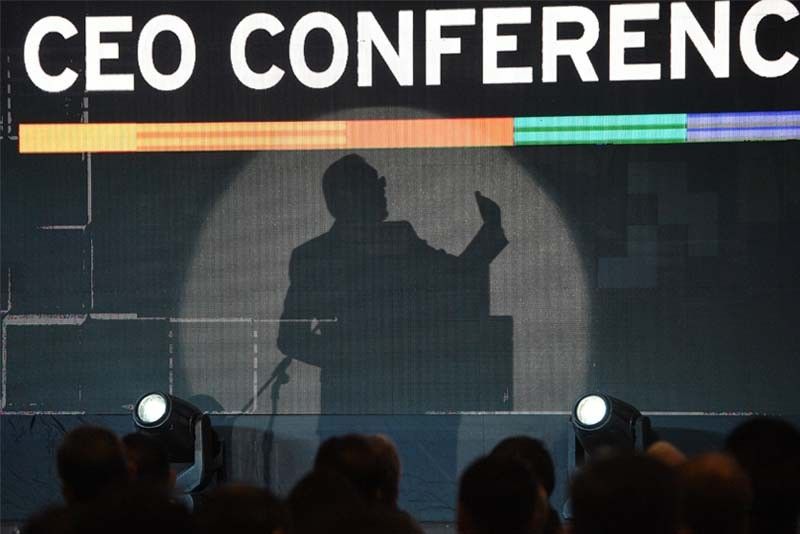 The shadow of Malaysia's former Deputy Prime Minister Anwar Ibrahim is seen as he delivers a speech during a CEO conference organised by a local management association in Manila on September 4, 2018. Anwar was jailed in 2015 on sodomy charges that critics say were politically motivated and then released in May 2018 after then-Prime Minister Najib Razak's election defeat.
Ted Aljibe/AFP
Malaysia's Anwar cautions Philippines on 'dubious' infra loan deals
MANILA, Philippines — Malaysian opposition icon Anwar Ibrahim on Tuesday cautioned the Philippines against entering into questionable loan deals with other countries, more than a week after Malaysia canceled multibillion-dollar China-financed projects due to ballooning costs that could create an unsustainable debt burden.
During a visit to China last month, Malaysian Prime Minister Mahathir Mohamed warned against "a new version of colonialism," as he canceled a series of Chinese-backed infrastructure projects worth $22 billion. The project contracts were awarded by former Prime Minister Najib Razak, who was defeated in the May 9 elections.
Meanwhile, Philippine President Rodrigo Duterte has sought to repair ties with China and courted the Asian power to help foot the bill for his administration's aggressive infrastructure push. Manila is expected to seal at least 10 financing agreements with China during Chinese President Xi Jinping's upcoming visit here in November.
At a press conference on the sidelines of a business forum in Manila, Anwar, who is next in line to take over as prime minister when Mahathir steps down, said scrapping the China-financed projects was a "tough" decision for Malaysia.
Asked if the Philippines should follow Malaysia and junk any loan agreements with Beijing to avoid falling into what critics call Chinese "debt trap," Anwar, a former finance minister and deputy prime minister, said funding deals must be "transparent."
"First, we should encourage investments from any country and that includes China. Trade and investment increase growth to propel the economic vibrance," Anwar said.
"Would this be a lesson? Yes, in a sense that contracts, arrangements by governments must be transparent and accountable because otherwise those in power will make certain arrangements and these are dubious and the next generation has to pay a price," he added.
Critics have warned that the Philippines could be the next victim of what they say is China's "debt trap diplomacy," where Beijing gives "friendly" loans to bankroll infrastructure projects in financially weak states in exchange for control over strategic assets.
Despite Duterte's warm relations with China, the Philippines has a long history of mistrust of it as the two countries continue to spar over the resource-rich South China Sea.
Of the 27 agreements inked between China and the Philippines in 2016, the Philippines has so far completed only one loan agreement with China — the P4.372 billion Chico River Pump Irrigation Project.
Last week, Philippine Budget Secretary Benjamin Diokno assured the public that the government is exercising due diligence with all foreign-financed projects.
"These projects are scrutinized by various national government agencies and inter-agency committees, requiring feasibility studies, detailed engineering designs, cost-benefit analyses including their environmental impact and social benefits, financial analysis of interest rates and budgetary impact, among other layers of project preparation and supervision," Diokno said. — with Agence France-Presse