The effervescence of sparkling wine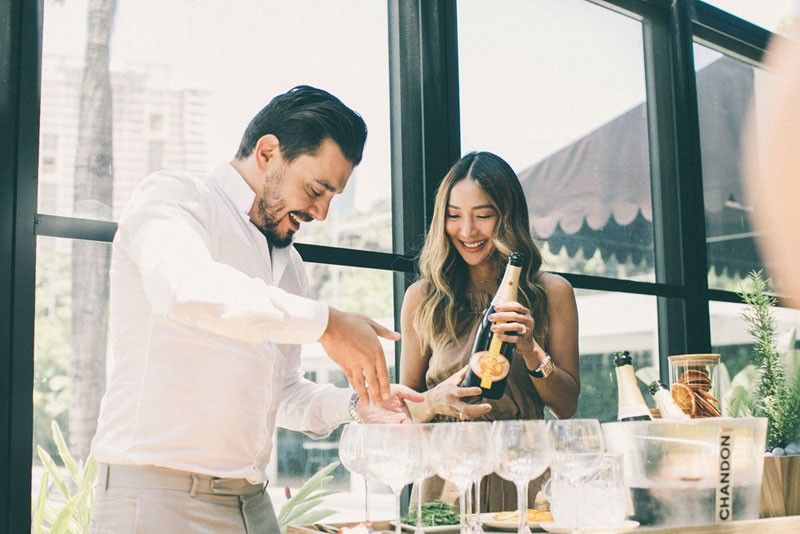 I got the Rolly on my arm and I'm pourin' Chandon," Snoop Dogg rapped in the track Drop It Like It's Hot.
In perennially hot climes, during celebratory times, nothing quite does it like a bubbly drink. There's a reason why soft drinks are in every corner in the Philippines; and on social media, brunch begins at "rosé o'clock."
Alas, with beverages serving as time-markers for folks stuck at home last year, many found the former to be too sweet; the latter too dry. I found myself ordering Chandon for that perfect balance of sweet and refreshing. I was pairing its Delice version with in-season fruits after the end of a work day with my family or sending it to friends.
Turns out I wasn't alone. Chandon saw record sales in the Philippines — so much so that it's mother company, LVMH, decided to release Chandon Garden Spritz exclusively at 1120 House in Makati. An expansive space bathed in natural light where titas and TikTokers come together, you can head there to enjoy Chandon Garden Spritz exclusively until the end of this month and nationwide after that.
The buzz is not because it's more accessibly priced than that other popular bubbly, Champage.
"Sparkling wine is sparkling wine. Champagne is champagne. They both have something different to offer," says Patrick Madendjian, managing director of Moët Hennessy Southeast Asia Markets. "Consumers are proud to drink Chandon. It's not just a copycat."
Created by winemakers in Mendoza, Argentina, using local handpicked grapes and oranges, Chandon Garden Spritz is inspired by the Argentine penchant for moreish bitter flavors such as yerba maté and Fernet — aromas that tantalize the palate. Add in the exceptional quality of the local Valencia oranges, and you have the perfect authentic summer serve.
It's a refined spritz for those seeking new frontiers in their glass, handcrafted by Chandon's winemaking team in Mendoza, Argentina. Enjoyed alone or garnished with sprigs of rosemary and slices of orange to enrich its profile, the difference is obvious. Madendjian's personal pairing preference is with kinilaw. "I like something fresh and salty to complement a fresh and citrusy drink like Chandon Garden Spritz. I even add calamansi."
Its vibrant orange hue alone sets the mood — whether for togetherness or celebration. The taste for it is here to stay.
* * *
Chandon Garden Spritz is exclusively available at 1120 House until June 30. 1120 House is at Makati.