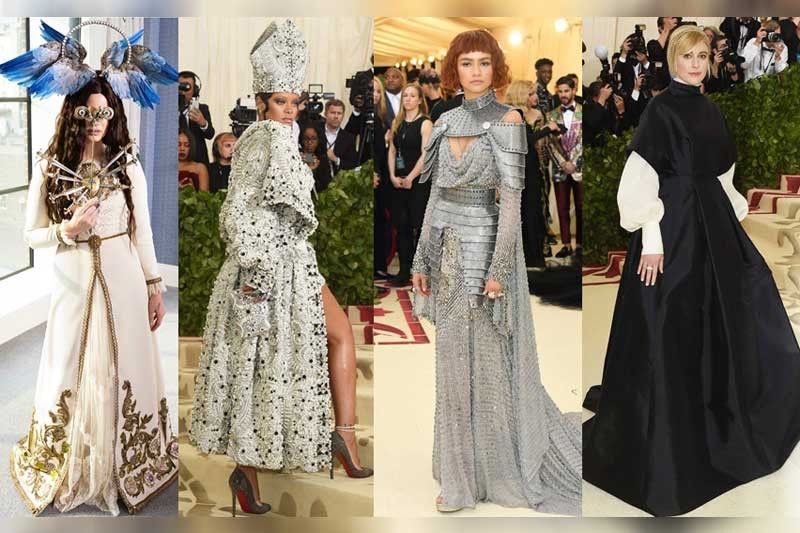 (From Left) Lana del Rey in Gucci, Rihanna in Maison Margiela, Zendaya in Versace and Greta Gerwig in The Row
Heavenly Bodies: Highlights From The #Metgala 2018
MJ Benitez
(The Philippine Star) - May 11, 2018 - 12:00am
MANILA, Philippines —In this YStyle roundup, we highlight 10 standout looks we love from the #MetGala red carpet.
Lana del Rey in Gucci
Dressed in head-to-toe Gucci, Lana del Rey's ethereal look takes inspiration from Our Lady of Sorrows, painted feather and crystal halo headpiece included. Cases in point: the golden sacred heart plate on the bodice of her gown is a reference to 'The Seven Sorrows of Mary' while her handmade antique glass stick is a representation of the eyes of Saint Lucy.
Rihanna in Maison Margiela
Pop culture meets pope culture as Rihanna, one of the gala's honorary co-chairs, stunned with an elaborate hand-embroidered jacquard outfit by Maison Margiela, complete with a bedazzled mitre (that's the pope's ceremonial headdress, in case you were wondering). This goes without saying but consider us devout believers.
Zendaya in Versace
Armor dressing gets a high fashion makeover as Zendaya channels Joan of Arc with a gunmetal number by Versace. Observe: a structured neck plate, shoulder guards, and a studded wide belt toughens up a floor-sweeping chainmail-like gown, creating a look that's equal parts strong and glamorous. Who needs a knight in shining armor when you can have bespoke Versace?
Greta Gerwig in The Row
Taking a silhouette from The Row's fall/winter 2018 show, the Olsens fashioned a voluminous black silk gown over a white, puff-sleeve blouse for actress/director/screenwriter Greta Gerwig, whose monastic fantastic look is topped off with vintage jewelry from Tiffany & Co. Convent couture, anyone?
Frances McDormand in Valentino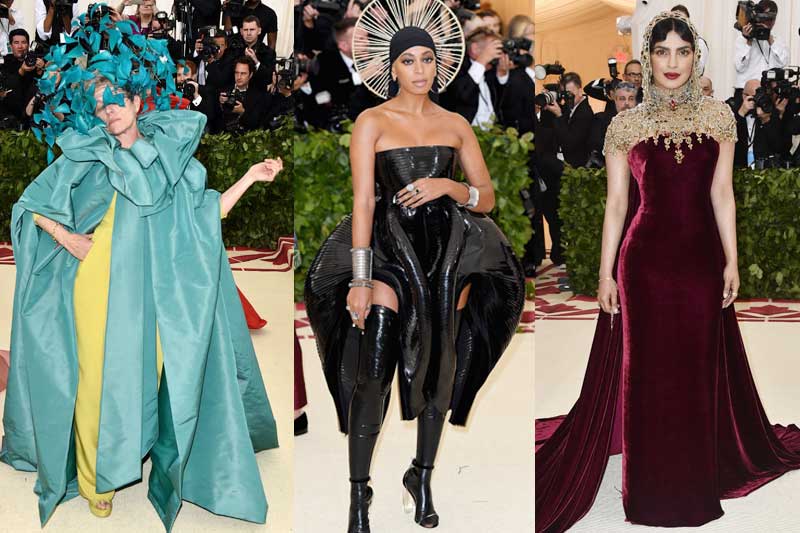 (From Left) Frances McDormand in Valentino, Solange Knowles in Iris Van Herpen and Priyanka Chopra in Ralph Lauren
Only Frances McDormand can pull off an extremely eye-catching ensemble while obscuring her identity altogether. As if donning an outsized emerald faille and organza cape from the Valentino haute couture spring/summer 2018 collection wasn't enough, she also wore a massive turquoise headpiece designed by Philip Treacy that effectively hid her face. Fun, unexpected, even absurd, it's a sartorial statement that's speaks volumes.
Solange Knowles in Iris Van Herpen
"I feel heavenly in black," Solange Knowles tweets before walking the gala's red carpet. It's hard to feel otherwise, especially when your ensemble consists of a structural Iris Van Herpen couture dress, thigh-high latex boots, and a beautiful durag-halo frame combo. Praise be!
Priyanka Chopra in Ralph Lauren
Priyanka Chopra shines on the red carpet with a burgundy velvet gown and a jewel-encrusted hood (that took over 250 hours to hand-embroider) custom-made by Ralph Lauren Collection. "I love the idea of this hood, such a nod to the theme, but at the same time, the embroidery's all made in India, so I love my two worlds colliding," the actress shares. The feeling is mutual.
Kate Bosworth in Oscar de la Renta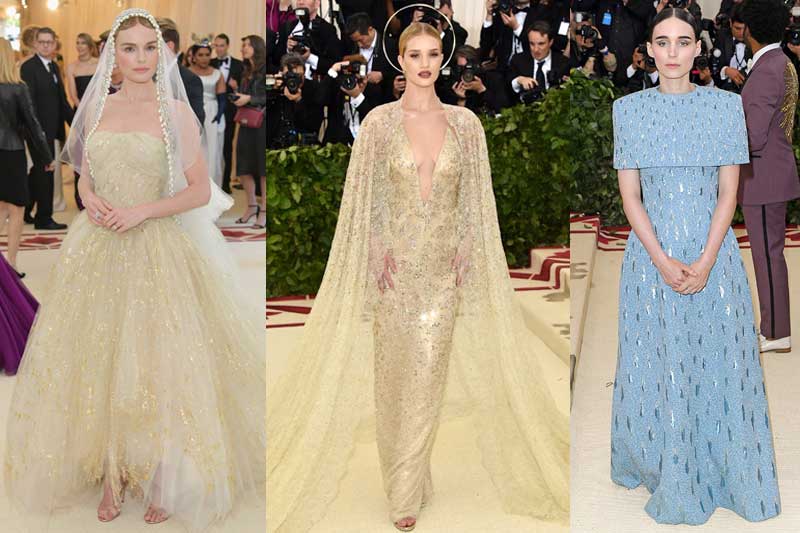 (From Left) Kate Bosworth in Oscar de la Renta, Rosie Huntington-Whiteley in Ralph Lauren and Rooney Mara in Givenchy
For this year's Met Gala, Kate Bosworth looked to the Virgin Mary for inspiration, "not in the literal sense," she explains, "but to explore the feeling." The result is a beautiful gold-dusted tulle ball gown from Oscar de la Renta, accessorized with a pearl-trimmed veil that elevated the look to heavenly heights.
Rosie Huntington-Whiteley in Ralph Lauren
Angelic aesthetic might just become a thing, thanks to model-actress Rosie Huntington-Whiteley's gilded gala gown. We especially love how she accessorized her caped Ralph Lauren Collection lace gown (encrusted with Swarovski crystals, of course!) with a delicate halo headpiece. Now that's our idea of divine dressing.
Rooney Mara in Givenchy
This year's dress code asked attendees to come in their "Sunday Best" and Rooney Mara certainly acquiesced. Wearing an icy blue gown from the Givenchy Haute Couture spring/summer 2018 collection, the two-time Oscar nominee's look is both austere and sophisticated. We're obsessed.