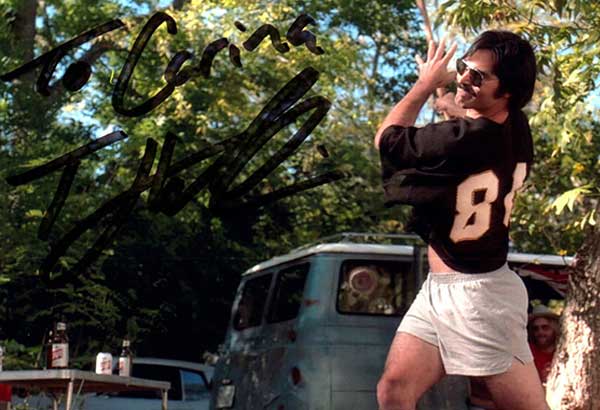 Hey batter batter: Hoechlin on this crop top he wore for Richard Linklater's Everybody Wants Some!!: "I'm still trying to get a hold of it."
I first saw Tyler Hoechlin when MTV's Teen Wolf aired in 2011. As Derek Hale, the broody werewolf who ominously hangs out around Beacon Hills High School, Hoechlin was very good at being spooky and endearing. Naturally, I fell in love.
It's been a season and a half since his last official appearance, so even though I loved his stint as Superman in Supergirl and as McReynolds in Richard Linklater's Everybody Wants Some!!, I haven't thought of Derek Hale in a while. A glimpse of his back running through the woods in Teen Wolf's final season naturally brought on this deluge of nostalgia, and when AsiaPOP Comicon (APCC) announced his appearance this year, I waffled. I did a lot of waffling.
To me, meet and greets are sort of scam-y. Even though in that miniscule window of time you get to meet your favorite people you otherwise wouldn't, it is still, somehow, a commodification of them.
Still, on Saturday night of APCC weekend, I kicked my inner Libra and I stopped waffling. I bought a pass for Sunday.
This is what it was like: there were at least 70 people at the meet and greet. The Q&A was, as expected, pitifully short. Hoechlin did have to go meet and greet at least 70 people, so I get it. I don't like it, but I get it.
On the upside, the Q&A was not as invasive as I thought it was going to be.
I learned that he spent a lot of time at sports bars with Teen Wolf co-star, Daniel Sharman, and that he was "adamant" about wearing the crop top in Everybody Wants Some!! — even cajoling the costume department to let him wear it on the day he has the most scenes, which I personally felt was a good call — and that some of his Teen Wolf castmates are still his best friends today.
He also said that he wants to come back to Manila, though I imagine they all say that.
I've watched enough videos to not be jarred by Hoechlin's warmth. This is probably me projecting, but I think that's what Derek Hale would've been like if he didn't go through so much trauma on the show.
Hoechlin loves baseball. I know this because I've resigned to the reality that I will likely never be a chill fan. If it can be Googled, I've likely Googled it.
I didn't have anything prepared to give him (which is another impulse I have yet to unpack: why the desire to impart a piece of me with strangers loved from afar?), so I brought the only baseball-related thing I could think of: my copy of Chad Harbach's The Art of Fielding, which is also one of the best reading experiences I've had in my baseball-free life.
It turns out he's read it already. I feel a little disappointed, even though that meant I was going to get to keep my book.
"But," he says. "I actually lost my copy." I said I was going to give it to him, anyway. "Do you mind?" I, of course, did not.
I still think the idea of meet and greets is strange, and maybe — really — you just buy into the illusion of closeness, which is apparently my wolfsbane and kryptonite. (Hoechlin's is pizza.)
Somewhere in the back of my head, I keep asking, "Does he want to be here or is he here because he has to be?" The more paranoid part of me is positive it's the latter, but unless he's a bag of dicks who just wanted to make an easy buck, it's probably more like a complicated combination of the two.
Just like in real life, you can't buy your way into closeness, but you can let them know you love them. Through convention tickets and gifts, sure, but also hugs and kind words. And hey, I've gotten a lot back in return. His outfits in Everybody Wants Some!! are payment enough.
Also at the back of my head: Tyler Hoechlin is wearing a crop top out there somewhere, reading a well-thumbed copy of The Art of Fielding while having breakfast at a Coffee Bean & Tea Leaf. I hope Derek Hale finally feels safe with his family. I know that Clark Kent is still out there saving the world.