Bukidnon beckons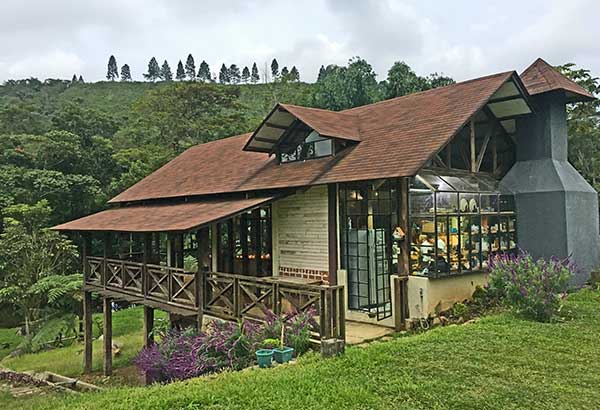 MANILA, Philippines - It's hard to imagine that this sprawling farm estate, with lush greenery surrounded by verdant forests and lulled by cool mountain air, would need any transformation. But our hostess explained that it wasn't always this way.
We were at Hineleban Farms and Renee Perrine, the co-founder of the Hineleban Foundation, explained, "Basically, this is an agricultural venture that aims to transform the lives of the immediate community as well as the natural landscape of area."
When the farm was established in 1975, husband John Perrine started out with "hectares of bare cogon grass, one avocado tree, a clump of bamboo and barely any wildlife." He began planting trees for shade but was faced with major challenges brought about by environmental degradation and deforestation. Thus was born Hineleban Foundation in 2008, whose mission was to re-establish the rainforests of the upper mountain ranges of Mindanao, beginning in Bukidnon.
In the Talaandig-Higuanen language, "hineleban" translates to "the spirit of the gathering and giving Mother Tree of the Rainforest that sustains the cycle of all life." Life as defined not just by the conservation of the natural environment but also by the transformation of lives through a mutually-beneficial and sustainable business partnership with the local indigenous people of the area in whose ancestral domain the farm sits.
On our recent visit, we saw another transformation as Hineleban slowly opened her doors to farm tourism. On a half-day tour, our group was able to ride a tractor and a cow, buzz around an in-house bee farm, learn the basics of natural horsemanship and pick up a ton of knowledge on the different aspects of ecology and environmental science. All this capped by a hearty lunch of farm fresh produce.
The town of Manolo Fortich sits around 1,000 meters above sea level, which makes it a favored getaway for the city folk of nearby Cagayan de Oro city. One may do a daytrip or an overnighter, as we did, at what could be the town's fanciest digs, the Bukidnon Country Lodge.
The former retirement home of Bukidnon old-timers Paul and Elsie Perrine, this property is surrounded by a lush garden of fruit trees overlooking the pineapple fields of Del Monte. With its spacious tropical layout, polished wooden floors and tasteful Mindanaoan inspired décor, it was tempting to just stay on the property and live out the dreamy plantation life.
But Manolo Fortich was begging to be explored.
Over at Dahilayan Adventure Park, adventure junkies can zip through the 840-meter dual zip line, the longest in the country. For those with Superman tendencies, head over to the 8-story Sky Tower Base Jump or the 120-foot Dropzone Free Fall for a few seconds of controlled plummeting terror. Or you can have a more leisurely but no less adventurous off-road ATV ride as you make your way down the slopes.
With its hilltop setting, Manolo Fortich is a town where long dinners are best enjoyed with the crisp mountain air and lush scenery. This impeccable pairing of culinary prowess, bucolic natural scenery and artistic haven is best experienced at Kumakay River Farm in Barangay Dahilayan. Managed by the affable chef Josef Martin Javier and cousin Chino Memphin, this once private weekend home slowly opened its doors to well-heeled diners to enjoy an eight-course degustacion menu featuring chef Josef's locally sourced food creations. And if you are fortunate enough (as we were), your meal is accompanied by live piano music courtesy of the chef.
The road from Manolo Fortich to Lake Apo is long, winding and scenic as it traverses through the Kitanglad Mountain Range. Enroute, we made a quick lunch stop at Manna and Quail Café in unassuming Valencia City. This former barebones bus stop facility has been transformed into a surprisingly stylish restaurant. The menu is decidedly eclectic and reflective of Mindanao's immigrant history. We were served the house specialties of Bisayan-style pinagaring na adobo, monggo sa gata and, as a nod to the proprietor's ethnic Chinese roots, pata-tim with kua pao. All in all a memorable meal before we went on to Lake Apo.
At 640 meters above sea level, this 19-hectare crater basin was once surrounded by a rainforest. Over the years, the hills around the area fell victim to environment degradation until the husband-wife tandem of Almer and Fe Alfonso took it upon themselves to clean the lake of wallowing carabaos, rotten logs and detritus from being the local community's laundry basin. The result is a pristine mountain lake that has returned to health, and which today is open for enjoyment at D'Timeless Place, an idyllic lake-side cottage that the good doctors have opened, by appointment, to those wanting a quick escape to countryside living.
Here, nights are spent around a bonfire (there is no electricity since the place is off the grid) and you wake up to misty mornings having breakfast on a bamboo raft. You may enjoy the lake further by taking a dip, kayaking or gliding through what probably is Bukidnon's only jetski.
Finally, we dropped by the Talaandig ancestral village in the municipality of Lantapan, where we are introduced to the culture of the Talaandig community, one of Bukidnon's seven indigenous tribes. This is sacred ground where one learns about the life and struggles of an ethnic community asserting its heritage and rightful place in modern society; as such, prior consent is needed. Don't miss the traditional crafts and unique soil painting found at the village's in-house art gallery.
There is so much more to Bukidnon than just the clichéd pineapple plantations. On this introductory trip, we saw a proud and diverse people who not only live in a naturally blessed land but are committed to redressing the environmental sins of the past. And they're eager to tell their story and share their bounty with those who may drop by.