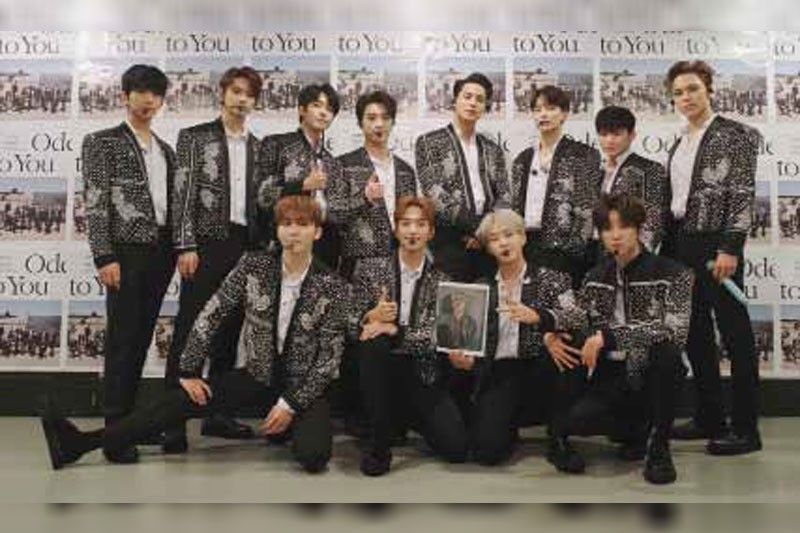 K-Pop artists Seventeen rocked the Mall of Asia Arena on the Manila leg of their Ode to You World Tour, revealing that they were in awe of their fans' energy and ability to sing along to every song.
Seventeen's ode to Manila
Fiel Estrella
(The Philippine Star) - February 15, 2020 - 12:00am
On Feb. 8, South Korean boy group Seventeen performed to thousands of fans — nicknamed Carats, after their song Shining Diamond — at the Mall of Asia Arena for the Manila stop of their Ode to You World Tour. The tour, which has gone around Asia and reached North America as well as Mexico, marked the self-producing group's fourth visit to the country.
Upon entering the venue, fans were able to make a whole day of the event with booths for official merch — can't attend a Seventeen concert without your trusty rose quartz and serenity-colored Carat Bong! — and the Globe K-mmunity store, where they could buy Globe goodies and other packages to avail of cool prizes and perks. The fun continued on the second floor with the Globe K-mmunity booths, which allowed Carats to dance or sing along to their favorite songs, create their own stickers, and take themed photos with their friends in a photobooth.
The concert opened with high-energy songs Getting Closer, Rock, and Clap, the latter of which especially got the crowd going with its infectious and chant-worthy chorus. Things then slowed down a little with heartfelt singles Thanks and Don't Wanna Cry.
Seventeen's three primary sub-groups got to show off during the unit stages, led by the hip-hop team with Wonwoo, Mingyu, and Vernon as they went from the dark and moody stylings of Trauma to the fun and loose Chilli. The performance team, with Hoshi, The8, Jun, and Dino, took over and got things moving with the intricately choreographed Lilili Yabbay and Shhh. The vocal team, with Woozi, Seungkwan, Dokyeom, Joshua, and Jeonghan, serenaded everyone with the ballads Hug and Don't Listen in Secret.
The hip-hop unit returned with Dokyeom for Can't See the End a.k.a. Space, before they all performed Smile Flower with the special participation of the Carats, whose voices rang clear and true — and this being Manila, the singing was of course beautiful and on point.
The next stage featured a combined theme of museum and theater, complete with an elaborate set that included a piano and guitars that the members would take turns playing, showcasing Seventeen's ability to seamlessly infuse their work certain "out-there" elements and genres — whether it's rock music or Broadway-worthy flair — for performances that are refreshing and dynamic. For this particular segment, during which they did Adore U, Pretty U, Oh My!, and Just Do It, they really leaned into the theater aspect and transitioned between songs with fun dialogue that built up to the track and felt just like you were watching a musical. And they made it work.
For the encore stage during Very Nice, Seungkwan did clumsy cartwheels all over the stage before The8 was talked into doing his classic b-boy moves. During the final ments, Jun's was the most instantly memorable — because it was about crispy pata. "When we came here last time I couldn't forget it," he said. "When you guys go home," he went on, to everyone's amusement, "eat pata."
Leader S.Coups is currently on break for health reasons, so the 13-member group has been performing with 12 members for the time being. Every time he would appear on the VCRs and in the music videos before the show began, though, fans would cheer as if he were really there. This did not go unnoticed by his band mates — and neither did the fact that the crowd sang along to every single performance, which Seungkwan remarked was all very touching.
Mingyu thanked everyone for making it despite the rain, while Woozi marveled at everyone's energy and wondered, "How do you maintain it?" Dokyeom started off with, "Salamat po!" and expressed hopes that the concert would stay in everyone's memories. Youngest member Dino's birthday was coming up, and everyone sang for him. (And when they had made it back to Korea to actually celebrate it, all 13 members were present.)
Hoshi began his ment in an adorably predictable fashion, by showing off his tiger shirt and belt and making cute claws at the camera. But his words were sincere and heartfelt all the same. He recalled that the crowd showed "such big love" for them, and he along with his fellow members capped everything off with a promise to return. "Even if we're far from each other," he said, "our hearts are still together."
* * *
Stay updated on the latest in the local K-pop movement with Globe by joining K-mmunity PH on Facebook.