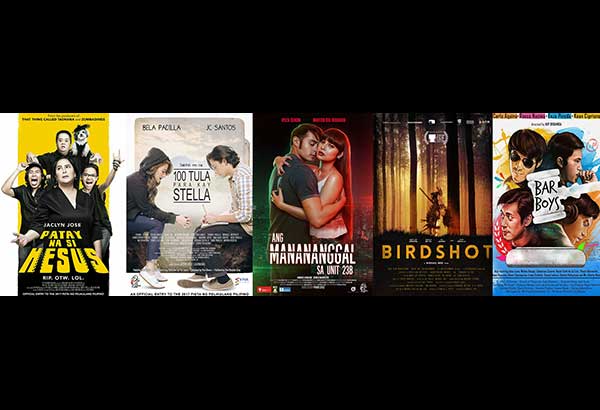 The Pista ng Pelikulang Pilipino will run from Aug. 16-22.
MANILA, Philippines - It's but a sign of the times.
A sizable chunk of the submitted films for consideration for the very first edition of Pista ng Pelikulang Pilipino tackled the drug war, either in support of the efforts of the government, or to condemn the killings. They were grim and depressing, all portraits of the immediate effect of Rodrigo Duterte's world-famous policies on cinematic culture. There is an abundance of scenes of teenagers getting shot point blank, resulting in crying and screaming and shouting. Just imagine what the first Pista could have been had all the films been about the drug war. It would have been the bleakest of weeks, a literal feast of blood and tears.
Pista didn't shape up to be a parade of the sign o' the times, though. Through animated conversations with selection committee members of various disciplines and tastes about all of the submitted films' merits, a lineup composed of diverse entries took shape. It is a mix of sure crowd-pleasers and more cerebral fare, all tackling themes that are worth hours of discourse and arguments. The goal here was not only to show the best of what Filipino filmmakers are capable of, but to promote the idea that while cinema can be a source of pleasure and escapism, it is also a means of expression for the socially conscious artist.
Sherad Sanchez's Salvage, for example, starts out as found footage horror, a thriller that follows a TV crew on assignment in Mindanao. It weaves mystery, shocks and atmospheric scares into its sparse narrative before plunging into an abstract exploration of all the strife on the island. Then there is Ang Manananggal sa Unit 23B, which on its surface is about an unlikely romance between an ordinary boy and his neighbor who turns out to be a lusty and murderous monster. However, what is most interesting about Prime Cruz's sophomore feature is how it injects his own politics into the fantastic love story; how the nightly prowls of the seductive monster which all lead to brutal deaths seem to fit the national narrative of Filipinos who also suddenly disappear at night only to appear in the morning as corpses. Mikhail Red's Birdshot takes its inspiration from a news item about a Philippine eagle getting shot. The film, explores other things, detailing the existence of police brutality and other social malaises that now pervade in the country. Enzo Williams' AWOL is a straightforward action film. Its threadbare plot of a soldier who wants to seek revenge for the deaths of his comrades opens up discussions regarding the value of our soldiers' selfless heroism.
Then there is Ralsto Jover's Hamog which puts into perspective the state of urban decay, all through the experiences of children who have been deprived of innocence by the need to survive. Paolo Villaluna's Pauwi Na, which, like Hamog, has garnered much recognition abroad, sees its characters desperately escaping the city by all means possible. They humorously move on, riding a rusty pedicab with the hope that provincial life will give them a much-needed respite from poverty. Even more hilarious is Victor Villanueva's Patay Na Si Hesus, also centering on a family road trip, but this time on a mission to say farewell to a patriarch who was never around when he was needed the most. Etched beneath its farcical comedy is a portrait of a strong woman, played excellently by Jaclyn Jose, who was able to make it through life's challenges to raise her children imperfectly but properly.
Love also features prominently in the lineup. Jason Paul Laxamana's 100 Tula Para kay Stella is about a stuttering boy who falls for a rocker chick in school — a delightful tale of two individuals trying to connect amid time and their failures. More interesting is Zig Dulay's Paglipay, a film that sensitively depicts an Aeta man about to get married who suddenly becomes attracted to a student from Manila. Trumping Pista's showcase of different forms and shapes of romantic love is its lone entry that puts a spotlight on the difficulties of maternal love. Randolph Longjas' Star na si Van Damme Stallone is truly affecting in the way it navigates the ups and downs of a mother's coming to terms with her son's condition.
Kip Oebanda's Bar Boys is touted as the return of the Filipino buddy movie, featuring four law students who stumble through and survive the predictable pressures of school. Miguel Franco Michelena's Triptiko, on the other hand, features three young men in three different stories that somewhat express millennial moods and concerns. The two films, although different in tone and execution, represent a general interest in portraying both the ambitions and excesses of the youth.
It's bound to be a buffet of films for everyone, with each film offering something new and fresh to chew on and savor. In these worrisome times, it helps to think a bit like the great Catherine Deneuve who once said "That's what I like about film — it can be bizarre, classic, normal, romantic. Cinema is to me the most versatile thing." Take that plunge. Let's also be versatile in the way we view cinema.