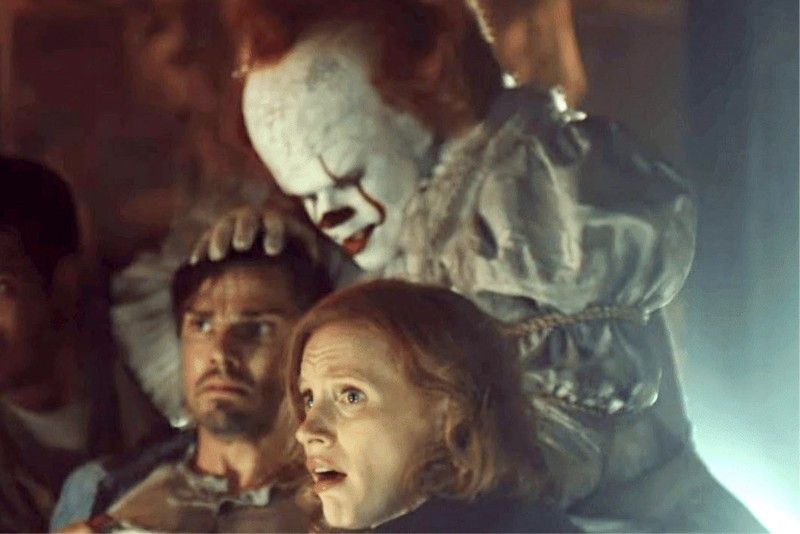 Jay Ryan and Jessica Chastain act scared in It Chapter Two.
'It 2' doubles down on dumb scares
It's evil clown season, so while we wait for the main course (Joaquin Phoenix going all-in as The Joker this October), here's an appetizer for the pre-Halloween crowd. It Chapter Two takes us back to Derry, Maine, 27 years after the first chapter, with the kids from that scary small town returning as traumatized adults, trying to put Pennywise back in the bad genie bottle once again.
Inspired casting helps out here, including the return of Bill Skarsgård as the evil clown, Bill Hader as grown-up Richie, Jessica Chastain as Bev and James McAvoy as Bill. There's an attempt to resurrect the nostalgic feel of the first movie by bringing back the Losers' younger selves in flashback (and digitized) form — Finn Wolfhard, Sophia Lillis, Jaeden Martell et al — but at almost three hours long, that's a lot of extra anxieties to unpack.
It seems like fun to have these adults act out grown-up behavioral quirks of the kids — one's a hypochondriac, one's a motormouth comic, all of them swear a lot — but mostly, this settles down into a tired parade of jump scares set in a deceptively postcard-pretty rural town where intolerance and bigotry still flourish. (The opening grisly attack on a gay couple sets the tone for the unpleasantness to come.)
The twist is that these adults, called back to Derry by Mike (Isaiah Mustafa), can't even remember what happened during that very bad summer back in 1989 when they got rid of an evil clown that feeds on people's fears. Having repressed their memories, it takes director Andy Muschietti an extra long time to re-establish their underlying anxieties once again, now that they're adults.
It only took me about 15 minutes in the cinema to recover the reasons why I thought the original It was kind of overrated. Stephen King may be experiencing a Hollywood comeback, but It was never one of his finest literary efforts, and spun out here, feels like an even longer slog. The adult characters are hobbled by having very little interesting or witty things to say (Hader wisecracks a lot, carrying a lot of comic relief load). The Losers perhaps should know by now not to split up (after all, their motto is something like "We've got to stick together"), yet here they are again, wandering off into separate panic attacks, revisiting fears that seem dialed in from the previous movie.
There is one inspired scene where the old gang, now grown up, sit around the table of a Chinese restaurant in Derry, joshing and joking like old times — a nice moment, until the fortune cookies start sprouting mutant insects with human heads and flocks of bat-like succubi. That kind of kills the nostalgic party atmosphere.
The problem is not so much that It Chapter Two relies almost entirely on jump scares; it's the obviousness of those jump scares that becomes such a drag. There are some nifty CGI manifestations of psychological terror, but most of the "disturbing" images and lighting seem hijacked from old Nine Inch Nails videos, and by the third time Pennywise's face cracks open into a fang-lined maw, you may begin to feel a sense of déjà vu, and could be forgiven for peeking at your watch, wondering whether there's something better you could be doing with your time.
Mind over matter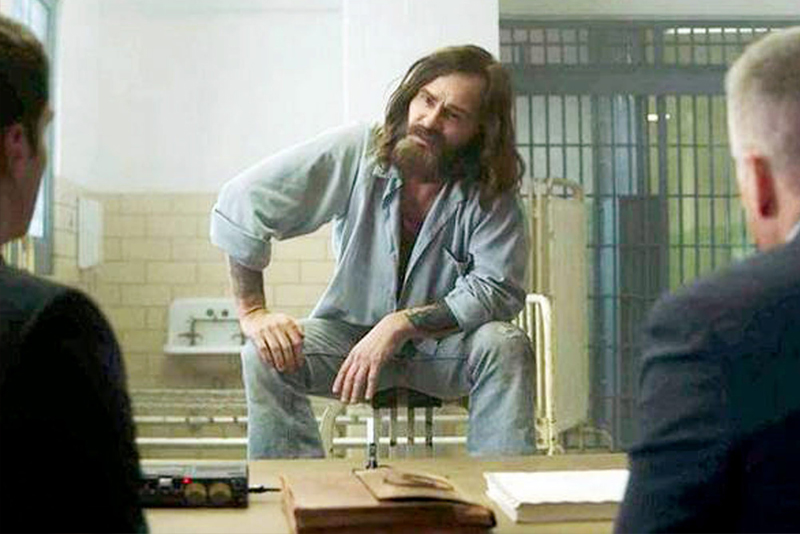 Charles Manson (Damon Herriman) schools the FBI in season two of Mindhunter.
It's almost perverse that David Fincher — that most visceral of directors, who brought us the blood-spattered Se7en and Fight Club — keeps his Netflix series Mindhunter so gore-free. It's mostly talk — but what fascinating talk. FBI agents Holden Ford (Jonathan Groff) and Bill Tench (Holt McCallany) team up with psychiatrist Dr. Wendy Carr (Anna Torv) in the late '70s and early '80s to help develop a system for profiling serial killers (at the time, a new term). Largely a no-spatter zone, Mindhunter is big on insight into deviant criminal minds, but also focuses on the inner workings of this team — Ford, a buttoned-down agent with an outsized ego; Tench, a seasoned veteran agent with his own family problems this season; and Dr. Wendy, a closeted lesbian analyst who tries to keep this fragile experiment from falling apart. They all believe they can apply their methods — interviewing locked-up killers to explore their behavioral patterns — to understanding a new breed of killer.
Season 2 brings us deeper into the twisted zone: disturbing encounters with Charles Manson (Once Upon a Time in Hollywood's Damon Herriman), "Son of Sam" David Berkowitz (Oliver Cooper) who claimed a dog possessed by Satan told him to kill random strangers in cars; and Wayne Williams (Christopher Livingston), targeted in a string of child murders in Atlanta. Carl Franklin directs most episodes this season, as Dr. Wendy's job clashes with her sexual proclivities, and Bill has a family crisis that eerily parallels his work. As always, it's the coldly clinical discussions of murderers and their passions that gives us the chills. You don't need to see Hostel levels of gore in Mindhunter to feel that the monsters are out there, plotting their next move.
Does anybody remember laughter?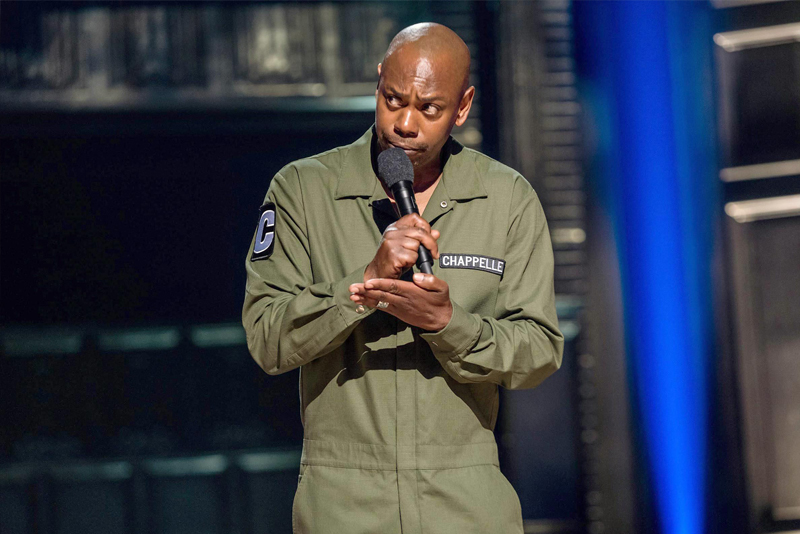 Dave Chappelle courts outrage in Sticks and Stones.
It's "celebrity hunting season," according to Dave Chappelle. In Sticks and Stones, his latest Netflix dissertation on what does — and doesn't — make us laugh these days, he laments that "y'all are the worst," pointing to the audience and their supposed tendency to analyze everything celebs say and do with a microscope. "I'm what they call a victim blamer," Chappelle says with a shrug, and sure enough, he's soon going into a riff on how he doesn't believe Michael Jackson's accusers, and how political correctness is making it so hard to tell jokes. Let's be real here: since Louis C.K. has been largely silenced for his personal behavior (Chappelle riffs on that, too), it's been up to Dave to bear the mantle of pushing humor into squeamish places it may no longer be safe to venture anymore. As he revs up his jokes on transgenders, how young kids should find it almost an honor to be molested by a celeb like Michael Jackson, and how preparing for the next mass school shooting with drills is a waste of time, you wonder whose buttons Chappelle is trying to push here. He opens the floor to audience questions and one person yells out, "What're you gonna do if Trump gets reelected?" Chappelle doesn't even blink before responding: "Get a significant tax break, probably." It's the way Chappelle sides with rich celebrities here — those poor, poor celebrities, who must suffer not only paparazzi, but relentless pushback from a public that now monitors their every move — that leaves a slightly sour aftertaste. He's still a killer onstage: whether it's the expert comic timing, nuanced facial expressions, or habit of dashing to the back of the stage, mic in hand, when he knows he's gone a bit too far. But he's less of the boy wonder who knows he's being naughty now and more of a moralist who seems to be either growing more conservative with age, or taking too many steps back to adopt an actual moral stance. Maybe we expect too much from our comedians these days. At least Kevin Hart doesn't make you think too much.