Life's a beach: The Philippine booth at ITB Berlin designed by Kenneth Cobonpue shows an alluring vision of Palawan.
Photos by Juan Wyns
Showing the world how It's More Fun in the Philippines
Tourism Secretary Berna Romulo-Puyat says, 'European arrivals are continually increasing every year and ever since Boracay reopened, they're going crazy because they've always been into sustainable tourism.'
BERLIN, Germany — How do you show the world that it really is more fun in the Philippines? In wintry Berlin, where the historic Wall and Checkpoint Charlie meet modern districts like punk-y Friedrichshain and yuppie Prenzlauer Berg, it's by giving Germans something totally different: a tropical paradise courtesy of the Philippine Department of Tourism (DOT), which offered a tempting simulation of the sights, flavors and warmth of our islands via the Philippine booth at ITB (Internationale Tourismus-Börse) Berlin.
Tourism Secretary Berna Romulo-Puyat brought a team of the Philippines' finest to represent us at this leading travel trade show, where it's not easy to stand out. We're vying with 180 countries and 10,000 exhibitors in 26 halls for the attention of 160,000 visitors, but our roster of MVPs did their best. The sights were provided by globally acclaimed designer Kenneth Cobonpue, who crafted an alluring vision of Palawan; flavors were served by chef Gaita Fores, who introduced foreign palates to our adobo and sisig; and warmth came courtesy of Kiddo Cocio and Sly Samonte of El Union Coffee, who served guests single-origin brews laced with coconut milk and Davao chocolate.
"I think I got the best for my Philippine team," says Puyat. "I got the best designer in the world and the Philippines, Asia's best female chef, and the best baristas in the Philippines."
Warmth also emanated from the Filipinos manning the booth: 20 tour operators came to ITB eager to sell the beach holidays and diving destinations European travelers crave.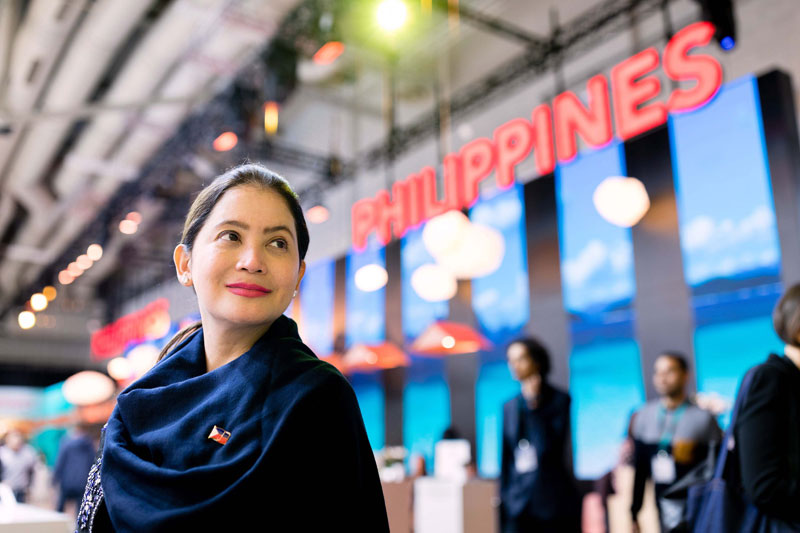 Tourism Secretary Berna Romulo-Puyat: "By sourcing our content organically, we are reducing our carbon footprint."
"Germany is our No. 2 market in Europe; the UK is No. 1," Puyat says. "No. 3 is France. They're continually increasing every year and ever since Boracay reopened, they're going crazy because they've always been into sustainable tourism. When I went to the ASEAN Tourism Forum they were all coming to me and asking, 'How did you do Boracay?'"
The makeover story of Boracay is an important linchpin of the DOT's sustainable-tourism thrust, which builds upon the success of the OG 2012 "It's More Fun in the Philippines" (ITMIP) campaign. With the new tweaks of sustainable tourism and "Be Part of the Fun," hashtagged posts on Instagram have jumped from 4.3 million to 4.5 million since the ITMIP launch a month ago.
Along with the millennial travel influencers who have already become part of the fun on IG, in Europe, the DOT is focused on wooing families going on holiday.
"For Germany it's different because they stay two weeks; some are backpackers," notes Puyat. "In France it's more diving, and we have the best dive spots. Boracay doesn't have to be sold anymore, but the Germans love going to Boracay, Cebu, Siargao, the Cordilleras. We're now pushing Apo Reef, Dumaguete, even Siquijor."
She's also been urging visitors to fly to alternative airports like those in Mactan-Cebu, Bohol and Clark (which will be finished next year) to ease the air traffic at NAIA and allow them more direct access to top destinations.
The DOT's efforts seem to be paying off: according to the Philippine Statistics Authority, the Philippines hit 7.1 million tourist arrivals in 2018 and is now aiming for 8.2 million arrivals this year.
'It's like you're in Palawan'
Hard to believe, but this is the first time the DOT tapped Kenneth Cobonpue to design the Philippine booth. "For the past two years, they just had a contractor from here design and build it," Cobonpue says. "It was like tarp country — everything was tarp."
Since ITB venue Messe Berlin gave the Philippines an oddly shaped space to work with — a 253-square-meter "U" broken up into four areas by paths leading into and out of the Asian hall — Cobonpue had to find a way to make the space look cohesive.
"The booth is meant to represent the different facets of the Philippines," he explains. To show the sea he put up a wall of LED screens with a moving image of Palawan that he stitched together from several photos. The tan carpet evoked sand, and Cobonpue ran this nude-colored band through all the spaces, tying them together.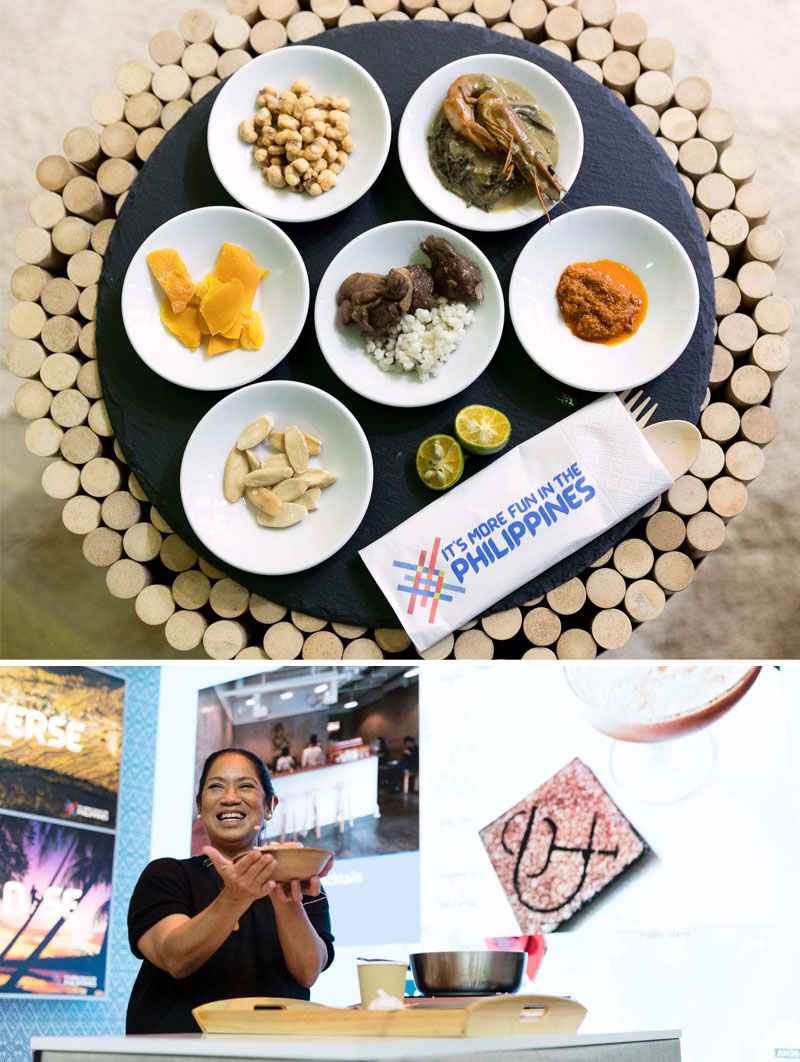 Flavors from the Philippines prepared by chef Gaita Fores (below), who demo-ed adobo and laing for ITB goers.
Overhead the designer hung his Cloud lamps and a roof bearing small wood-and-metal houses on stilts. "Everything had to be fabricated in Germany, and the house lights are programmed to change color according to time of day, so they turn reddish-orange into a yellow, warm-white light, and then in the evening to blue."
Bordering the long "beach" space are "cosmopolitan areas" with trees, featuring a coffee bar and meeting places dotted with Cobonpue's Noodle chairs and Chiquita stools, and a space for weavers from Luzon, Visayas and Mindanao.
"It shows the well-rounded Philippines," Cobonpue says. "It has the culture, the sea, the mountains and the city."
Adobo, sisig & pili nuts
Introducing ITB-goers to Filipino food was Asia's Best Female Chef for 2016 Margarita Fores, who's a veteran at promoting Pinoy eats abroad. This was her eighth time working with Puyat, who says, "Gaita, she just knows her food."
For ITB, Fores decided to do "super-simple dishes" like pork and chicken adobo, laing with shrimp, adlai served with talangka. Of course she had to bring special ingredients like talangka and atchara from home, though she shopped for fresh produce in Berlin.
"We have sisig, and when we picked up the pork, the ears of the pig were so huge!" she laughs. "We were so excited to use them."
For the booth Gaita and her team had to prepare enough food for 200 people a day in the kitchen of a serviced apartment in Berlin.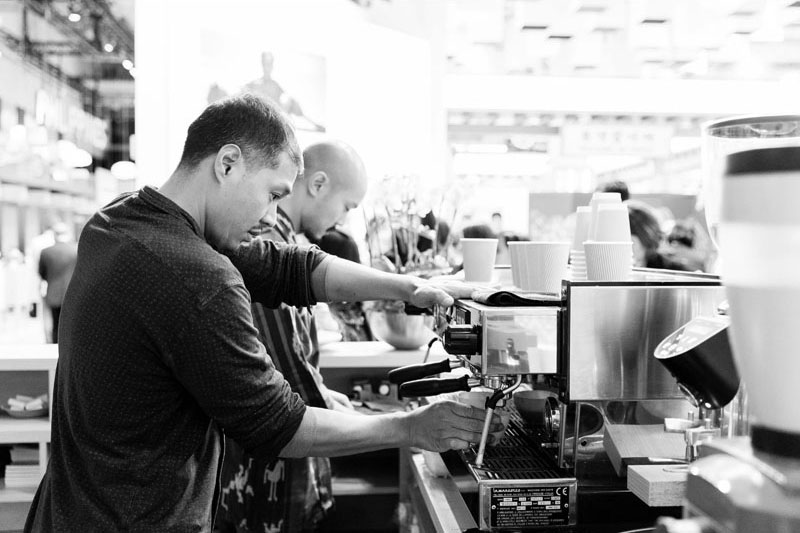 Sly Samonte and Kiddo Cocio of El Union Coffee serve the best Philippine brews to guests.
"We decided to do short demos introducing the dish being tasted and talking briefly about Pinoy cuisine," she says.
On opening day they cooked adobo and laing. On the second day they prepped kinilaw of tuna and bulalo, with a repeat of the adobo due to popular demand. "Kiddo is a former host so he introduced me and tried to invite a crowd in," Gaita says. Lines would form, and our food was well received. "They loved the pili nuts so much they wanted to know where they could buy it in Berlin," Gaita says.
Fores also prepared the feast for the "It's More Fun in the Philippines" launch party at The Reed, an event space in Berlin where guests were treated to a buffet spread of Philippine cheeses and jams before small plates of kinilaw, liempo and sisig were served.
Philippine coffee & coconut milk
On the lookout for a hook for our Philippine booth, Secretary Puyat asked the private sector what was a hit at previous trade shows and they said other countries that had coffee always had long lines, so she decided to invite El Union, a coffee outfit from La Union headed by Kiddo Cocio and Sly Samonte, a two-time Philippine barista champion who's also a master roaster and water sommelier.
"I met them while I was with the Department of Agriculture," Puyat recalls.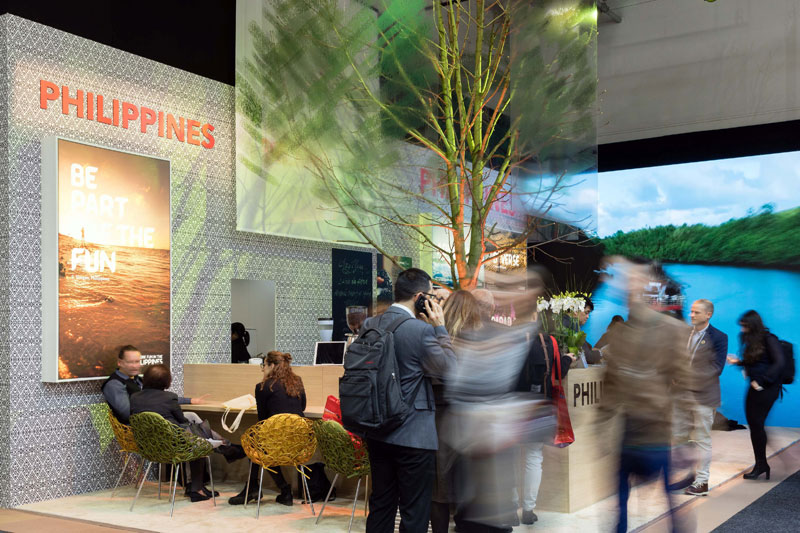 Potential buyers congregate at the Philippine booth's coffee bar featuring Kenneth Cobonpue's Noodle chairs.
The El Union guys brought 40 kilos of beans with them from the Cordilleras, Negros Oriental and Mt. Apo. "We try to represent all the growing regions," Samonte says.
El Union's farm-to-cup brews were a hit at ITB, with people lining up and raving about the cappuccinos with coconut milk and mochas made with single-origin chocolate from Davao. These are so good they should be our new national beverages!
El Union also crafted the cocktails for the ITMIP launch at The Reed using lambanog and Don Papa rum, which Puyat noted is quite big in Europe.
'Selling the Philippines is really difficult'
Not all foreign views of the Philippines are rosy. According to John Rueth, the Filipino-German president of Kapwa Travel, one of the tour operators who came to ITB, selling the Philippines is really difficult. "It's a master class and extra effort, because look at the media coverage here. All the Germans think the Philippines is really dangerous, we have a dictator who's ruining the country, we've got terrorism, travel warnings and about 200 earthquakes and typhoons, so there are seemingly hundreds of reasons to not go to Philippines."
Rueth says he's continually trying to convince his German market of families, couples, honeymooners and seniors that the Philippines is safe, but it's a struggle, and other tour operators agree.
"Security is really a major factor," says Allan Santos, general manager of Bohol Beach Club. "There's a travel warning for Germans not to go to certain areas of the Philippines. The problem is they think it's one island and we're 7,500 now."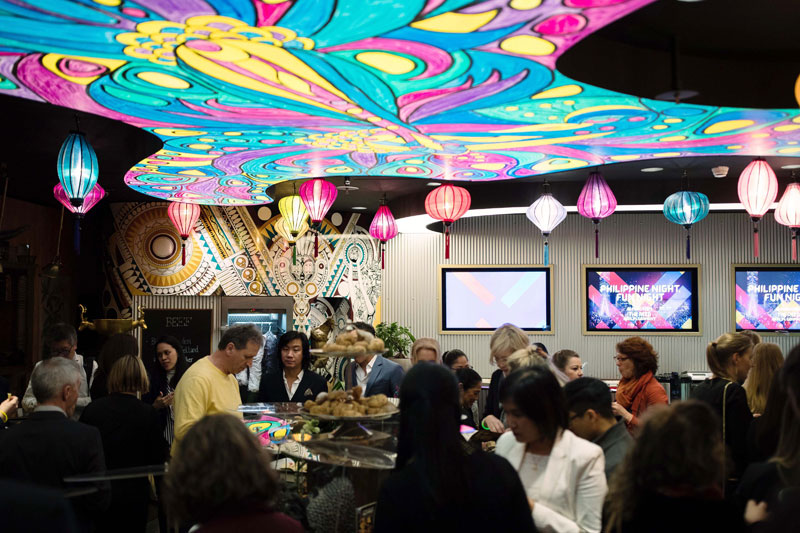 At the launch of the "It's More Fun in the Philippines" campaign at The Reed in Berlin, guests are treated to a spread of Philippine delicacies.
So they try to educate the buyers at ITB about what the Philippines really has to offer, and are seeing slow increases in business year upon year but meeting their targets. "We increased seven percent growth trade from German arrivals to the Philippines in 2018," says Tourism Promotions Board market specialist Michael Malonda.
Fe Ginete of South Palms Resort and North Zen Villas in Panglao, Bohol, says they're coming up with a big project in Bohol soon called Panglao Shores. "It's a big, mixed-use development of resorts, a community mall and residences, and we're groundbreaking at the end of the year."
Shalimar Tamano, DOT regional director for the Central Visayas, says the international airport at Panglao opened two months ago so they expect a big increase in traffic this year once international flights start coming in. "The airport now is a hundred times bigger than the Tagbilaran airport," he says. "It can accommodate 10 landings per hour, and you can park seven aircraft at the same time. Once it's operated by a private operator it will be like Cebu GMR, where the private operator will roam the world convincing operators to fly directly to Panglao."
Andi Lim of Plantation Bay Resort and Spa in Cebu says they'll have their own ferry soon to transport guests directly to the resort, and Tamano adds that plans are underway to build a bridge from Mactan to Bohol that at 25 kilometers would be the second longest bridge in the world.
"The future of Cebu and Bohol is in water transport," he says. "If we fix that, we're going to be unstoppable."
Mixing fun with sustainability
Puyat also launched the new "It's More Fun in the Philippines" campaign at The Reed in Berlin with cocktails by El Union, food by Fores, and entertainment by Apl.de.ap and Joanna Ampil. For this year's version, "Sustainability has been a pressing issue," the Tourism Secretary says. "The rise of unregulated tourism has led to many damaging consequences to the environment. We're facing these issues head-on to foster a balance between development and conservation." Boracay is just the beginning of a nationwide effort to preserve the Philippines' natural wonders for future generations, she says.
But how do "fun" and "sustainable" work together?
The Philippine delegation led by (front row, from left) Venus Tan, Kenneth Cobonpue, Berna Romulo-Puyat and chef Margarita Fores included Julian Cobonpue, Rey Moraga, Angelo Comsti, Michael Malonda, Allan Santos, John Rueth, Anabelle Apostol and Shalimar Tamano.
"Well, for starters, we kept our famous tagline to sustain the goodwill and mileage this campaign has brought," she says. And they've added a bit of crowdsourcing: "We're featuring videos, photos and comments that our citizens and foreign visitors have allowed us to share." That means it's using 100 percent content from travelers all over the world. "It's a campaign with sustainability at its core, showing how we can do great and lasting things together. By sourcing our content organically — absolutely nothing has been commissioned — we are reducing our carbon footprint. It doesn't stop there: for every participant in the campaign, a contribution is made in their name for the preservation of our beaches, mountains and wildlife."
* * *
Follow me on Instagram @theresejamoragarceau.