The pursuit of Zen excellence in an urban space
September 11, 2021 | 12:00am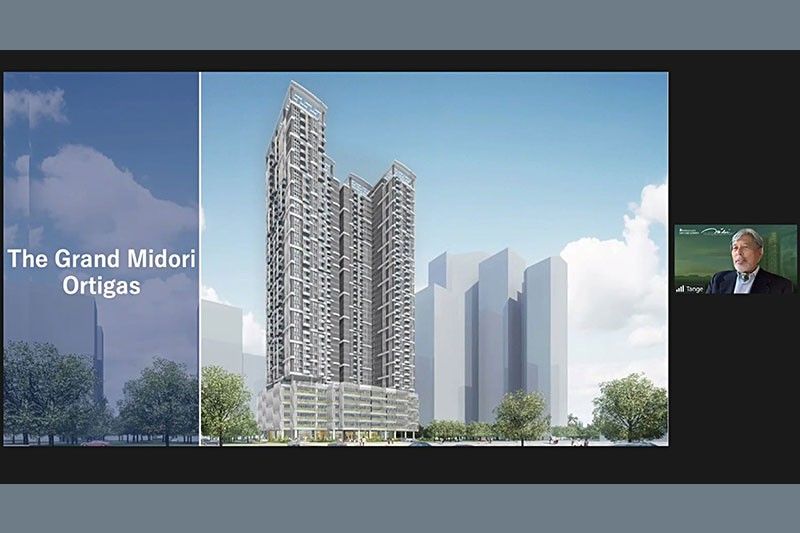 What kind of place would you like to live in, work in, be in, as we contemplate a post-pandemic future?
Those are the questions architects are contemplating now — architects like Paul Noritaka Tange, head of Tange Associates, the world-renowned Tokyo-based Japanese architectural firm founded by 1987 Pritzker Laureate Kenzo Tange. His son Paul recently completed the Tokyo Aquatics Centre for the 2020 Olympics (he's the second Japanese architect ever to design an Olympic structure in Tokyo, after his father's Yoyogi National Stadium in 1964), and recently worked on the second Grand Midori condominium project here — The Grand Midori Ortigas — after opening their first tower in Makati in 2013.
Federal Land Inc., developers of Grand Midori, invited Tange to give a Zoom session on the theme "Japanese Architecture: The Synergy of Culture and Design" directed at architecture students, who pitched chat questions to the most prominent exponent of modern Japanese Zen architecture.
Harmony is very important to architect Tange. Finding a balance between a client's needs and his own desire to express Japanese culture through design takes a great deal of collaboration and balance. Whether working on the Club Éclat Contemporary Art center in Huizhou, China, One Raffles Place Tower in Singapore, or Shinjuku's Cocoon Tower, Tange and his team present sleek, modern, urban designs that also express Japanese ideals of serenity, nature and engawa — the concept that there is no distinction between the inside and outside of a structure.
In the case of The Grand Midori Ortigas, Federal Land specifically wanted the 908-unit towers to reflect a "Zen living" mindset throughout its common and welcoming areas, façade and apartments.
One can see this in the "weave" design (one of several Japanese concepts submitted to Federal by Tange's team) incorporated into both the façade and the interiors of the building, from the welcoming area to the yoga room to the units themselves. The crisscrossing pattern subtly conveys a sense of calming serenity through repetition of alternating lines.
The two key concepts of Japanese design, according to Tange, are simplicity and subtleness. "We try not to create a big bang. It's not 'me-me' structures that want to stand out in an environment. We want our buildings to be part of the landscape. Subtleness and simplicity are basic to Japanese architecture. And it's not dependent on scale — wherever you are, you feel the scale is right."
For the $500 million Tokyo Aquatics Center, with its façade design harkening to bamboo forests and grid screens, he spoke about the feeling of approaching a structure: "We wanted spectators (arriving from the train stations) to feel 'This is Tokyo, Japan." Inside, a massive 130x180 meter roof is supported by suspension structures, not columns. "The space was designed to create a 'united' feeling — so everyone can see and appreciate." Sadly, not many spectators got to experience this feeling at the recent Olympics, due to COVID restrictions. But the Tokyo Aquatics Center was designed with a transformable roof, to make it useful for huge or smaller crowd events going forward. ("Large roofs play a part in Japanese architecture," he notes. "It comes from the temple design in Japanese culture.")
There's a connection, also, to Filipino banig design, as other architect guests pointed out. Woven materials are part of our home landscapes, though not always woven into huge commercial and residential architectural projects.
Sitting in for the discussion were Federal Land Inc. president Tom Mirasol, GF & Partners Architects managing partner architect Annette Gaddi-Liganor, DEQA Design Collaborative principal architect Denise de Castro and Buensalido + Architects principal architect Jason Buensalido.
Of course, they deferred to the lessons that Tange had on the importance of meeting a client's needs and acting as humble "service providers" (it's part of Tange Associates' credo to always wears suits when meeting clients: "We try to wear a suit and tie because it's respectful to others, making the client and everyone more comfortable"), balanced with the need to express one's own creativity and national identity as architects.
Host Ginggay Joven-dela Merced noted that Tange has long espoused architecture that "appeals to the human heart." He agrees: "If we're creating a space for human beings, people should be happy, comfortable there." Ego and self-expression are not primary concerns. "We're not painters, we have to think in real dimensions. If models don't stand, they're no good." He pointed at his cellphone. "I designed this building on my phone. If it's not beautiful on this, it won't be beautiful in the city."
Gaddi-Liganor, who consulted with Tange on the Midori project, agreed that the design reflects human values. "GF and Partners go for simplicity. For Grand Midori the weave pattern offers graceful movement, repetitive lines — it's similar to Filipino homes, our own banig. We use similar woven material, like tatami. It's associated with family bonding, motherly love, and a close-knit relationship."
Buensalido suggested that Filipino designers sometimes find it hard to rein in their national identity: "We should change our territorial mindset. We say, 'If it's not this, it's not Filipino design.' We have to be more open-minded: yes, we have to bring out the locality of place we're designing for, but we should also absorb the sensibility of the rest of the world."
De Castro added: "There always has to be dialogue with the client, because more layers, engineers, suppliers are added at every stage. So the key is listening." That's one lesson Tange drew from his architect father: "He taught me, 'Is this what the client said, or is this what you interpret as what the client said?'"
The truth is, today's architects don't know what kind of world to design for, post-pandemic. People's needs are still in flux. And this is an exciting prospect to Tange.
"We don't know what to design anymore. Do we need offices? Hotels? We need residences, but they're changing functionality — for children, it's a school; for adults it's a workspace. So it's transformational. We can't have the old formal thinking of 'house' or 'hotel' anymore," he said. "To be honest, I'm a little scared of the future. The pandemic made us realize this can happen. We have to have Zoom meetings. But it works. So what is the new workspace? What is traveling? It's an exciting moment, in many ways — if we survive it."
Sustainability is also a key concern. Urban spaces are filling up fast. As Gaddi-Liganor noted, "The future of urban living is to offer a multitude of amenities in an urban setting." Open spaces, walking lanes, water features, pocket gardens are key to making city living less "concrete jungle" and more "natural balance."
While this does still feel like a crisis moment, the panel saw it as an opportunity. Buensalido noted, "We have to be sensitive to how the world is changing" going forward, while De Castro urged young architects to not let this crisis go to waste. "It's an opportunity for us as designers to reevaluate, to design with empathy."
Tange concluded: "A friend told me, 'I don't think about what the future's going to be, I think, "Wouldn't it be nice to have something like this?"'
"So let's make the world a better place. We have to think what will be good for us in the future, in a global sense. Let's not be too negative about it, and just go forward."
* * *
For inquiries about The Grand Midori Ortigas, visit https://smm.federalland.ph/the-grand-midori-ortigas/ or email [email protected]@federalland.ph.