A touch of tropical, a touch of floral at new Glorietta Activity Center
December 7, 2019 | 12:00am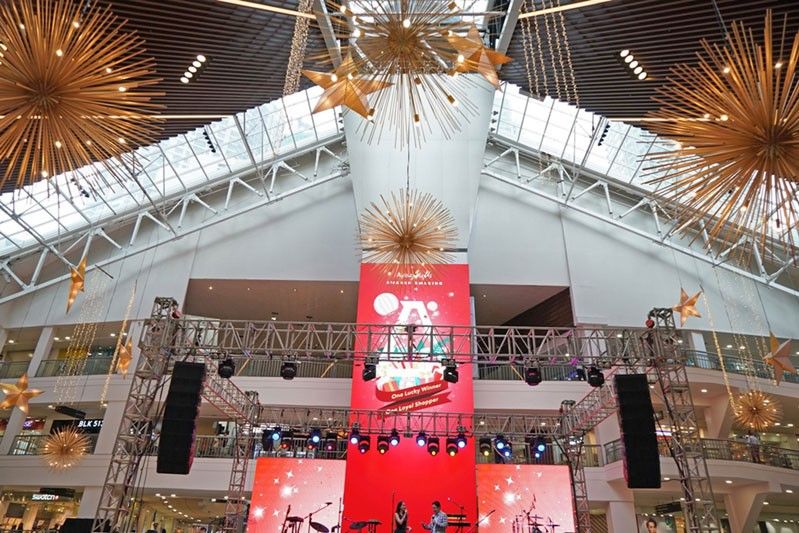 Glorietta Mall recently unveiled its refreshed Activity Center after months of renovation, and kick started the holidays for all Ayala Malls as it lit its giant tree.
The 1,000 sqm. space features new wooden slats floating in the ceiling and a towering LED backdrop designed to host large indoor concerts. First to use it was the popular Arkansas-based Joan, composed of Alan Thomas and Steven Rutherford, the band behind the hit song Love Somebody Like You.
You may not have noticed just how large the skylights are but with the new design hinting at modern tropical and Christmas images on the screen, the space feels much bigger than it did before when it as used for mostly for brand exhibits.
Ayala Land Malls president Jennylle "Yeng" Tupaz describes the past months for her group as both hectic and exciting. "The refresh project of our crown jewels, Glorietta and Greenbelt, is an extraordinary opportunity to create amazing spaces, and we are very lucky to hold this gift in our hands, in our lifetime, as we continue to deliver spaces that people will fall in love with and come back to time and time again."
"We're continuing to strive to elevate the mall experience with captivating venues and memorable, Instagram-worthy spaces. In September, we opened to the world our biggest mall footprint to date, the Ayala Malls Manila Bay. And now we're very pleased with the newly refreshed Glorietta Activity Center, which is designed to host the biggest and the best indoor concerts, brand launches, and local and international fairs and exhibits."
The renovation, according to Yeng, was a group effort within Ayala Land and its partners — the Makati Business Enterprise team, Glorietta team, the construction team led by MDC, consultants and designers, Ayala Center Estate Association and the Makati local government — for making this project happen.
"This was one of our fastest projects to envision, plan and execute within a year's time," Yeng says. "When we heard doubts that we would not be able to make it in time, we said not only will we make it in time, we will even do it earlier. And so here we are today."
The project teams, she says, "demonstrated a lot of heart, hard work and commitment to ensure that this milestone came o life. Before the launch people were still up at 4 a.m. polishing the floors to get it ready. I was teary-eyed and happy."
Apart from Glorietta, other Ayala Malls are decked out in décor that combines traditional Christmas colors with a tropical, floral vibe and each mall has a towering Christmas tree.
The malls have firework displays at Alabang Town Center, Cloverleaf, Fairview Terraces, and TriNoma; 3D Projection Mapping at Alabang Town Center and Ayala Malls Manila Bay;Festival of Lights at Ayala Center Cebu; and dazzling Christmas presentations on Glorietta's LED screen.
Celebrities and renowned interior designers will also set up tablescapes. In partnership with Avida Land, these vignettes will be staged by Sofia Zobel Elizalde and award-winning production designer Gino Gonzales at Glorietta; Actor Derek Ramsay and event stylist Zenas Pineda at Alabang Town Center; Dr. Aivee Teo and event stylist Gideon Hermosa at TriNnoma, Eva Gullas and Teresin Mendezona at Ayala Center Cebu, and Sea Princess Tessa Valdez and Cyndi Fernandez of Moss Manila at Greenbelt.
Halu-HalongPasko programs at different Ayala malls will have the Steps Dance Project, Joey Ayala, Gian Magdangal, and The CompanY, with guest performances by Darren Espanto, Sam Concepcion, Aicelle Santos, and Yeng Constantino.
Global music app Spotify will set up shop at Greenbelt 5 from Dec. 13 to 15 and at TriNoma from Dec. 20 to 22, and will its subscribers with a tote bag that is as personalized as their taste in music.
Ayala Malls will give out prizes this Christmas with its 1 Lucky Winner, 1 Loyal Shopper promo. In partnership with MasterCard, 1 lucky winner per mall will win P100,000 cash, and 1 loyal shopper per mall will win a 3D2N stay in El Nido at participating Ayala Malls.!
* * *
For more information about mall activity schedules and promotions, visit www.ayalamalls.com.
Visit the author's travel blog at www.findingmyway.net. Follow her on Twitter and Instagram @iamtanyalara.