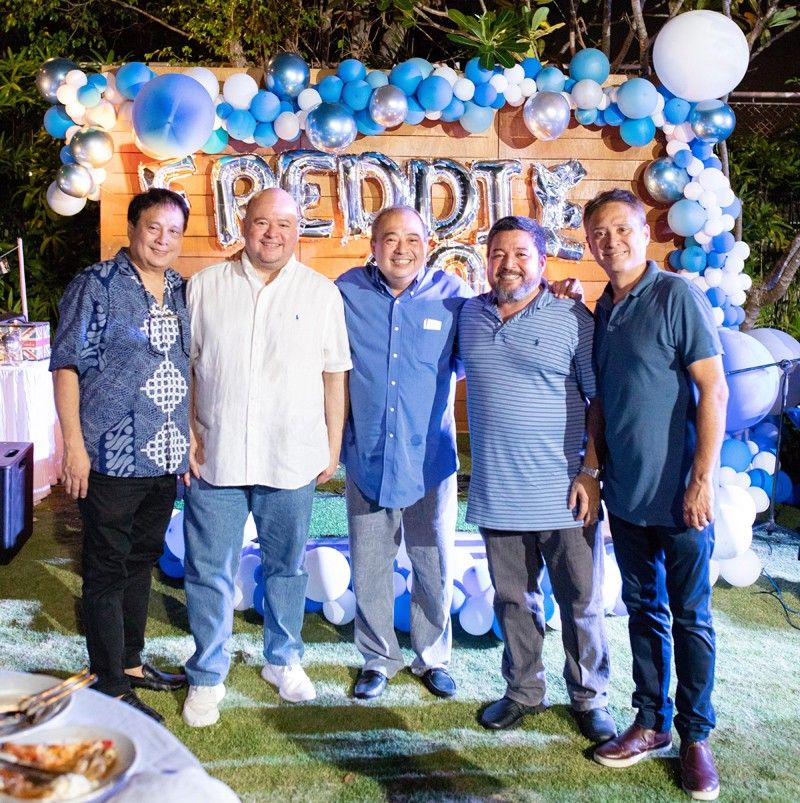 Alquiros brothers: Gerry, Guilly, Freddie, Filbert, Andy
Freddie Alquiros turns 60
Extended family members from here and foreign shores and close once-upon-a-time acquaintances from universities and workstations who have become close friends, all came together to celebrate the 60th birthday of Freddie Alquiros, an important friend to a lot of people, and the fabled favorite uncle to his nephews and nieces. The unforgettable event was held at the sprawling home of his brother Filbert and sister-in-law Jong.
It began with a late afternoon Mass officiated by a close family friend, Father Mark "Toto" Cerrada, beside the pool and the surrounding landscaped garden, with colorful roundtable setups, with centerpieces of mementos of Freddie's travels.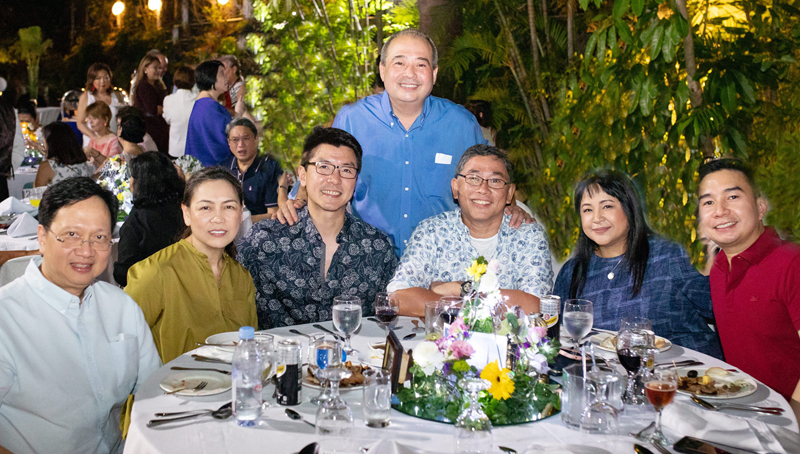 Freddie with Ted and Marijo Serrano, Henry Go, Rudy Ang, Gina Alvarez, Oliver Ortiz
A lavish fusion buffet of roasted calf, birthday noodles, hickory spare ribs, and prawn thermidor prepared by Ladle and selection of delectable appetizers and sweets such as caviar cake, jamon iberico, and foie gras by Angel Martin were enjoyed by the invitees.This was followed by the entertaining video clips narrating memorable moments of Freddie's many holidays here and abroad.
After the clips, adorable niece Chloe Encarnacion heartwarmingly sang for tito Freddie, followed by several caring and fun-loving teenage nephews and nieces who performed an upbeat dance number.
Gina Alvarez, a dear friend from way back shared her many unforgettable experiences. The much admired gentleman, visibly moved by the outpouring of birthday wishes and love, expressed his deep appreciation to everyone who took the time not only to commemorate his milestone, but also to celebrate being a part of his life.
Present for the festivities were relatives, Roenna Alquiros and Vince Galati, Steffi Alquiros and Elliott Ngooi all from Toronto, Canada; Nicole and Dabo Malik from New Castle, England and Bettina and Rene Benitez from New York.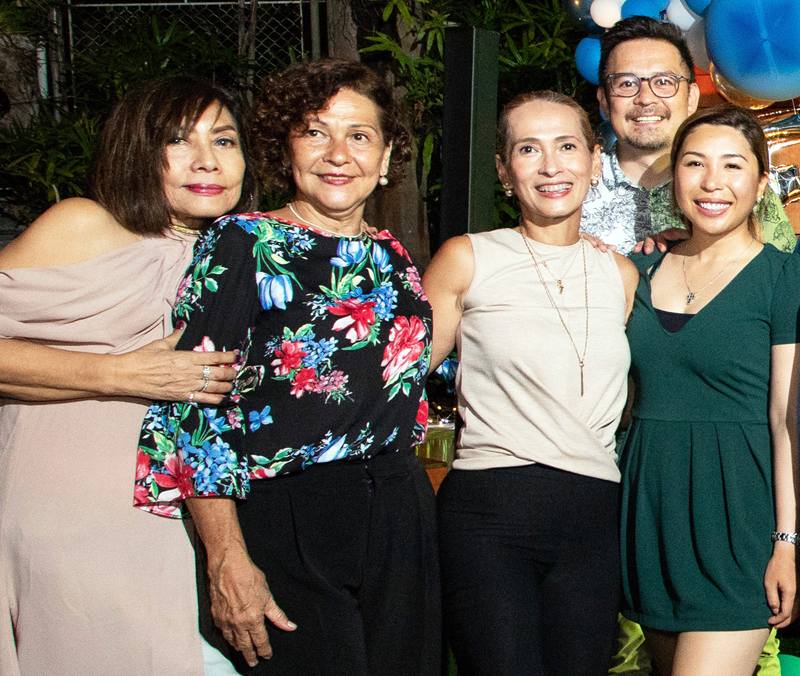 Marilu Borja, Coling Garcia, Josephine Sainz, Carlo Sainz, Jackie Sainz
Among those in attendance were Freddie's friends from his past employments; Marita Marcos and Maricris Cang from his Mandarin Oriental days; Mila Abad from Philippine Airlines; Ramon Cabrera and Billy King from his stint at Camp John Hay in Baguio.
Brother Filbert opened up about Freddie's important role. "Freddie is the glue of the family. He initiates the get-togethers — he brings people together. Aside from this, he is the run-to person for counseling on challenges and for sharing blessings." He then offered a celebratory toast after, while his siblings Gerry, Andy, and Guilly joined in and took to the stage for an impromptu number.