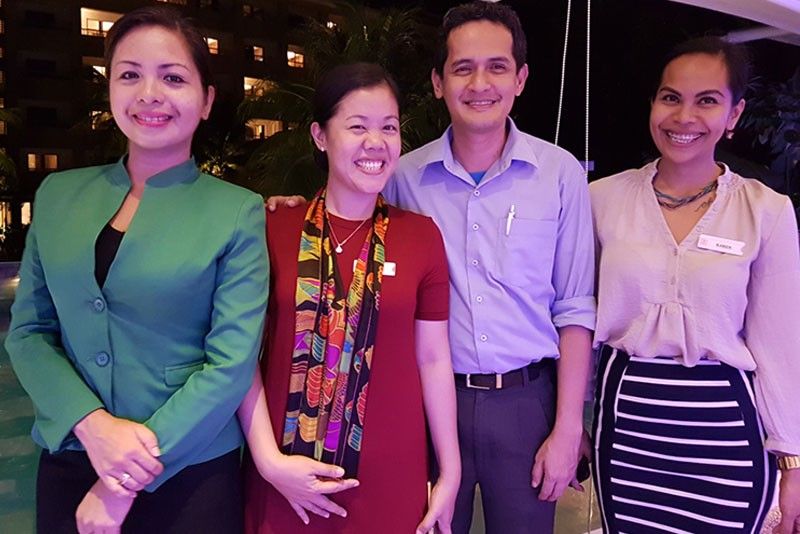 Be Grand Resort's Rona Sato, Pearl Yang,Joel Salvador, Karen Ello
On a recent trip to Bohol, we observed some of the Semana Santa traditions such as the Visita Iglesia. A leisure ride outside the capital city of Tagbilaran brought us to the plateau that hosts the Santissima Trinidad Parish in Loay. What followed was the Church of Our Lady of the Immaculate Conception in Baclayon, considered to be one of the oldest in the country, and the Church of Our Lady of the Assumption in Dauis, reminiscent of Byzantine and Romanesque architecture.
The devastation caused by the 7.2-magnitude earthquake on Oct. 15, 2013 was sadly still evident. However, we were glad to notice that the major rebuilding is now underway and hopefully through continuous generous funding, these centuries-old places of worship will once again claim their spot in history for generations to come.
Relieved and grateful, we returned to our weekend haven at Be Grand Resort in the island of Panglao.
Time passed by in blissful indecision: whether to walk and muse at the extensive property and be overwhelmed by the beauty of nature, be delighted by the attention to detail throughout the grounds, verdant ferns strapped to trees, festive Bandera Española, blossom-filled bougainvilleas and a variety of strelitzia popularly known as Bird of Paradise, or relax around the pools with water sprays and balance-tilting water buckets.
Or perhaps stay indoors, in the stylishly chic pool villas filled with indulgent temptations: should I roll off the king-sized bed, or sun bath on the daybed at the veranda opening out into the cool blue water?
The catchy name of our Hotel inspired everyone in our group to come up with their own Be-statement. Be-yond expectations — Francisco Serafica, Be Grand and Be Gracious, Tony Lozada, Be-autiful, Grace Lozada, Be Happy, Cheling Sala, and Be-witching, Susan Sala.
Bohol was the ideal setting to spend Holy Week for in this solitude and silence we found quiet and peace in our inner sacred space.