Off to the races on a Toyota 86, almost
Inside the Toyota 86 is a cockpit that derives inspiration from Toyota's race-winning vehicles. And how!
It had been quite sometime since I got to sit in the cockpit of a racecar — and I must say it was such a fun experience to feel the blood run through my veins and be transported to a time when I started writing about cars.
When I was much younger, I looked forward to driving cars that evoked that thrill-of-speed feeling.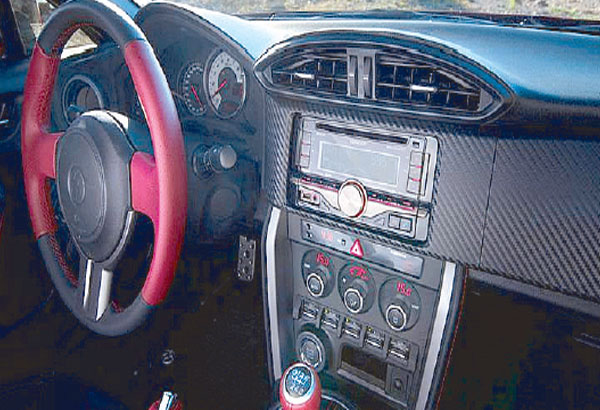 Off I go: The cockpit of the Toyota 86 shouts "racecar."
Today, almost 25 years later, I still love the feel of the adrenaline rush, but age has a way of making one wiser when in the driver's seat. Read: Cautiousness is next to safety.
The Toyota 86's design comes from many legendary sources: The 2000GT, the Sports 800 and the Hachi-Roku Trueno. All these design concepts were merged to create a road-hugging, aerodynamic machine that has a truly unique look.
Safety Comes First
Before I rushed out of the driveway of my home. I gave the Toyota 86 a good once-over. For starters, the Toyota 86 is equipped with all of Toyota's world-renowned safety features such as a reinforced cabin, Vehicle Stability Control (Sport Mode & Sport/Snow Mode), high-mount stop lamp, anti-lock braking system (ABS) and SRS airbags.
And, after a long wait, Toyota Motor Philippines unveiled its legendary 86 sports coupe. Made famous by car enthusiasts, the number "86" has multiple meanings behind it, including the rich history of Toyota sports cars and the emotions that went into building this vehicle. It shares the same number based on the motor show concept "FT-86," which in turn was patterned on the 1982 Toyota AE86 also known as the Hachiroku; a car which never relied on beastly horsepower but instead on a combination of a lightweight design, responsive power and a perfect balance.
Thirty years later, the 86 is reborn with the spirit and the heart of its predecessors — the 2000GT, Sports 800 and the AE86.
As I sat in the cockpit — really just good for two passengers — I read up on the Toyota 86 history.
The creation of the 86 was fueled by Toyota's years of engineering, innovation and lengthy racing heritage. In engineering Toyota's goal is to create a unique rear-wheel drive sports car that is fun to drive. Made with compelling style, extraordinary balance and superb handling, all of these characteristics are realized by the 86.
It is powered by a 2.0-liter four-cylinder boxer engine, which delivers 200hp and 205nm of torque mated with a 6-speed automatic or manual transmission gearbox. I was delighted to have given the chance at the wheel of a manual transmission unit. For a driver like me, there is nothing more exciting than getting behind a manual transmission racecar. More so since the 86 offers quick and responsive gear-shifting ratios combined with a short-throw shift knob.
Let The Drive Begin
Gates open and engine roaring, I put the pedal to the metal and let the 86 rev. Coolness — a sports car icon from every angle. The front bumper is low and aggressively matched with stunning and dramatic lines. The rear features a trapezoidal shape bumper with unique tail lamps and center-positioned reverse lights. The roof features a pagoda layout to channel airflow smoothly above the car. With the evolution of the aerodynamic technologies accumulated through Toyota's experience in Formula One and other high performance research, the engineers of the 86 developed a body that enables superior balance of down force and drag as well as overall handling stability. This enables the 86 to respond to every input of the driver even at extremely high speeds. Functional beauty is much more than mere beautiful styling. It is a synergetic combination of aesthetic and mechanical innovation fused together using advanced technology, which delivers superior driving quality.
Inside, everything about the 86 has been designed to induce fun in driving. Exterior lines and surfaces have been shaped specifically to let the driver identify where each corner of the vehicle is. The bucket seats are assertive and are mounted as low as possible to the ground without sacrificing comfort. It also offers a 2+2 seating configuration with a foldable cargo area. The large center-mounted tachometers are designed to keep the driver informed of the engine dials. To help the driver extract the most out of the 86, it is equipped with a shift light indicator illuminated in red to signal precise shifting. As a philosophy Toyota believes that getting into a sports car should be like entering another world and leaving ordinary life behind. The feel when driving the 86 channels a sensation of uniting the car with the driver. The 86 is a definition of a true sports car that offers hardcore car enthusiasts the fun and pleasure a driver truly deserves.
I rushed out to EDSA on this early Sunday morning. My destination was anywhere in the north. Traffic was light at 6 a.m. Just perfect. Speeding felt like the only option, but, my cautious older self knew that pedestrians and sleepy folks often cross EDSA at this time in the morning — so I kept my eye out for them.
I made it to NLEX in about 15 minutes and I was driving at 100 kph. That, as we know, is the speed limit for our NLEX. I was a little frustrated as this 86 baby is capable of so much, but I was also very much aware of how efficient the speed cameras on NLEX are.
I like it that the Toyota GT 86 is a back-to-basics, rear-drive sports car. And, while I am fully aware that the Toyota 86 may not be the most powerful car in its class, the naturally aspirated engine is just waiting to be revved as it offers lots of performance for wannabe racecar drivers like me.
I made it to the end of the NLEX and exit at Angeles, Pampanga in search of a place to stop and get something to eat.
I spotted a small panaderia with a short line of people looking to get their pandesal fix. I got a bag, a cola to go with it, and I returned to the 86.
It was nearly 8 a.m. and my day felt complete. The pandesal was yummy and the cockpit that I was sitting in was wonderful. What more could I ask for?
It was what fun-days are made of: Sundays with nothing on my mind but a recollection of carefree days — and the perfect ride — that brings back memories of happier and speedier younger days.
Just drive.