Ingrid Sala-Santamaria launches book
Internationally acclaimed Cebuana concert pianist Ingrid Sala Santamaria has passionately shared her exceptional musical talent by performing before audiences both here and abroad for many years.
In 1991 she became founding chair of the Cebu Piano Teachers' Guild and in the same year till 2000 she chaired the Cebu-based Salvador and Pilar Sala Foundation, and spearheaded a 10-year Music and Orchestra Development Program on full scholarship basis, producing the only successful orchestral initiative outside Manila, then launching the Cebu Youth Symphony Orchestra in 1995 which evolved into the Peace Philharmonic Philippines (PPP) in 2000.
Having launched the PPP, Ingrid once again embarked on a different undertaking, this time initiating a bi-annual educational outreach program series with her US-based mentor maestro Reynaldo Reyes. Focusing on piano concertos of the Romantic Period, Ingrid took the soloist part and Prof. Reyes the orchestra part on a second piano. Open fora followed every concert. On their 24th concert tour in 2015, they logged some 400 concerts all over the Philippines including major cities in Asia and the United States.
In 2014 the multi-awarded pianist launched the coffee table book My Four Seasons, collating over six decades of articles written about her.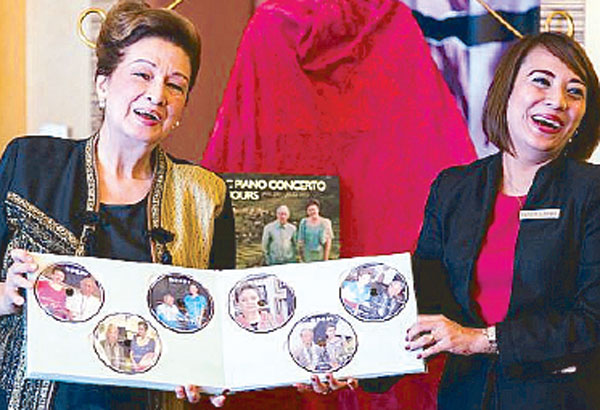 Ingrid Sala Santamaria and Marriott Hotel's Frances Alfafara present the DVDs on the inside back cover
It was simply a matter of time before Ingrid would come up with a similar book, titled Romantic Piano Concerto Journey Tours (RPCJ). Marriot Hotel Cebu led by its general manager Patrick Caroll graciously hosted the intimate Cebu press preview launch.
This 240-page book made colorful by 800 on-location photographs was conceived by Santamaria as a concise, comprehensive volume comprising over 125 articles and insightful editorial perspectives. Santamaria wrote the foreword, epiloque and several other articles.
The cover photo of Santamaria and Reyes was taken on actual location at the Banaue Rice Terraces in between the matinee and gala concerts during Tour 5 in January 2003. The cover design concept and photography were done by Gil Paterno and Foto Resources respectively. The pianists consider this photo to be an iconic RPCJ tour highlight, symbolizing the duo pianists commitment to bring classical music to the remotest places in the country.
The book was made possible by people committed to the documentation of the RPCJ Tours resulting in a timeless compilation with accompanying videos. The team is led by editors Amor Hernando and Rose Marie Villamor, art consultants, Noemi Alivio, Zendreck Lopez, Romy Perez and Cathy Santamaria and videographers David Brass and Rodel Sindac.
The book carries in its inside back cover DVDs of collages from Tours 4 and 5. There is also a separate companion RPCJT discography case which contains 12 DVDs culled from videos of hundreds of tours.
The book has a registered international standard book number as well as a quick response code encrypted on it back cover which gives one ready access to ingridsalasantamaria.com, Ingrid's website.