Rodski Patotski is a Level 60
At the end of the animated film Ratatouille, disgraced film critic Anton Ego casts smiles at Chef Remy and says, "Surprise me." It caps off a film that is – to borrow the New York Times' A.O. Scott – "a flawless piece of popular art."
That feeling of gleeful satisfaction of reading a gem and holding a treasured one at that in my hands is what I felt after putting down Rodski Patotski by Gerry Alanguilan and Arnold Arre.
I have known Gerry since our immediate days after college and have been privy to a creative genius who has bucked what we deem is popular and gone about becoming a master storyteller on his own terms.
Only Gerry can write and illustrate stories about a deranged lovelorn man (that is a homage to his original indie comics line, Deranged Comics), bold stars, chicken, and now, a super genius of a young girl who builds weapons of a mass destruction then discovers the hunger pangs of the heart.
Rodski Patotski was launched last Saturday, April 12, at the Summer Komikon. In a nutshell, the 100-page graphic novel tells of a young lady who is blessed or maybe even cursed with a genius-level intellect that is used by the military to create a WMD while neighbors believe her gifts to be from the devil. In spite of her Einstein-esque brain, she's still emotionally immature but that all changes as she gets older and falls in love.
As always, Gerry's stories reflect the world he lives in. The ongoing dispute regarding the Spratly Islands with the Chinese crops up; hence the need for a WMD as a deterrent. The gossipy nature of Filipinos rears its ugly head. And for longtime comic fanboys like me, as much as Rodski is a paean to his wife, Ilyn, and a homage to the works of his father-in-law who also created a story for and about his wife, the comic character is also in my opinion a tribute to a heroine of our youth – a Filipina Kitty Pryde (in some ways it also reminds me of Marco Dimaano's Angel Ace that I enjoyed as well).
During those years when we used to hang out at my apartment in Cubao or Gerry's place near UST, we often talked of our favorite comics and creating comics (and life in general too). One of our common interests was our love for Chris Claremont's sterling run on Uncanny X-Men that we grew up following. Pryde, then the youngest X-Man was extremely smart and quick on her head but when it came to more practical matters, she showed her age. Pryde was a fun character and so is Rodski whose moods change as quickly as the minutes tick away. When she dispatches the "oriental" navy that threatens the country's security, I was thinking, "Akira!" Yet Rodski even in her more bratty moments is hilarious. She is dreamy and when she lets her hair down, is reflective; revealing a deeper and more passionate person underneath.
It is amazing to be able to write from a youngster's point of view and both Gerry and Arnold seamlessly depict a young girl in that all-important age of growing up. More so with how the dialogue switches from English to Filipino to Taglish. It doesn't read contrived at all making the book perfect.
And because of Rodski I want to like pistachio ice cream.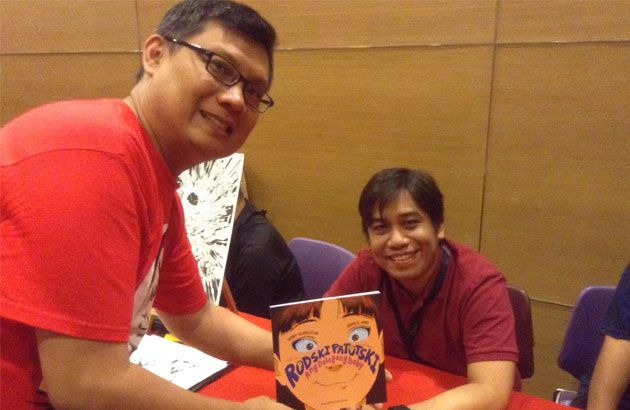 The author with Arnold Arre
Regarding the diverse palette of Alanguilan's comics, I can only compare him to Terry Moore and Craig Thompson who have both given us time and again a different milieu with every serving. But to give sole credit to Alanguilan for the terrific graphic novel that is Rodski Patotski is to damn Arnold Arre with faint praise.
Rodski Patotski is easily Arre's best work. And I believe that. I've followed his work from The Mythology Class to Private Iris to Martial Law Babies and the evolution of his storytelling has grown by leaps and bounds. In Rodski Patotski, there is obvious love to the craft and the story in each and every panel. One of Arre's strengths is his ability to convey a variety of emotions and he makes every page of Rodski fun to look at and spend long minutes taking in the beautiful artwork and those gorgeous colors. Oh, to have those original pages especially page 21 where you see "the evolution of Rodski" that breaks the chapters and page 22 where she is in scuba gear.
Rodski Patotski is a charming and read. Unlike Gerry's Wasted and Elmer that you had to wait for some time to read the entire series, this time you get the whole story that you should finish in one sitting. It leaves you with a smile and after all that is how you should finish reading a comic book or a graphic novel (or a book or a film or a new album by your favorite band for that matter).
And in the end justifies Alanguilan's dream of creating his own characters rather than expanding on the legacies of others because he and Arre just brought to life, one more memorable character that I would mind seeing again.
Surprise me again, guys.