Save your child from pneumonia
November 29, 2022 | 12:00am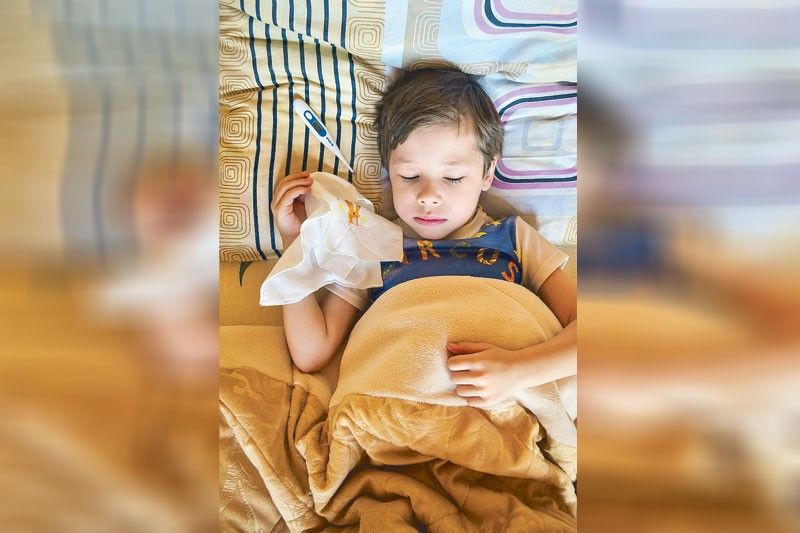 Did you know that this silent killer claims the life of an innocent child every 45 seconds worldwide?
According to the United International Children's Fund (UNICEF), pneumonia kills more children than any other infectious disease, claiming the lives of over 700,000 under five every year, or around 2,000 every day.
The saddest part? Almost all of these deaths could have been prevented.
Listen to your lungs
Pneumonia is an infectious respiratory disease that affects the lungs and is associated with high mortality, especially among young children, the elderly, and those with comorbidities.
According to Dr. Nepthalie Ordoñez, president of the Philippine Academy of Pediatric Pulmonologists, pneumonia is easy to recognize.
But first, you need to listen to your lungs. Feeling short of breath from time to time is healthy and normal.
"But sometimes it can be a sign of something more serious," notes Dr. Ordoñez. "Aside from having a cold, cough and fever, one of the sensitive parameters that doctors use right now to diagnose pneumonia is hingal or shortness of breath."
Simply because not all persons with cough experiences shortness of breath,
"when a child complains of chest pain and is having difficulty breathing, then we can consider that he/she may be suffering from pneumonia," adds Dr. Ordoñez.
Vaccines save lives
There are three types of pneumonia: viral, atypical pneumonia or walking pneumonia, and bacterial pneumonia.
"Viral pneumonia is caused by various viruses including influenza. It can be easily treated with proper nutrition and medication," the doctor notes.
Atypical pneumonia is caused by different bacteria than the more common ones that cause pneumonia. It is characterized by inflamed or swollen lung tissue due to infection with a germ.
Then there's bacterial pneumonia. It is caused by a bacteria, the most common of which is streptococcus pneumoniae.
"Bacterial pneumonia is a vaccine-preventable disease," stresses Dr. Ordoñez during a multi-stakeholder forum, which was held recently at EDSA Shangri-La Hotel in Mandaluyong City, in observance of "World Pneumonia Day."
Organized by MSD Philippines and the Philippine Foundation for Vaccination, the event was attended by health leaders and key decision-makers from all over the country, who pledged their support to a nationwide campaign dubbed "Championing the Fight to Stop Pneumonia — Together."
The campaign is aimed at stopping deaths caused by pneumonia by 2030.
The commitment exercise was led Philippine Foundation for Vaccination (PFV) president Dr. Maria Rosario Capeding, and executive director and founding president Dr. Lulu Bravo, who, in her welcome remarks, recalled the first celebration of World Pneumonia Day on Nov. 2, 2009.
"There were five of us (physicians) from the Philippines. It was hosted by Johns Hopkins Bloomberg School of Public Health in New York," she shares. "The goal of that first multi-stakeholder gathering was to tell the world that pneumonia is the number one killer of children around the globe."
Thirteen years later, the fight against pneumonia still goes on. In fact, UNICEF warns that without further investment in key prevention and treatment measures, "many more children could die by 2030."
This grim prediction is further validated by Johns Hopkins University, which reported that pneumonia could be on course to kill 11 million children by 2030.
Aside from children, pneumonia has afflicted older adults as well, with 1.3 million people aged 70 years old and above who've succumbed to the disease.
This year's observance of "World Pneumonia Day" in the Philippines and around the globe is the perfect opportunity to spread the word about this deadly disease and to prevent this scenario from happening.
It takes a village to stop pneumonia
The multi-stakeholder forum against pneumonia was attended by Rep. Janette Garin, vice chair of the House Committee on Health; Dr. Israel Pargas, senior vice president of PhilHealth; Dr. Fatima Gimenez, president of the Pediatric Infectious Disease Society of the Philippines (PIDSP); Dr. Rontgene Solante, PFV board member; Dr. Nep Ordonez, president of the Philippine Academy for Pediatric Pulmonologists (PAPP); Dr. Kim Patrick Tejano, national immunization program manager, DOH; Dr. Bettina Santos, PFV secretary; and Bryan Posadas, PFV board member.
They were joined by MSD Philippines president and managing director Andreas Riedel, and country medical lead Dr. Mary Ann Galang-Escalona.
In the first segment dubbed "Prevention," Dr. Kim Patrick Tejano, Dr. Fatima Gimenez and Bryan Posadas shared how their respective organizations are helping raise awareness on the importance of vaccination in the fight against pneumonia.
Dr. Tejano shared DOH's National Immunization Program, which covers the vulnerable population: children below two years old, and the elderly. He noted that Pneumococcal Conjugate Vaccines (PCV) and Pneumococcal Polysaccharide Vaccines (PPSV) are still the most recommended vaccines for people aged 50 and above.
"Vaccination is still one of the most important measures to prevent pneumonia," he adds.
Dr. Gimenez, on the other hand, laments that despite the health sector's efforts, "pneumonia remains the No. 1 killer of children."
She also pointed that those in power seem to lack the political will to affect real change.
"If the LGUs put health as a priority, that goes a long way because people listen to them. Also, we need to provide vaccines that are affordable and sustainable. We have to have somebody who's going to carry and champion this program. It seems like vaccination is becoming a political exercise as well."
Posadas chimed in: "We all have a role to play — not just the doctors and policymakers."
He added that a number of pharmacists nationwide are now being trained and certified to become immunizers to expand the network of allied healthcare professionals.
"Senior citizens can now get their pneumonia vaccinations in leading drug stores and pharmacies as long as they have their doctor's prescription," Posadas adds.
On the part of PhilHealth, Dr. Pargas shares that a number of in-patient and outpatient Konsulta Packages already have been put in place. It covers the medicines, consultation fee and X-Ray.
"Still, we know that these aren't enough," Dr. Pargas admits. "That's why we're currently reviewing the rates so we can rationalize the them and hopefully provide more."
He adds that the target date they're look at for the initial rationalization of the case rates is 2023 to 2024.
"For the comprehensive outpatient benefit package, we're looking at 2024 to 2025 to start piloting it."
For her part, Rep. Janette Garin, who is also a doctor, laid out plans to develop the country's healthcare system.
"We've been informing people of vaccines available and the different treatments. We are also helping raise awareness through webinars. Hindi rin kinukulang ang batas natin, tulad ng Senior Citizen's Act at Universal Healthcare. The only problem is that they should be implemented in a timely manner. So, can we end pneumonia by 2030? Perhaps not yet, but we are slowly getting there," she said.