LIST: What parents need to know about COVID-19 vaccine for 5 to 11 years old
January 27, 2022 | 1:33pm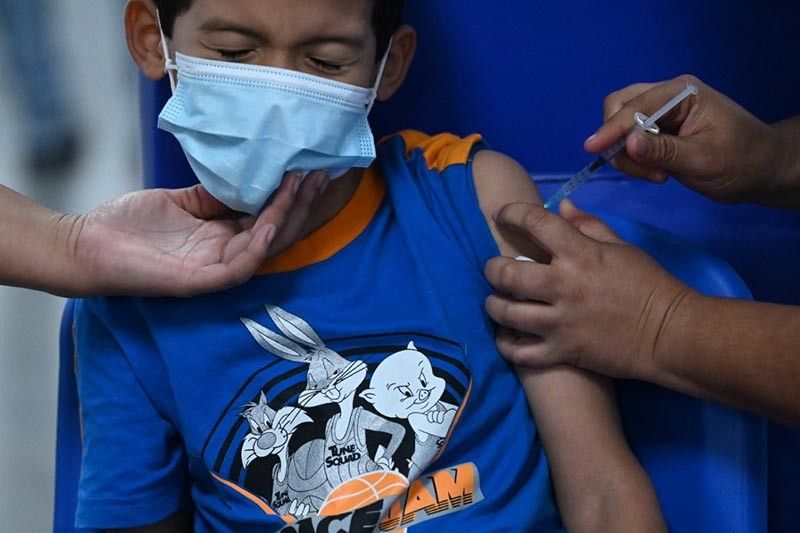 MANILA, Philippines — Last Tuesday, the Department of Health (DOH) announced that the initial roll-out of the COVID-19 vaccine for the 5 to 11 years old age group will begin on February 4. The full approval came after the Food and Drug Administration (FDA) granted an Emergency Use Approval to Pfizer for use in children aged 5 to 11 years old last December 22.
As for now, only Pfizer got the Philippine FDA approval to be allowed to be administered for 5 to 11-year-old kids. Other brands are still completing their requirements.
In the US, Pfizer was approved to be administered for the 12 to 17 years old age group in May 2021, while it got approved for the 5 to 11 years old age group in October 21. Just like the initial vaccine roll-out for the adolescents in the country, those with commorbities are prioritized to receive the Pfizer vaccine during the initital roll-out for the 5 to 11 years old group.
According to DOH, here are other details parents need to know about the vaccine:
Importance, benefits
Parents are encouraged to have their kids who are 5 to 11 years old vaccinated, so they can be prevented from getting SARS-COV-2 infection. The Pfizer vaccine has protection against severe disease, hospitalizations, and severe and long-term complication like Multisystem Inflammatory Syndrome (MIS-C), which the US Centers of Disease Control and Prevention defined as "a condition where different body parts can become inflamed, including the heart, lungs and kidneys."
Vaccination can result in reduced likelihood of transmission.
Based on reports, vaccinated kids aged 5 to 17 years old who caught COVID-19 usually experienced milder symptoms such as cold, cough and fever, which are usually gone after a week -- reportedly way milder compared to the symptoms experienced by adults.
Efficacy rate
In the US trial, the 12 to 15 years old age group got a 100% efficacy rate report, while 91% efficacy rate in preventing COVID-19 for the 5 to 11 years old age group.
Adolescents aged 12 to 15 years old are approved to receive Moderna and Pfizer vaccines. According to DOH, there's 100% efficacy rate reported for the 12-15 years old age group.
Side effects
In that US trial for 5 to 11-year-old kids, the recorded adverse reaction are pain on the injection site, as well as fatigue, headache, chills, muscle pain and fever, usually during the week after the second dose. There's no report of myocarditis, or an inflammation of a heart muscle, in the said US trial.
Meanwhile, for the 12 to 17 years old age group, the vaccines approved for emergency use in the country are Moderna and Pfizer. Moderna was approved last September 2, 2021, while Pfizer was approved last May 18, 2021.
As of January 23, 2022, 58.7% are fully vaccinated among the 12 to 17-year-old adolescents, or 6,228, 346 out of the population of 10, 719, 948. While 71.21% or 7,633, 548 already got the first dose among the same agre group.
3.11% among them reported mild side reactions such as pain in the injection site, dizziness, headache, pyrexia or abnormal elevation of body temperature, and increased blood pressure. There were two cases of myocarditis reported, which according to DOH, were considered very rare cases.
DOH noted that each vaccine has its expected side reaction, but that does not automatically translate to a reduced efficacy or a safety red flag.
To learn more about the vaccine roll-out for kids, watch this video by DOH.
RELATED: LIST: What masks to wear to combat COVID-19 variants