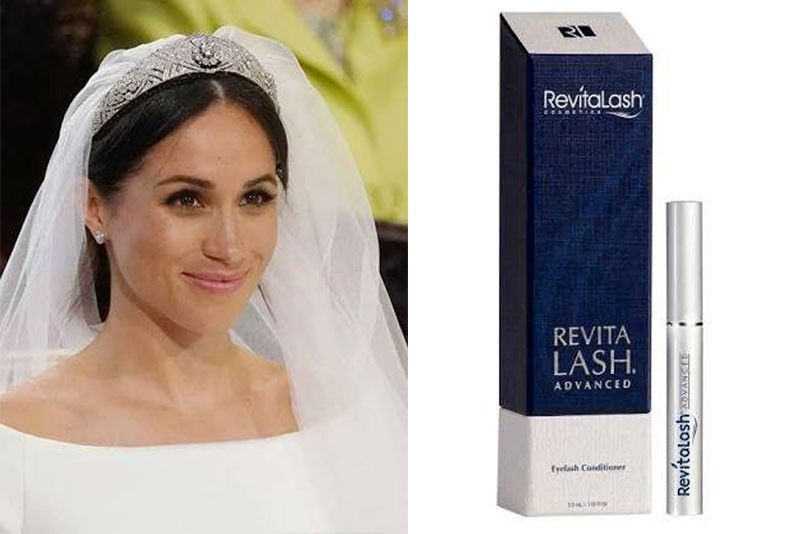 Duchess of Sussex Meghan Markle(left) Revitalash is a wonder product that is endorsed by no less than Meghan Markle.
Meghan Markle's secret to healthy, long lashes
For many years now, long lashes have been in fashion as they enhance a woman's beauty. False eyelashes are definitely part and parcel of the modern woman's daily beauty arsenal. A large number of women say they feel incomplete without their false eyelashes and claim long lashes complete their look, like icing on a cake. Talk to any makeup artist and they would tell you that all their clients ask for long lashes with their makeup.
There are special eyelash salons whose specialty is lengthening a woman's natural eyelashes through extensions. They have several models to choose from — medium to extra long, thick or natural looking, synthetic hair or real hair etc. — and they are applied one lash at a time with a kind of eyelash super glue. It takes at least an hour to complete the process on both eyes.
You cannot open your eyes right after they finish the eyelash extensions as the super glue stings the eyes. You have to wait at least 10 minutes while the aesthetician dries the glue with a hand-held electric fan.
Although eyelash extension clinics are sprouting everywhere, some ladies still prefer the falsies that they can remove before retiring at night. But there are occasional comic catastrophes when not placed firmly. It's funny to see a woman with half a strip of falsies hanging out from one eye.
It is, therefore, not surprising to find eyelash glue inside a woman's purse, which is now becoming a staple in makeup kits just like lipstick and lip gloss.
Because lash extensions are applied one lash at a time with a power glue, the lashes stay on for a few weeks. The downside is they don't fall off at the same time so there are empty spaces until the next session. But some lash addicts have the time and patience to go for replacements so their lashes are always full and complete. If you forcibly take the remaining ones off, chances are the real lashes fall out as well. A friend who is addicted to having these lash extensions complains that her real lashes are mostly all gone.
There is a new product in the market that could be a solution to women with thin lashes, as well as to women who don't want to bother with mascaras, falsies, or lash extensions: Revitalash.
Revitalash is a wonder product that is endorsed by no less than Meghan Markle herself and is the secret to her long, thick lashes, according to reports. The Duchess of Sussex was interviewed prior to her wedding to Britain's Prince Harry about her beauty tips. On the topic of lashes she said: " I also use Revitalash on my eyelashes and I swear they are as long as they could ever be."
What is this wonder product that is giving Megan the long, luscious lashes of her dream?
Revitalash is an award-winning serum, which is a proprietary blend of peptides, lipids, biotin and green tea extract. It is rich in panthenol that conditions and strengthens lashes while defending them from environmental damage, as well as damage caused by lash styling products that can cause breakage and brittleness.
Revitalash also has piopeptin complex, ginseng, swertia japonica and saw palmetto, ingredients that make this product better for healthy lashes.
What is remarkable about Revitalash is that it is a one-of-a-kind, ophthalmologist-developed lash conditioner that enhances the look of lashes and protects them against breakage while improving the health, flexibility and strength of lashes.
Dermatologists who were asked to review Revitalash gave their two thumbs-up on the product. It is easy to apply and the user can actually see the results.
This serum beats all mascaras and lash extensions, which never last. With only one stroke of this serum a day, you will be giving your lashes the natural botanicals it needs to stay shiny and break free. Those that have used Revitalash swear by its effectivity and even those with sensitive skin say it is non-irritating.
I am getting tired of removing stubborn mascara from my eyelashes, and the glue of false eyelashes have irritated my eyes many times. Revitalash is certainly worth trying, judging from Meghan Markle's long, thick lashes which I take as proof of its effectivity.
Revitalash's twin sister is RevitaBrow. This is now the best-selling, award-winning brow enhancing conditioner. It enhances natural eyebrows that seem to be damaged with toxic eyebrow products like lead-filled eyebrow pencils.
RevitaBrow is a proprietary blend of scientifically advanced technology and natural botanicals joined together to improve flexibility, moisture and shine for bold, beautiful brows.
These two products are made in the USA and marketed in the Philippines by Dmark Beauty Corporation whose CEO, beautypreneur Nikki Tang, is an avid user of both products, with great results.
"I looked for a product that could thicken and lengthen a woman's lashes as I was getting fed up with the false lashes I had to put on daily. I read about Revitalash, and tried it. Like Meghan Markle, I am truly happy with my results, so I decided to market it.
* * *
For inquiries, call or SMS 0917-5268890.