On making adversity look delicious
September 17, 2020 | 12:00am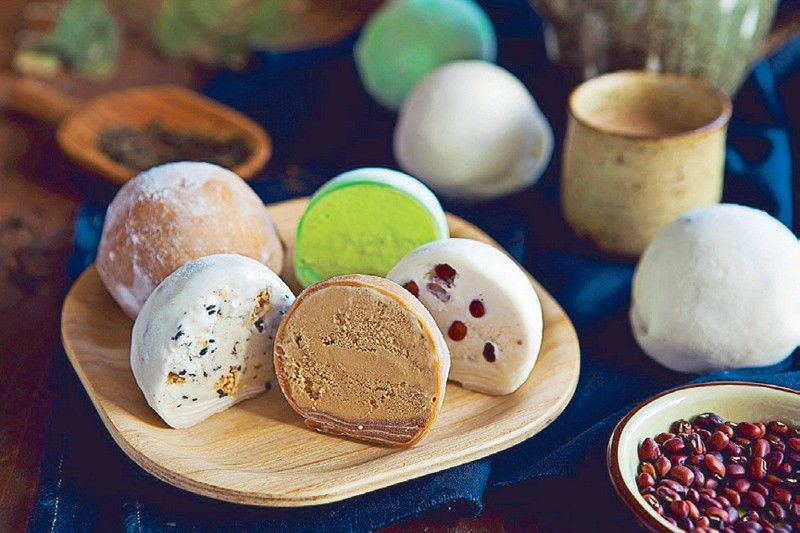 Nowie and Odette Potenciano are so well-accustomed to a pivot, you could call them the prima ballerinas of the local food and beverage industry.
In 2010, after they enjoyed moderate success from a few franchises of an ice cream shop, a sudden frozen yogurt boom took down 50 percent of their sales. "We needed to find a way to make our businesses relevant again," says Nowie. Following a few quick holidays in Japan, the Potencianos couldn't get mochi off their minds. The sticky, chewy, pillowy-soft treat wasn't easy to come by locally, but deserved to be. And, being the ice cream fiends they are, they naturally decided to merge the two. Thus, Mochiko was born.
The first Mochiko shop opened in Tagaytay at Cliffhouse, where the colder climate made production a little bit easier. It was only a few weeks later that they took a chance at a new weekend market, thinking it would at least help promote their products. The market turned out to be the beloved Mercato Centrale, with Mochiko becoming an immediate favorite among market-goers.
Three years later, after an incredible rise in shops and sales, the mochi market became oversaturated and the category cratered. "At one point, in one mall alone, there were seven other mochi shops apart from Mochiko," Nowie says.
The husband-and-wife team was once again left to figure out their next steps. But where others would want to shirk away and perhaps exercise infinitely more caution, their decision was to dive in. "Doing food again was a no-brainer for us because that's what we know best. But what we didn't know anything about was running a full restaurant," explains Nowie, as he tells the story of the segue from Mochiko to The Sunny Side Cafe in Boracay.
From cliffside to seaside
"The Sunny Side Cafe was born out of a confluence of several things: We had just come from a trip to Luang Prabang, where we ate at a bakery cafe where it seemed all visitors to the city would stop by at least once during this trip. We thought that this was a gap in Boracay — a spectacular all-day breakfast where bread is baked fresh and has excellent coffee," says Potenciano. "A space opened up beside our ice cream shop in Boracay, so we pitched for it, invested our remaining money, and opened The Sunny Side Cafe three months later in April 2014."
The Sunny Side Cafe was, like the Potencianos' ventures prior, a significant success and has consistently been awarded Travelers' Choice on Trip Advisor five years in a row. This afforded the Potencianos the opportunity to build what is now The Sunny Side Group of restaurants: a tight edit of singular concepts unique to themselves, each with their own character and boasting their own treasured dishes. Their piri-piri-style restaurant Spicebird opened nine months after Sunny Side.
As the group comfortably expanded, it would grow to include vegan and dairy-free dessert concept Coco Mama, as well as deliciously sinful and dairy-loving milkshake and burger joint Supermagic Burgers.
In 2018, the little group that could was besieged with difficulty on an entirely different scale, with the sudden closure of Boracay. Potenciano says, "In the unexpected six-month closure, we pretty much lost everything we worked on for years in one fell swoop. During each of those times, we had to just dig deep to find a way to survive. We tried to do this with sheer grit and creativity in using whatever we had left."
Friends in the industry rallied, and a handful of the Sunny Side concepts made it to Manila for a pop-up that lasted several months. The Potencianos exhausted their own resources transporting a number of their staff to Manila and finding them accommodations, just to make sure their people could make a living during the island closure.
What happens in Boracay goes to Manila
And now, in 2020, with its continuous onslaught of surprises, The Sunny Side Group has once again had to swerve. On Sept. 16, they opened Spicebird at The Grid in Rockwell, despite previous resistance to ever opening any of their establishments in the busy Manila restaurant scene.
"One thing we've learned over the years is the importance of context for the restaurant," Nowie explains. "Sometimes it's not as simple as transplanting a concept and putting it in one location just because it works very well in another. With the pandemic, the context of the city market has changed in the sense that the people can't go to the beach right now and we thought that they're looking for something to remind them of that. A little slice of Boracay in the city."
Although the Spicebird team has Manila exclusives under their belt, a wide array of fan favorites is already on the menu. Their Piri-Piri Chicken Boards are the stuff of legend, with its juicy, tender, perfectly seasoned chicken accompanied by a generous array of sides: a fresh side salad, crispy veggie chips, a milky roll reminiscent of a bonete bun, and their addictive spice rice. Amp up the flavor factor with their signature sauces: the classic Spicebird Piri-Piri, its spicier counterpart Hot Bird, the Japanese-inspired Curry Curry, the zesty Garlic & Lime, and the truly sensual and zippy Sexy Sauce No. 5.
Then wrap it all up with what else but an ice cream special called the Double Happiness sundae, a dark chocolate-forward dessert featuring a surprising drizzle of bergamot-infused olive oil and a sprinkling of sea salt.
Never too far away from an ice cream situation, the Potencianos have also taken to delivering tubs of Coco Mama to clamoring customers. "The pandemic really caught us by surprise, and we had no time to dispose of our inventories in all our restaurants before we closed. When we could make sure that our delivery team was safe during GCQ, we thought we'd sell our coconut ice cream in tubs," says Potenciano. "It seems that there are many people looking for a delicious, dairy-free option to their desserts and we're happy to fill that gap."
Keep calm and pivot on
Together with the existing Coco Mama delivery service and the introduction of Spicebird to Manila, the Potencianos are completing their comeback saga with the return of Mochiko. "With customers now open to food being delivered to their homes instead of going to a physical location, now might be the right time for it. It seems that people are missing our mochis!"
"Over the years, we've tried to learn from all the setbacks we've experienced," Nowie says. "We tried to diversify into having many brands instead of having multiple branches of just one brand, like Mochiko. We also started to diversify in terms of locations with a new Coco Mama shop in La Union.
"This pandemic is especially difficult because it's the business environment that has changed, and it has changed everywhere across multiple industries. It's not a matter of waiting it out anymore. We have to do something proactive and again, use whatever resources we have at our disposal."
And use the resources they have, because it seems there's much more to come. Adding with an impressive amount of resolve and healthy optimism, he says, "We do have a few more things planned. We're not quite done yet."
* * *
To place your Spicebird order, hop on over to spicebirdgrill.com or learn more at @spicebirdgrill on Instagram. To know more about Coco Mama, head over to @cocomamaboracay on Instagram or Coco Mama on Facebook. Lastly, keep your eyes peeled for Mochiko updates by following Mochiko on Facebook.