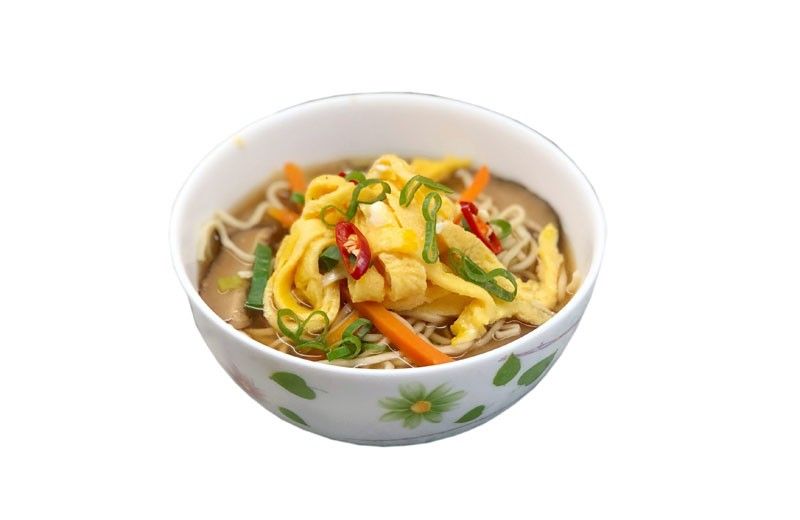 Capt. Ri's Noodles is a complete vegetarian meal in itself.
Captain Ri's noodles and other vegetarian K-drama recipes
Any Korean drama (K-drama) fan knows that one significant side effect of watching these shows is developing an irresistible craving for Korean food. The obvious choices would be Korean fried chicken and samgyupsal, of course, as these two dishes figure prominently in many a K-drama scene. To my surprise, however, these uplifting (and sometimes heart-wrenching) shows are also a great source of inspiration for vegetarian recipes!
Lately, I've been getting a lot of requests from my social media accounts for vegetarian recipe ideas. I think as people eat at home more often, we are all looking for ways to eat more healthfully without depriving ourselves of flavors. In the past few months, I've put my habit of watching K-dramas to good use by hacking some of the vegetarian recipes featured in them.
Captain Ri's noodles
The first K-drama I enjoyed is the Philippines' No. 1 drama of 2019, Crash Landing on You. Apart from developing a sincere love for the show's star, Son Ye-jin, I also got to develop a version of the noodle soup dish that Captain Ri (Hyun Bin) prepares.
For two people, you'll need: 2 tablespoons of doenjiang (Korean fermented bean paste) or miso paste, 800 ml water, 4 dried shiitake mushrooms (rehydrated in 1/2 cup of hot water then sliced thinly), 100 g carrots (sliced into thin matchsticks), 1 labuyo chili (sliced thinly) and 1 stalk leek, sliced thinly) 150 g dried noodles (about 200-250g fresh), 1 egg, plus salt and pepper to taste.
To make the broth, combine the water, doenjiang, the white parts of the leek, sliced mushrooms and the water the mushrooms rehydrated in and bring to a simmer. The longer you simmer, the better the broth will be, but if 15 minutes is already enough time. Meanwhile, beat the egg and cook over a low flame to make a flat omelet. Let that cool. In a pot of boiling water, cook the noodles until al dente, about 7 minutes for dried noodles. As the noodles are cooking, add the carrots to the broth and slice the omelet into thin strips.
To serve, divide the noodles into 2 bowls, place the vegetables on top of the noodles and then pour the broth over them. Garnish each bowl with strips of egg, the green parts of the leek and labuyo slices.
It's a really simple noodle dish, but it hits all the right notes. It's a complete meal with the vegetables, the noodles and protein from the egg. The fermented bean paste and dried mushrooms provide a ton of umami flavor, so the dish is perfectly satisfying, especially in the morning. All you need is your own Captain Ri or Yoon Se-ri.
Saeroyi's fried rice
Another recent Netflix hit is the K-drama Itaewon Class, where a battle over restaurant supremacy is fraught with stories of revenge and unrequited love.
One of the more interesting recipes was shown as the main character, Saeroyi (Park Seo Joon) shares an intimate moment with his father, cooking and eating breakfast before his first day at his new school. His fried rice looked delicious, so I couldn't resist hacking it.
Here's what you'll need for 2 people: 50 g each of red and green bell peppers, carrots and squash (or zucchini) all sliced into very small cubes, 2 cloves of minced garlic, 2 tablespoons of minced onion, 2 cups of day-old cooked rice, 2 eggs, 6 tablespoons vegetable oil, salt and pepper to taste.
The procedure itself is pretty easy to follow. Over medium heat, sauté all the vegetables in 4 tablespoons of oil for 2-3 minutes, making sure to stir regularly. Add in the cooked rice and mix well. Season with salt and pepper. I recommend using a lot of pepper (as Saeroyi's dad quips about the rice lacking a bit of flavor) to bring out the sweetness of the vegetables. Meanwhile, in another pan, fry the eggs individually with the remaining oil. To serve, make a mound of rice on a plate and then top with a fried egg. That's it!
This dish is the perfect accompaniment to any dish, but it can certainly stand on its own. The different textures of the vegetables play well with the cooked rice and by cooking the vegetables over medium heat you'll be releasing a lot of their flavors, which will seep into the rice.
Choi Han Kyul's kimchi rice
In the gender-bending classic Coffee Prince, Choi Han Kyul (Gong Yoo) makes a relatively simple kimchi fried rice. Kimchi rice is an excellent dish to make, especially when you are in a hurry and it's a great way of using up the odds and ends of any vegetables you have lying around.
What you'll need for 2 servings are: 1/2 cup of chopped kimchi (plus a little of its liquid), 2 cloves of minced garlic, 100 g of any chopped leftover vegetables (I suggest mushrooms, zucchini, carrots or any leafy greens), 4 tablespoons of vegetable oil, 2 tablespoons butter, 2 cups of day-old cooked rice, salt and pepper to taste.
The procedure is as simple as heating up the oil and butter until they bubble in the wok and then sautéing the vegetables and kimchi for 2 minutes before adding in the rice. Mix well and season. You're done.
The fermented flavors of the kimchi give so much depth and brightness to the rice and it will become a favorite late-night treat in no time.
I don't really know if watching K-dramas endlessly has any health benefits, but I know hacking their vegetarian recipes certainly does. It makes our dining tables more exciting!
* * *
Sharwin's book So, You Want To Be A Chef? is available in all National Book Stores and Powerbooks nationwide. Follow Sharwin's food adventures on Instagram @chefsharwin and for questions, reactions, recipe and column suggestions, you can contact him on www.sharwintee.com.