Feeding the frontliners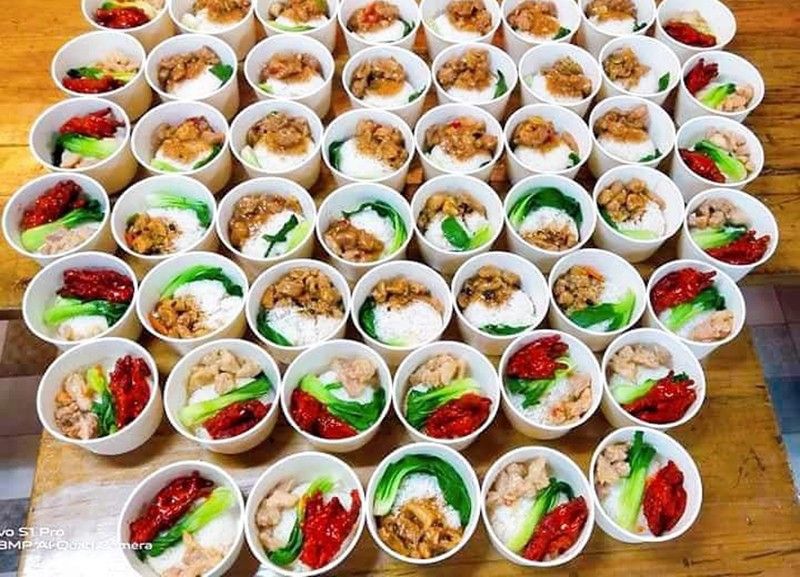 Millie: One can never be prepared for something like this Covid-19 outbreak, which is causing so much fear and confusion. I must admit, I myself was so paranoid at the onset that I stopped eating out, avoided crowded places and — what broke my heart — stopped going to Mass every day. I even carried a pocket alcohol sprayer in my handbag.
Since surgical and N95 masks are no longer available everywhere, we found transparent spit guards for our food-service team to wear while on duty. Little did I know that these would be the same guidelines to be imposed when the president announced a Community Quarantine last March 13 in order to curb the spread of the virus.
Amid recession fears and panic buying, government officials worldwide are racking their brains on how to cushion the economic impact of Covid-19. As we watched the news about stock markets plummeting and federal reserves being slashed, I asked Karla, "What can we do to help?"
Karla: Right on cue, as if in the movies, I received a message from my good friend Ros Juan, owner of Commune Café. She mentioned how she was looking for someone to send cooked meals to Makati Medical Center for our medical frontliners. Mom and I felt that this was our call to help and serve and immediately agreed to be added to the schedule. At the same time, Ros was raising funds for this initiative. I reposted Ros' message seeking donations in cash or in kind, and it went viral.
Millie: I am amazed to see how brave and conscientious Karla is to carry on this project together with her friends. I am grateful for all the donors who, with one click of a Facebook post, instantly came to support the feeding program. Donations just kept pouring in, both in cash and in kind, from friends and friends of friends, suppliers and people we didn't even know.
Karla: The plan was only to feed Makati Medical Center, but because there was an influx of donations, we knew we could expand by serving more. Later on, I started to receive messages from hospitals that needed medical supplies and food as well. I started to join forces with friends who were donating on their own, like Koyen dela Cerna of Koyen's Kitchenette. I figured pooling our resources together is a good thing and it's efficient. At least I know which hospitals are being sent food.
At that moment, I realized the gravity of the situation and the need to organize the operations. There were so many individuals donating but lacked the proper coordination between donor-hospital and donor-donor.
Bayanihan, the urge to help others in need, is ingrained in our culture; that's something I've always admired about the Filipino people. But we needed some structure and we needed to make sure that whatever resources we had would be able to sustain feeding the medical frontliners until however long it takes.
So, how can you help? Here are some options: money, food, delivery/logistics, adopt-a-hospital. Adopting a hospital makes you a team leader/ food ops head who is in charge of scheduling the donations to make sure we don't double. We can then reapportion food packs for distribution to other hospitals in need. For monetary donations, these will be allotted for both food and purchasing of PPEs and other medical supplies. Food can be donated as cooked meals or as raw materials.
Getting the ball rolling was probably the easiest thing in this whole experience. The core group all just kind of found our own place without being told what to do. To think this idea all started with Candy Gatmaitan Bernardo, now a team leader for FEU, who wanted to celebrate her birthday by sending food to frontliners. She called on her friend, Gang Badoy Capati, founder of RockEd, to help her arrange this. Gang is in charge of the PPEs and medical supply donation side.
The group just grew from then on, adding Dr. Gia Sison, who is part of Makati Medical Center and our main resource for hospital contacts, and Ros Juan of Commune Café, who is our team leader for Makati Med, and in charge of social media and marketing.
Tina Hong Garcia and I are the incubators who set up the operations for a hospital and guide the new team leaders. Once it's up and running, we move on to help a new hospital if our funds and resources permit us to do so.
Mae Young is handling the food operations for The Medical City and St. Luke's BGC, and Chelle Obligacion-Gray is team leader for East Ave. Medical Center, while Jasmine Medina from 121 is one of our consistent food donors.
Only two days after we started, our operations have ballooned from just Makati Medical Center to now 10 other hospitals, namely: The Medical City, Philippine Heart Center, Philippine General Hospital, Lung Center of the Philippines, University of Sto. Tomas, Far Eastern University – NRMF, San Juan de Dios Hospital, Asian Hospital & Medical Center, St. Luke's Medical Center – BGC, East Ave. Medical Center and counting.
I'm blessed to have found such a hyper-efficient team to work with and who have the genuine intention to serve and do what they can. Aside from the core group is a whole battalion of citizens sending any possible help they can offer our way.
I don't even know how to begin thanking everyone properly at this point because 90 percent of the people running the operations are people I have not even met in real life. It's incredible how people are coming together and answering the call to serve with no promise of how they can benefit from it. I think we've all just recognized that there is an urgent need at the moment. They have focused all their efforts into getting donations and tirelessly getting the food out to our frontliners — our everyday warriors, our unsung heroes.
Millie: At this point, may I express our deep gratitude to all the frontliners who have sacrificed so much of their time to care for the Covid-19 patients. They are the unsung heroes today and I am sure the entire country will join me in praying for their good health and safety during this time of crisis. May God bless you all!
* * *
For those interested in donating or volunteering, find us on social media and drop us a message @quichethecook and @ronjuanxi on Instagram or Facebook https://www.facebook.com/karla.a.reyes and https://www.facebook.com/rosariojuan or email havecoffee@commune.ph.
Send email to milliereyes.foodforthought@gmail.com and quichethecook.ph@gmail.com. Find us on Facebook: Food for Thought by Millie & Karla Reyes and Instagram: @quichethecookph.