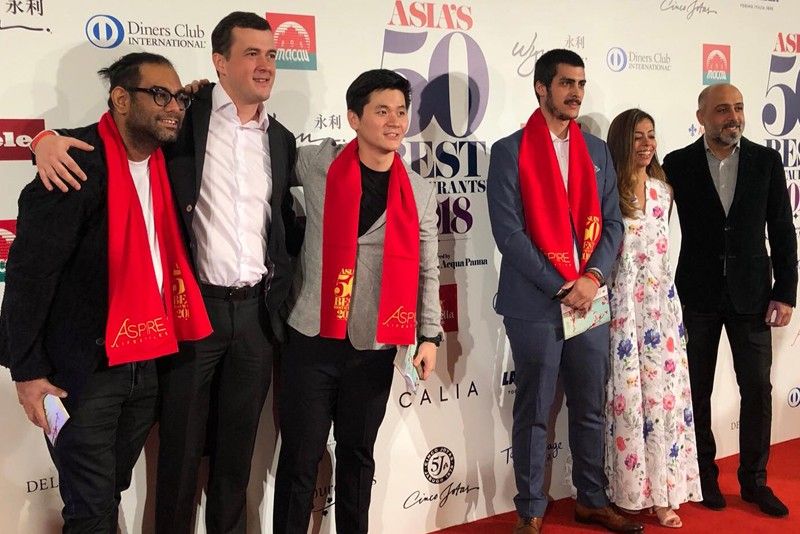 Gaggan is Asia's Best Restaurant for 2018—its fourth consecutive year: Celebrating are Gaggan Anand, Vladimir Kojic, Rydo Anton, Joao Pereira, Meenu Kumar and Rajesh Kewalramani Photos by Cheryl Tiu
Gaggan is The Best Restaurant in Asia —for the fourth year in a row
IN BETWEEN DEADLINES
-
Cheryl Tiu
(The Philippine Star) - March 29, 2018 - 12:00am
The Philippines' Toyo Eatery was named the recipient of this year's One To Watch Award at Asia's 50 Best Restaurants held in Macau, recently.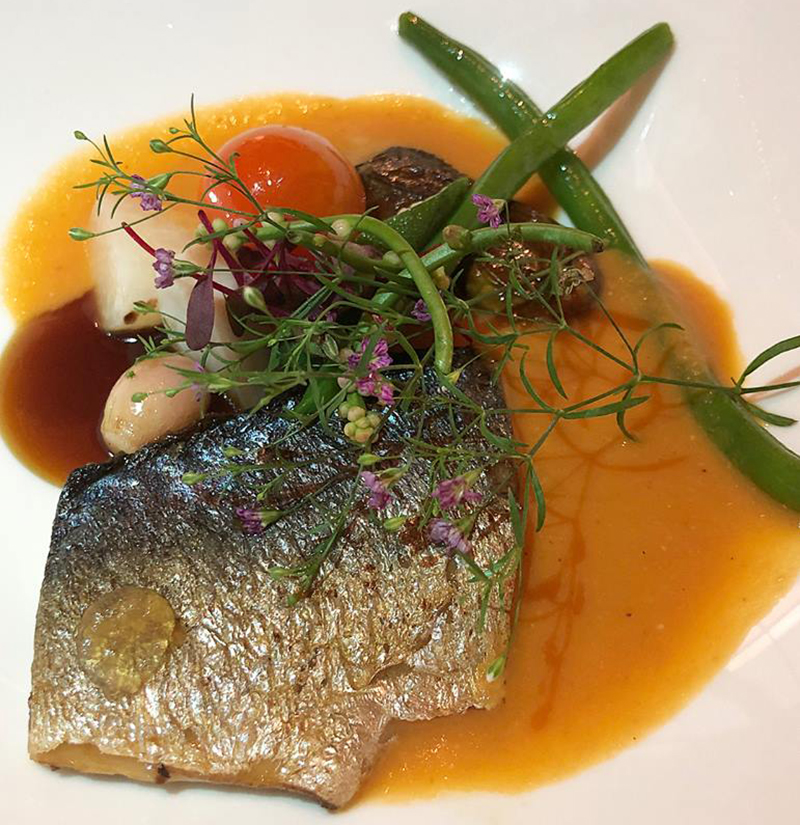 Dry sinigang of Mackerel in batwan miso paired with Vin Blanc de Palmer 2016 prepared at the Six Hands collaboration palace by Asia's Best Female chefs.
MACAU — Gaggan in Bangkok, Thailand was named the 2018 Best Restaurant in Asia — its fourth consecutive year. Chef-owner Gaggan Anand addressed the "49 restaurants and chefs" present onstage at the Wynn Palace's grand ballroom on Tuesday, March 27.
"I am not just a proud winner but this time — for the first time — I was least stressed for what my number would be, and the more happening thing was that we (restaurants and chefs) would meet and greet. We have become a family and that's the best thing that's happened over the six years with 50 Best. We have young chefs taking over the old ones. So it's time for us to leave and you guys to take over," he said.
Philippine spotlight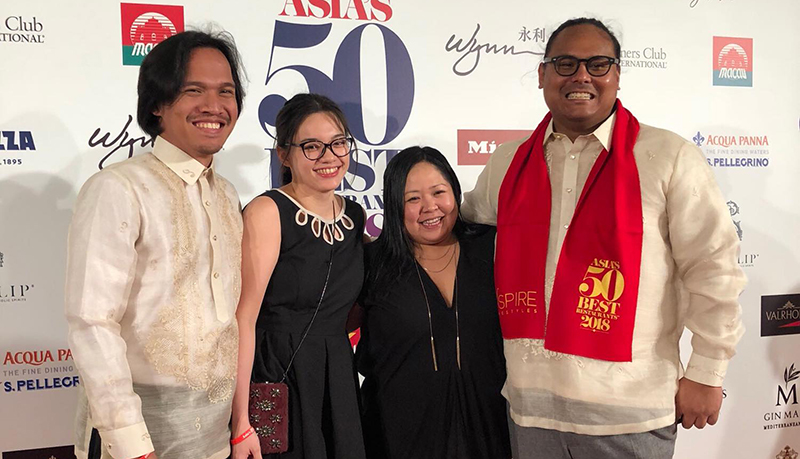 Jordy Navarra (right) of Toyo Eatery, this year's Asia's 50 Best Restaurants One To Watch awardee with (from left) sous chef JP Cruz, pastry chef Sam Constantino, and wife May Navarra
The Philippines' Toyo Eatery was named the recipient of this year's One To Watch Award, sponsored by Miele. Selected by the organizers of Asia's 50 Best Restaurants, in collaboration with its regional experts, the award is presented to a restaurant that is outside the Asia's 50 Best list but is identified as the rising star of the region. At the awards ceremony, a short video showcasing Toyo's space and philosophy took the big screen before chef-owner Jordy Navarra and his wife May Navarra were invited onstage to receive the award.
There were big leaps in this year's Top 5: Den in Tokyo jumped nine places to No. 2, Florilege also in Tokyo jumped twelve places to No. 3; Suhring in Bangkok jumped nine places to No. 4, and Odette in Singapore jumped four places to No. 5.
There were also eight new entries this year: Whitegrass in Singapore (No. 50), Shoun RyuGin in Taipei (No. 47), TocToc in Seoul (No. 42), Belon in Hong Kong (No. 40), Neighborood in Hong Kong (No. 32), Paste in Bangkok (No. 31), Il Ristorante- Luca Fantin in Tokyo (No. 28) and the highest new entry, La Cime in Osaka (No. 17).
This was the first year that the sixth edition of Asia's 50 Best Restaurants, organized by William Reed Business Media, was held in Macau.
Best female chefs
Asia's Best Female Chefs: Margarita Forés (Philippines, 2016), Lanshu Chen (Taiwan, 2014), Vicky Lau (Hong Kong, 2015), with this year's Asia's Best Female Chef Bee Satongun of Paste in Bangkok
Leading up to the awards, this year's #50BestTalks, held at the grand ballroom of the Wynn Macau, talked about "exploring identity." Mume's Richie Lin, Long Xiong and Kai Ward talked about how they forged a fresh culinary identity in Taipei; Hiroe Higuchi of Shima Kanto Hotel in Japan spoke about sustainability; Native Bar Singapore's Vijay Mudaliar spoke about sourcing ingredients in Asia and likewise their Asian-inspired cocktails; and Andre Chiang (this year's Lifetime Achievement Awardee) spoke about his next chapter after closing his landmark Restaurant Andre in Singapore. Chiang will be opening a new concept "in a new city" by the end of 2018, and also putting a new restaurant at the Andre space, revealing that it was "a cuisine category that Singapore doesn't have yet."
A personal highlight for me was the spotlighting of female chefs, specifically Asia's Best Female Chefs, in the form of a seven-course, six hands lunch between our very own Margarita Fores (2016), Vicky Lau of Tate Dining Room in Hong Kong (2015) and Lanshu Chen of Le Mout in Taiwan (2014). Fores prepared a (dry) sinigang of mackerel in batwan miso, and lamb glazed with Philippine coffee, adlai sinangag and guava jelly—paired with Chateau Palmer wines, no less!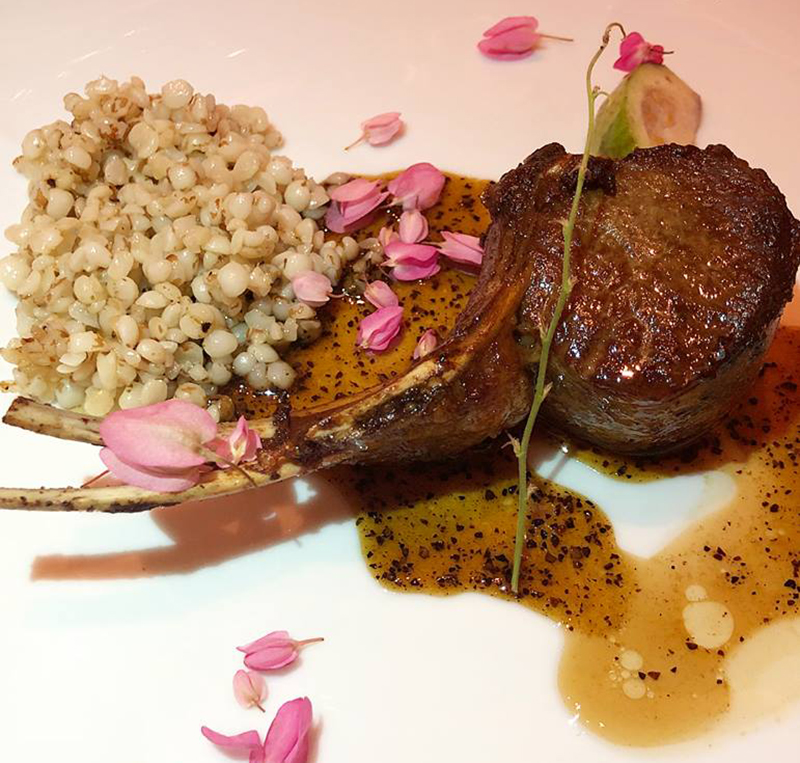 Lamb Glazed with Philippine Coffee and guava jelly, Adlai sinangag paired with Chateau Palmer 20006
* * *
For the full list, visit https://www.theworlds50best.com/. You can reach me at inbetweendeadlines@gmail.com, on my blog www.cheryltiu.com, on Twitter at www.twitter.com/cheryltiu or on Instagram at www.instagram.com/chertiu.
This year's Top 20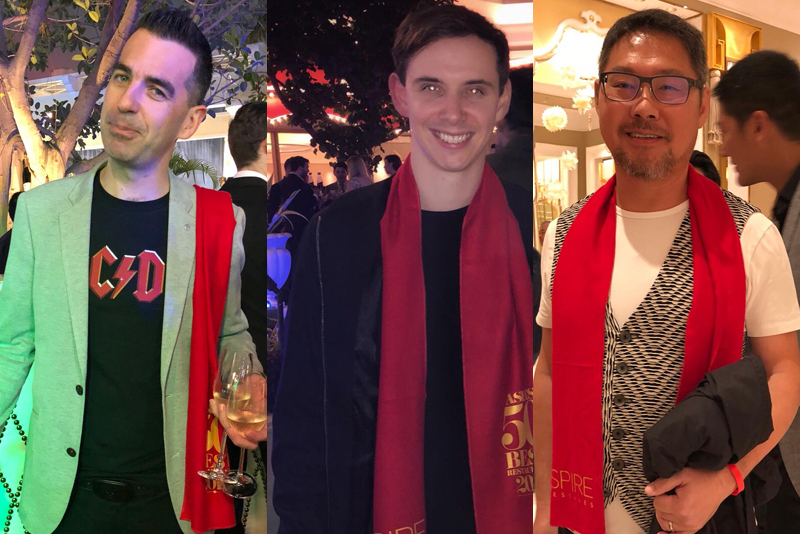 New entries are Sam Aisbett of Whitegrass in Singapore (No. 50); Daniel Calvert of Belon in Hong Kong (No. 40); and David Lai of Neighborhood in Hong Kong (No. 32)
1.Gaggan (Bangkok, Thailand)
2.Den (Tokyo, Japan)
3.Florilege (Tokyo, Japan)
4.Suhring (Bangkok, Thailand)
5.Odette (Singapore)
6.Narisawa (Tokyo, Japan)
7.Amber (Hong Kong)
8.Ultraviolet by Paul Pairet (Shanghai, China)
9.Nihonryori Ryugin (Tokyo, Japan)
10.Nahm (Bangkok, Thailand)
11.Mingles (Seoul, Korea)
12.Burnt Ends (Singapore)
13.8 1/2 Otto e Mezzo Bombana (Hong Kong, China)
14.Le Du (Bangkok, Thailand)
15.Raw (Taipei, Taiwan)
16.Ta Vie (Hong Kong, China)
17.La Cime (Osaka, Japan)
18.Mume (Taipei, Taiwan)
19. Indian Accent (New Delhi, India)
20.L'Effervescence (Tokyo, Japan)