Va Bene Pasta Deli plates up fresh Italian cuisine for 2014 European Culinary Season
MANILA, Philippines - The 2014 European Culinary Season was launched recently in Bonifacio Global City, headed by the European Union (EU) Cultural Group made up of European embassies and cultural institutes, together with Aubergine Restaurant and its wine partners– Ruffino, Artisan Cellars Werdenberg International Corp., Le Cellier French Wine Selection, Philippine Wine Merchants and Sommelier Selections.
As part of the six-week celebration of culinary season, Va Bene Pasta Deli served palatable Italian cuisine, which provided a tour to Italy through the palate, rather than a plane ticket.
Va Bene Pasta Deli is among the 24 participating establishments presented with the 2014 European Culinary Season Commemorative Plates by the attending European Ambassadors. EU Delegation political counsellor Dr. Julian Vassallo and Robert Leon of EEAS-Manila lead the presentation.
Situated on the 2nd floor of Petron Gas Station along EDSA Makati corner, Dasmariñas Village, Va Bene Pasta Deli proves that a gasoline station could be turned into cozy dining destination, rather than just a pit stop to load up car gasoline or to grab something from a convenience store.
Va Bene Pasta Deli, located at one of the most unusual places for gourmet restaurants, has been serving authentic Italian dishes to a flock of customers since 2010.
The restaurant has been creating a buzz in the social media as well, labeling it as the "Best Italian Restaurant" in Makati. This is all because of Chef Massimo Venoresi's hand-made pasta and fresh ingredients.
Chef Massimo previously worked as the chef for Mi Piace at the Manila Peninsula. With shared love for food, Chef Massimo, together with his wife Carolyn Venoresi, established Va Biene, which means "it goes well" or "alright;" in other words, just as what those who have tasted it must have said at the first bite—good food!
The place is cozy and inviting, which is a surprise, considering that it is located on a gasoline station. There are food magazines and bottles of wine displayed on shelves, and also framed articles about the place decorated on the walls, which add to the exquisite vibe of the place.
Customers get a batch of crunchy bread served with fresh tomatoes, garlic, basil, olive oil and parmesan after ordering. This complimentary bruschetta is crisp and very light, so you do not need to worry about feeling full afterwards.
A plate of fresh arugula leaves, garnished with balsamico dressing, over slices of roasted onions, caramelized apple slices, and strips of chicken milanese is quite an appetizer. The sweetness of the apple goes together well with the acidity of the vinaigrette.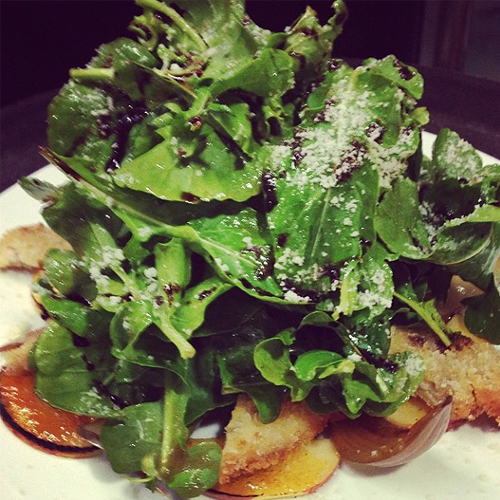 On the other hand, the Ricotta Eggplant Tortellini is a delight to the eyes and to the taste buds. It is presented delicately and cooked sumptuously with arrabiata sauce, which gives the pasta a slight kick of spiciness, mixed with basil pesto, and pecorino cheese.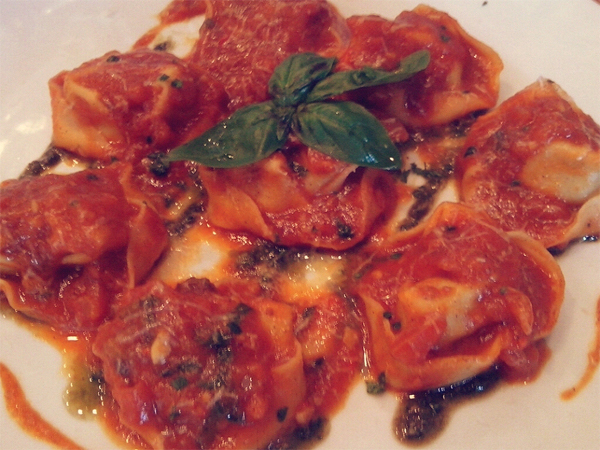 For dessert, homemade profiterole is just as perfect as the others. Miniatures of caramelized walnuts are perfectly placed like a dainty art on a plate. On the center of the walnuts is a scoop of vanilla ice cream, while a drizzle of chocolate sauce makes this baby even more delectable-looking.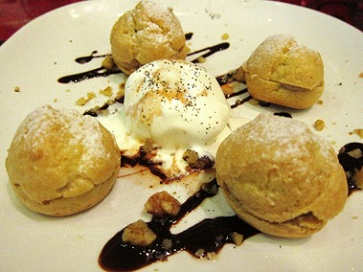 Wines and shots of various alcoholic beverages are also available on the menu. If you want to experience a bang! at the end of your course meal, try Va Bene's Homemade Vov, or "Old Nonna Maria Recipe" as Chef Massimo calls it.
Good news for everyone, since Va Bene is being crowded day-by-day by hungry and excited customers, Chef Massimo is putting up another branch at The Fort, which will start serving this July.
If you are looking for al dente quality of pasta, scrumptious appetizers, and mouth-watering desserts on fairly decent budget, feel free to visit Va Bene at the Petron Station in Dasmariñas Village, Makati.
The celebration of food culture continues this June. Thanks to the European Union Cultural Group and Chef Massimo Venoresi, you will never look at Italian cuisine, and probably at the gas station the same way again.
For more information, you may visit their Facebook page or their website: https://www.facebook.com/vabenepastadelimakati/info and http://vabenepastadeli.com/.