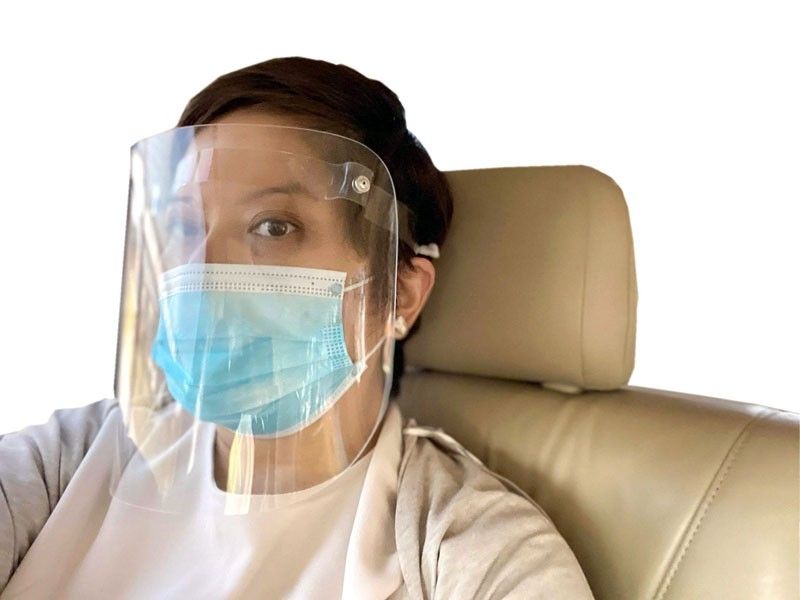 The new normal : Surgical mask worn under a Starck-like face shield transitions easily to work or a meeting.
What to wear to a mañanita or MECQ
The inevitable has happened: A Modified Enhanced Community Quarantine (MECQ) has finally been declared and you're getting ready for your first day back to work or non-Zoom meeting.
For women, this presents a reinvention of the age-old question: What do I wear?
The doctors say: Leave the hospital gowns and, more so, the PPEs in various colorways at home (unless, of course, you're a healthcare worker). Ditto for the disposable gloves, which they all concur give you "a false sense of security." You lower your guard, forgetfully touch your face and possibly wind up giving yourself the disease.
However, that also goes for all kinds of bling (rings, bracelets, brooches, earrings, necklaces, hairbands and all the gewgaws) and watches, too — unless you are ready to dip them in alcohol to clean every crenelated nook and cranny every single time you come back home. (Warning: plenty of jewelry is put together with glue that will eventually break down in the disinfecting solution. Look for pieces that have been set surrounded by metal claws, if you must. As for the pearls that have become our national addiction, better to save these delicate orbs for better times.)
Now for hair and makeup: The COVID-19 virus is a slimy critter and will cling to your tresses. The best defense is to wear your hair pulled back in a bun for minimum exposure and to shampoo your hair every time you come from outside. (It'll be a long time before we're able to go to a salon, anyway.)
By the same token, cover arms and legs. No skirts or shorts. No open-toed shoes or sandals, and seriously consider wearing socks.
What you'll be spending on shampoo and soap will come from the savings on lipsticks and blushes. The all-important accessory is now a surgical mask, which now covers cheeks and lips. There are all kinds of masks on either side of the spectrum, from coverings from old T-shirts or washable cloth at one end, to N95s on the other. What's important is that you cover both nostrils; and what's even more important is that you keep it on.
Every time you take off your mask, you need to break out a new one. And never, ever remove it by touching the center of the mask itself. "Doff" is the medical term, and you must "doff" by taking it off by the ear loops.
Remember that the nose is the easiest pathway for the virus to enter your body. So are the eyes and mouth. (Say goodbye to having a snack or a sip of water while at a meeting.)
Doctors also recommend a second line of defense: Wear an acrylic face shield. Depending on how heavy the "viral load" you expect, such as in a crowded office or commute, goggles or safety glasses may be in order.
Mobile phones should be packed into those watertight plastic cases that, in happier times, you used to bring to the beach. These let you press the touchscreen and look at the messages without actually touching the device.
Put your leather handbags in storage for the meantime. Pick one bag in plastic, nylon, vinyl or fabric that you're willing to spray with disinfectant every time you take it out of the house, or better still, throw into the wash. The less metal hardware that you'll also need to wipe down, the better, too. Baskets, rattan or wicker bags — no matter how chic — pose too many places for the viruses to lurk even after you spray them down.
Finally, set aside a bin where you can chuck your purse when you get home so you don't bring it in to the rest of the house (and its occupants).
That goes for your shoes, too. Select a single pair that can be battered by stepping on alcohol-laced "stomp boxes," sprayed till germ-extinction, and then left outside your front door.
The Department of Transportation will be calling for the use of bicycles and more walking, so you'll also want to dress for those more convenient options.
In fact, doctors say, you'll need to put all of your clothes (head-coverings and scarves included) into a sealed plastic bag or, better still, straight into a pail of water with detergent to be washed immediately.
No such luck for clothes that need to be dry-cleaned. This means blazers, suits, neckties, silk shirts and any clothes with linings. You'll need to put them away into an airtight container and take them to the laundry when they're allowed to operate. Perish the thought anyway that you'll be going anywhere in cocktail dresses or evening gowns anytime soon.
Disinfectants of choice — or these days, simply what you can get your hands on — range from sprays and wipes, 70-percent alcohol, or soap and water. If you have the means, UVC lights (of at least 250 nm), as well as air purifiers with Hepa (High Efficiency Particulate Air) filters, may be used supplementally.
As for those contemplating a mañanita, where to put the guests, uninvited or not?
There's now a demand, says designer Gino Gonzales, for what he calls "interim spaces."
"Before the pandemic," he notes, "it would have been a foyer or reception area. Nowadays, it is fitted with furniture that is easy to disinfect but is also easy on the eyes. Having it open-air or with a view of the garden would be nice. A proper shoe rack if you plan to invite the guests in would be in order so that they can change, Asian-style, into slippers."
This place, says Gonzales, could double as a casual office, even a "merienda room" for a short meeting. An alcohol station with a pump bottle at the door is a must. (Don't forget to use your elbow to do so and not your digits.)
"It's really a way to manage the risk of infection without having your guests waiting in the street," says Gonzales. "As handshakes fall by the wayside, it's still important to keep up the polite gesture," he says.