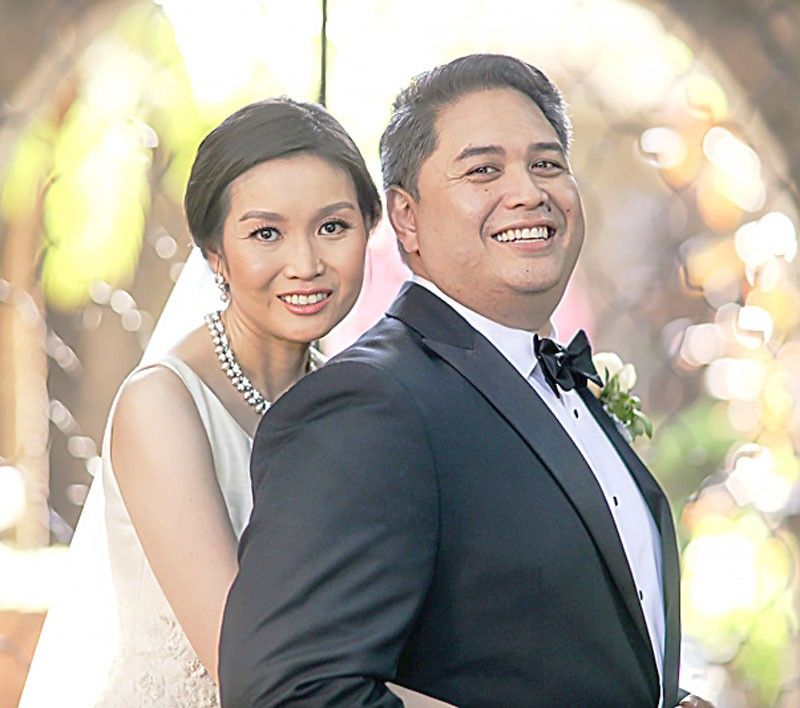 Catherine Tantoco-Huang and David Endriga
Photo by Domingo Ganaban
Catherine and David's wedding
Happiness was written all over Santuario De San Antonio Parish Church when Catherine Tantoco-Huang and David Endriga were recently united in matrimony. Witnessing only-daughter Catherine's wedding, the bride's mother Nedy shed tears of happiness at the joyful event; she also shed tears of sadness as she was giving away her "little girl."
Nedy Tantoco and I have been friends even prior to the martial law years as my parents were one of the first clients of Rustan's. The bride's father, Anthony Huang, was a high school chum of my only brother Andrew Go, while my parents were the godparents at the wedding of Anthony's parents. Small world!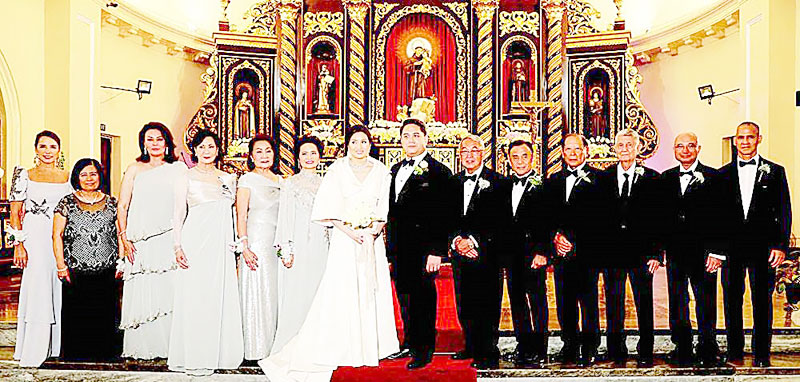 David and Catherine with their principal sponsors (from left) Clara Ramona, Dr. Flor de Lys Soledad, Ping Valencia, Babette Aquino-Benoit, Cathy Lee, Marilou Pineda, Dr. Florentino Aquino, Rico Tantoco, Ric Tan, Dr. Richard Tiongco, Dr. Rolando Puno and Dr. Jose Martin Paiso.
It was a real joy to celebrate with both families the union of their children as I'm also quite familiar with the groom's parents Bal and Tessie Endriga. I was fortunate to have had a friendly chat with the groom during Catherine's despedida de soltera at the Manila Polo Club, and he candidly told me that though the Endriga family was always among the guests at Nedy's New Year's Eve party, where I became more familiar with David's parents; and though he had met Catherine then, he was still busy being an orthopedic surgeon. In fact, Catherine and David only started dating after Nedy ceased holding the intimate New Year's Eve party per the advice of her son Anton Huang, who thought his Mom should have a less hectic New Year's Eve after working hard all year.
It was also wonderful that Fr. Tito Caluag officiated the wedding, as he is almost like a member of the Tantoco family. In fact, Fr. Caluag and I were both guests at the New York condominium of Tito Benny, Ambassador Bienvenido Tantoco, many years ago.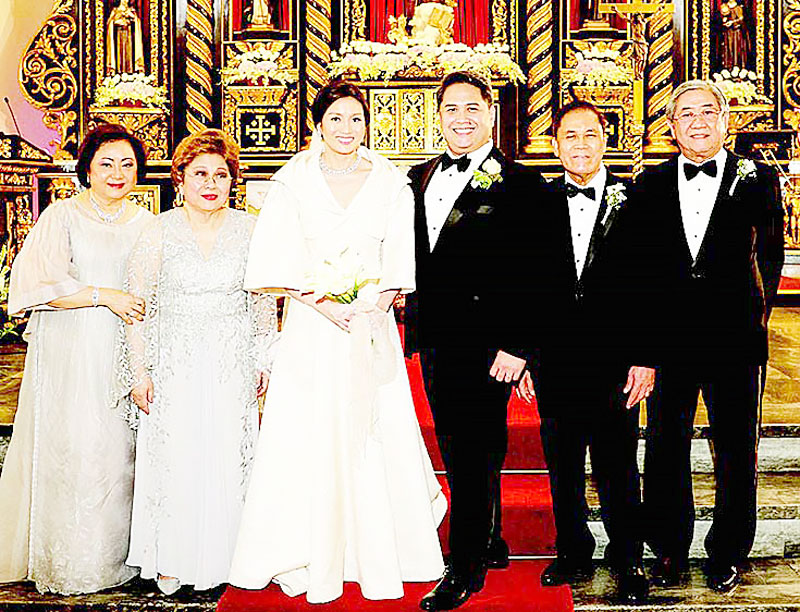 The newlyweds with their parents Nedy Tantoco, Tessie Endriga, Bal Endriga and Tony Huang.
The wedding reception at the ballroom of Shangri-La at the Fort was elegant but not ostentatious. As I was walking toward the ballroom, I was met by the Shang GM John Rice and his RM Russell Dray who had just made sure that all was well with the Endriga-Huang reception.
As Fr. Caluag aptly said, "Love is a legacy – a legacy from Christ." He exhorted Catherine and David to show through their love for each other Christ's own love.