Technolux launches Medical-Aesthetic Division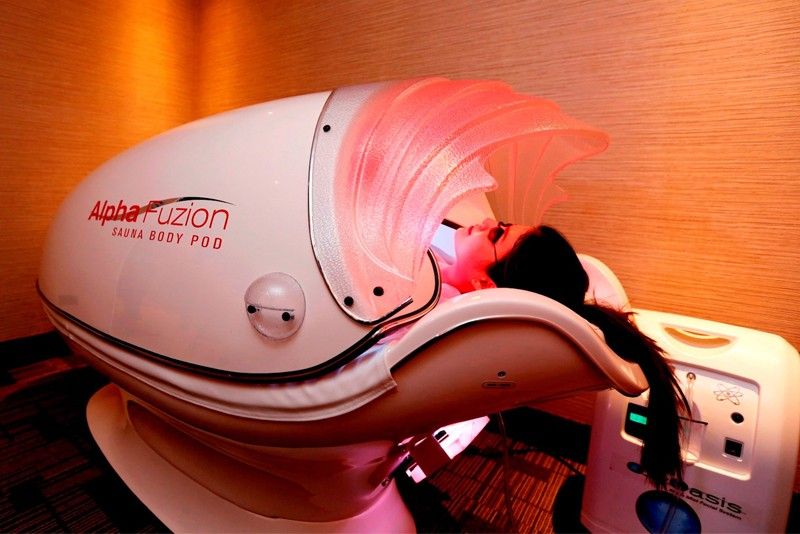 MANILA, Philippines — One of the fastest-growing industries, perhaps next only to food, is the health, beauty and wellness industry. We see this not only in the popular establishments found in big malls and business centers, but also in the boutique health spas and fitness gyms sprouting up in quiet neighborhoods.
Technolux, the country's largest importer and distributor of foodservice, kitchen and laundry equipment to many businesses in the hospitality industry, well-known hotels, resorts, restaurants, fast-food chains, convenience stores, hospitals and manufacturing plants, recently launched its medical-aesthetic division.
"We saw the business opportunity," says Norell Ortega, Technolux VP for sales, Foodservice Manila, and Medical-Aesthetic division. "What we discovered is the equipment needed for these services are extremely expensive and the after-sales service is bad, if there is any at all. Either the parts are not available or you need to bring the equipment to the regional office abroad, which entails more expense. If the machine is not working, that is lost opportunity."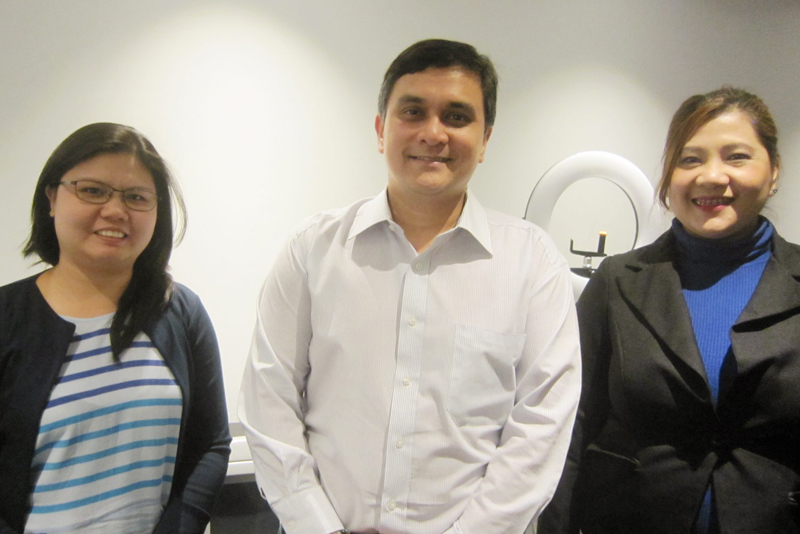 Sai Sinsay, Technolux Medical-Aesthetic sales supervisor; Norell Ortega, vice president for sales, Foodservice Manila and Medical-Aesthetic division; and Charli Gambito, Medical-Aesthetic sales supervisor
Here was a real need that was just waiting to be met. Technolux, with over four decades of success in the Philippine market, had the answer. "We are banking on our experience with laundry and kitchen equipment," Ortega says. "We already have a strong sales, operations and technical team and the expertise on how to become good distributors. We pride ourselves on the best after-sales service in the industry. It's one of our core values and is part of our company's culture. Adding new products and services to our portfolio is a challenge that we are poised to address."
Technolux envisions the new division to be the ideal partner and the supplier-of-choice of the country's top dermatological and aesthetic clinics, facial care centers, fitness and sports facilities, gyms, salons, saunas and spas, dental clinics, and even hospitals.
"We have machines that are reasonably priced with advanced technology that give good results. So, our customers can, in turn, offer end-users more affordable treatments and services," Ortega says. "These include a wide range of both tabletop and big machines with user-friendly technology. We are always on the lookout for the latest innovations by attending beauty and wellness conventions and trade shows in different countries."
Among the most common concerns of health- and beauty-conscious end-users are remedies for fine lines and wrinkles, stretch marks, scar treatments, skin oxygenation and rejuvenation, body contouring and firming, skin tightening, as well as fat reduction and weight-loss management.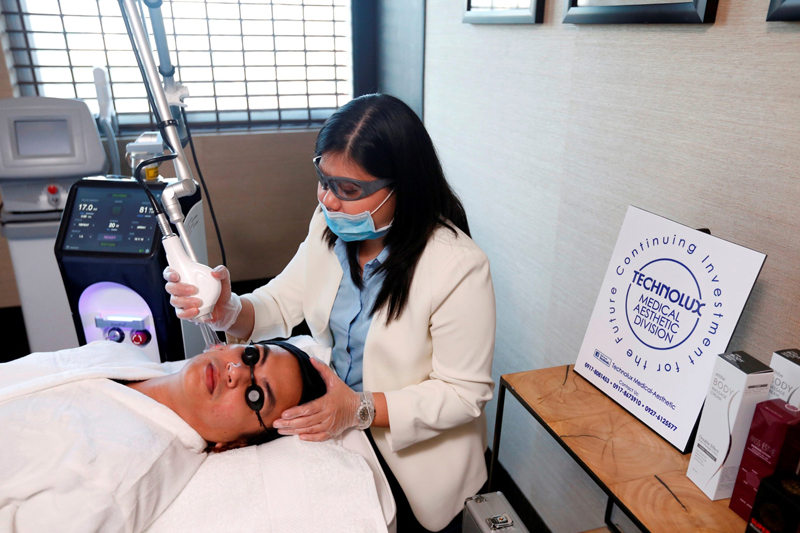 The Zenpro CO2 fractional laser by Technolux is for scars, pigments, large pores, fine lines, wrinkles and skin rejuvenation.
"One of our flagship products is the infrared sauna, which is different from the traditional sauna since it does not use hot stones," explains Charli Gambito, medical-aesthetics division sales supervisor. "You just plug it in and it even has a built-in speaker for piped-in sound. The compact unit is also collapsible."
Another innovative product is the sauna pod. You lie down inside it and it uses hyperthermic conditioning to help you shed calories and fat. It helps remove seven times the number of toxins of a regular sauna.
Technolux also has state-of the art technology for hair removal, anti-aging, pigmentation and skin rejuvenation, as well as high-intensity focused ultrasound, diathermy, lasers, and instant face-lifting apparatus, among others.
"Before they decide to buy, the best way for potential buyers of our equipment is to visit our showroom and experience firsthand what the equipment can do," says Sai Sinsay, medical-aesthetics division sales supervisor.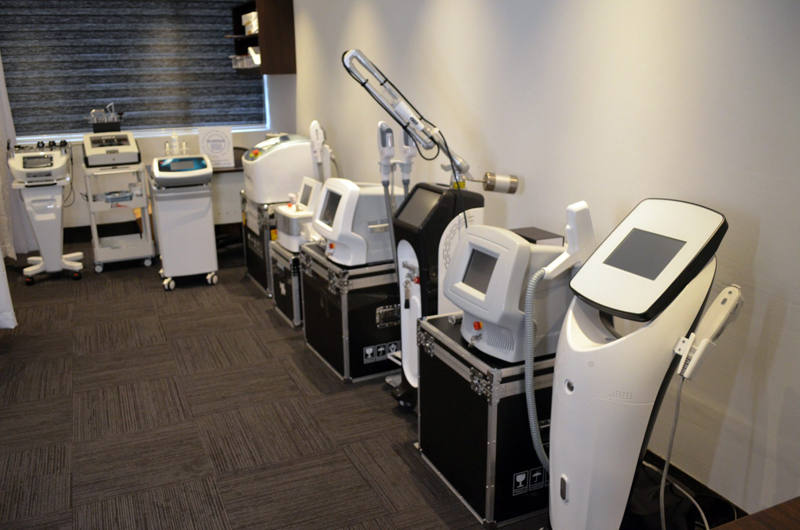 Technolux's Medical-Aesthetic showroom in Makati
Technolux employees have also been willing test subjects who have experienced benefits from using the machines.
"We make sure the company is staffed by highly trained sales and technical personnel," Ortega says. "It's important to have good support from the manufacturer. My people are factory-trained. We also have a Technolux Academy where we get our future technicians."
At Technolux, it doesn't begin and end with a sale, but a whole process of taking care of their customers every step of the way, from choosing the right equipment and installation to after-sales service. "This is what sets us apart from others in the same field," Ortega says. They take pride in pioneering a dedicated call-center facility that responds to inquiries or requests 24/7, plus a fleet of motorcycle-riding technicians. The service providers are strategically located to provide prompt service to avoid equipment downtime and opportunity losses.
"What we are doing is what we do best," Ortega says. "We get the right partners and suppliers, and we give our customers great service. We do not only provide the products they need, but we also work closely with them as they grow their health, beauty, aesthetic and wellness business."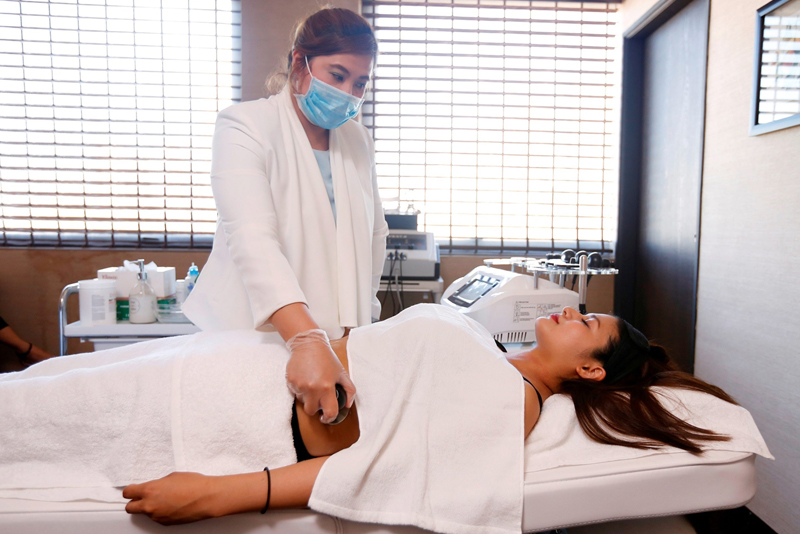 For pain management, rehabilitation, and weight management: The Sineson diathermy machine
* * *
The Medical-Aesthetic showroom is located on the 5th floor of Technolux's headquarters at 2176 Primo Rivera St., La Paz, Makati City.