It's probably my age but when I was surfing the Web getting ideas for a Hansel and Gretel production I was going to work on, I came across these dear little children being portrayed as gun-toting adults. I was shocked! Well, I am shocked whenever I see fairy tales turned into violent, morbid movies. But then, as I said, it's probably my age.
Still I stubbornly believe that children need to be children as long as they can — which these days is not very long — and so the Hansel and Gretel production of Rep's Theater for Young Audiences will have a funny witch, two lovable children, a kindly and playful Sandman, and a sprightly Dawn Fairy along with a host of inhabitants of an enchanted forest and a motley group of happy villagers. True (as a millennial cruelly pointed out to me), the Grimm brothers, who wrote the original story, did make the witch a child-eating one and many original fairy tales do have a dark side. But I never knew that when I was growing up and so to this day Disney is more my taste. So my witch will be funny (although she will still be a child-eating one), she will have four mischievous sidekicks, and there will be fairies and gnomes, and angels and even a real maypole.
Of course I cannot lay claim to have created all this myself (except maybe the maypole). I have used the opera written by Engelbert Humperdinck and adapted his adaptation of the Grimm story to a little musical for children. His melodies are there but with new arrangements that make the music more attuned to young ears and tastes. I have also shortened it considerably. I will admit that I am hoping that this little musical will also be a sort of an introduction to children of opera and that one day they will hear the actual opera and say "Hey, I know that tune."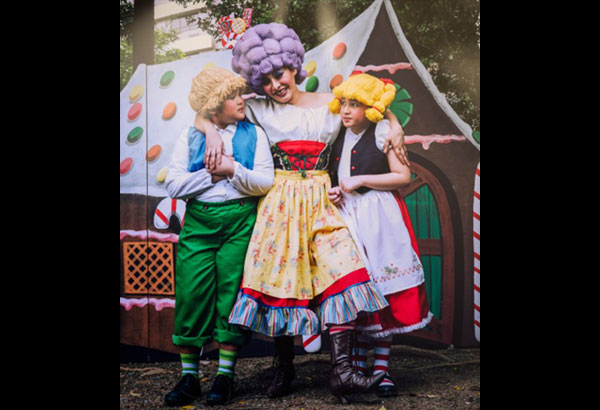 Joshua Nubla as Hansel, Carla Laforteza as Rosina the witch, Ella Gonzales as Gretel
To help me make this a very child-friendly production, I recruited the talents of two graduates from the University of the Philippine Conservatory of music — Edwin Fajardo and Sach Castillo to do the musical arrangements. Pop-up storybook sets will be created by Mio Infante and imaginative, colorful costumes by Zenaida Celdran Dalao who admits that this maiden effort is for her challenging and exciting. John Batalla will once again make magic with his lights. Jason Zamora has translated parts of the story into dance via his choreography and Onyl Torres has taken charge of the singing.
An RTYA production wouldn't be complete without a part where the actors interact with the audience and a classical ballet number and Hansel and Gretel will have both. Just to make my life more difficult and to inject an element of familiarity for the children, I have included "sub-witches" who cavort about on "rollies." I thought that would be an easy addition since I've seen kids rolling about in malls but it turned out that adults have a more difficult time with them.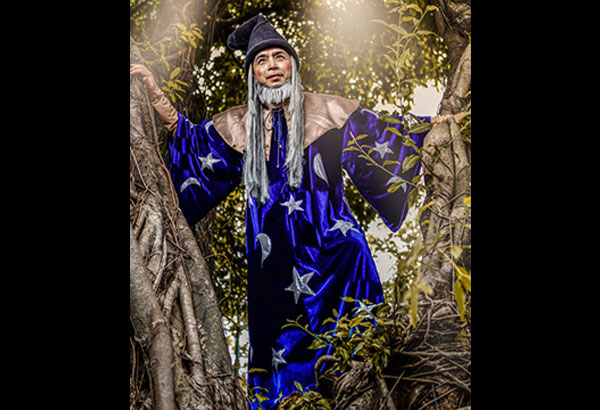 Chino Veguillas as the Sandman
The task of telling the story rests primarily on the shoulders of the young thespians who play Hansel and Gretel and on the witches — plural because I have more than one. I have six actually. Alternating in the role are Bito Aguilos, Carla Laforteza, Christine Flores, Ring Antonio, Cara Barredo and Naths Everrette. All are veterans of musical theater in general and RTYA in particular. Taking on the roles of Hansel and Gretel are Ella Gonzalez, Ashlee Factor, Michelle Cornejo, Rayne Cortez, Jill Ita-as, Joshua Nubla, Tori Cortez, Mari Yapjoco, Allen Orolfo, Arielle Magno, Nathan Flores, and Lance Dasig. They are, with two exceptions, between the ages of 10 and 13.
I am going to throw aside any pretense of humility and say that Rep's Theater for Young Audiences is my baby and my pride and joy. I gave birth to it 24 years ago. They have been years of hard work, uncertainty, and stress but also years of extreme joy working with the creative talents of designers, visual artists, musicians, choreographers, actors and dancers and seeing the evidence of this talent evolve onstage into delightful and fine entertainment that stimulates the imagination of young minds. My joy comes from watching children pour into the theater, and seeing pure enjoyment and wonder on their faces as they sit and watch a story being told in words, music and dance. For some this will be their first experience with live theater. For others it will be a habit that will hopefully continue to their adult life.
* * *
Hansel and Gretel will be staged at the Onstage Theater in Greenbelt One from Aug. 13 to Dec. 15. For tickets and inquiries, call Repertory Philippines at 843-3570 (www.repertoryphilippines.com.ph). Tickets also available at Ticket World 891-9999 (www.ticketworld.com.ph),#RepPhilsHanselAndGretel#RepertoryTheaterForYoungAudiences#RTYA#ChildrensTheater#MakeTheaterAHabit#BringAFriendToTheTheater.