Rhapsodizing the Absurd
October 20, 2014 | 12:00am
Existentialism may seem to have taken a backseat as a philosophical movement but its offshoot, the Theater of the Absurd, continues to enthrall. Plays by Samuel Beckett, Jean Genet, and Harold Pinter, among other playwrights associated with this theatrical style, are still being staged, creating powerfully felt resonances in the part of the viewer who is confronted by illogicality, circularity, and sheer helplessness in the face of an indifferent universe.
For Toff De Venecia, managing artistic director of The Sandbox Collective, the Theater of the Absurd also speaks to this generation of millennials. "I think it's very fitting then that given the circumstances of where we are in this day and age, there is a growing need to demystify this isolation and lack of authentic human connection between people," he says.
A way to demystify existential crisis is through the clarifying power of art.
Invigorated by the success of Dani Girl early this year, The Sandbox Collective stages "The Imaginarium," a four-day multi-arts festival to be held at the PETA Theater Center (No. 5 Eymard Drive, New Manila, Quezon City) from Oct. 28 to 31. Envisioned as a cross-pollination of a multitude of genres that include film, fashion, dance, visual arts, improv, spoken word, music, food and beverage, and theater, "The Imaginarium" is bent on "rhapsodizing about the Theater of the Absurd as a style and a genre."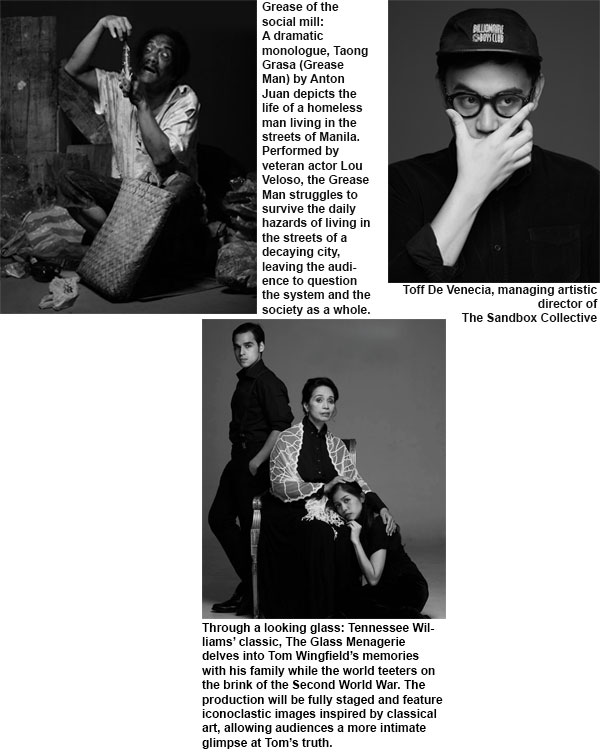 Used as a guiding principle in selecting the performances, the Theater of the Absurd is particularly appealing to Toff because it provides "a way of facing up to a (meaningless) universe. It's our way of fighting back." While providing worthwhile entertainment is presumably part of The Sandbox Collective's arsenal, Toff seeks to bring audiences to artistic venues and intersections "where ideas are discussed and conversations are liberated outside of theater's four walls."
"The Imaginarium" promises to be a multivalent conversation, considering the collaborators that The Sandbox Collective has tapped for the different genres. For dance and physical theater, the group has collaborated with Daloy Dance Company's PJ Rebullida; for music, critic and music aficionado Ren Aguila; for film, magazine editor Don Jaucian; for visual arts, media practitioner and editor Raymond Ang; and for food and beverage, EDSA Beverage Design Group's David Ong.
Opening with Dani Girl on Oct. 28 (which will be staged for four days), "The Imaginarium" will showcase theatrical productions that include Genet's The Maids, Tennessee Williams's The Glass Menagerie, and Anton Juan's Taong Grasa. Other productions to look forward to are The Boy in the Bathroom and The Pillowman. For music, Kai Honasan and Three.! will come together for Contemporary Song Cycles, which will explore love and loss through "dreamy pop inducing lullabies." Polaris Project will highlight spoken word in Atlas.
Dance aficionados will be treated to performances from PETA, Airdance, Daloy Dance Company, and KIM Yong Chul SEOP Dance Company from Korea. The last will perform Red Exorcism, which fuses Korean traditional dance with modern movements. Leeroy New and Dex Fernandez will step up their respective art exhibitions exploring contemporary themes.
#ModeSurrealist — organized with the YStyle section of The STAR, and slated for January next year — will feature collaborations among fashion designers (Bea Valdes, Joey Samson, Martin Bautista and Carl Jan Cruz), artists (Isa Lorenzo, Charles Buenconsejo, Ryan Villamael and Luis Santos), and filmmakers (Pepe Diokno, Mackie Galvez, Gian Abrahan, and Judd Figuerres). Speaking of filmmakers, Marie Jamora and Sigfrid Andrea Bernardo will have their respective works Ang Nawawala and Ang Huling Cha Cha ni Anita also shown at "The Imaginarium."
What is evident from that partial list of performances is that young people are shining a spotlight on their experiences and their place in the world — an active kind of participation which the existentialists would have approved of. "With them," says Toff, "we hope to foster the spirit of camaraderie and ingenuity, finding spaces in which we can work together instead of separately or against each other and raise a proverbial middle finger to the establishment."
* * *
For ticket bundles and inquiries, contact 585-6909 or 0917-8996680. You may also call Ticketworld at 891-9999. Visit www.thesandboxcollective.com to find out more about the shows and festival programming, including talkbacks, packages, ticket bundles, special promos, and student and teacher discounts.
For VIP tickets, ticket bundles, student discounts, call 0917-8908633, 0917-8996680, or visit www.thesandboxcollective.com.
Recommended