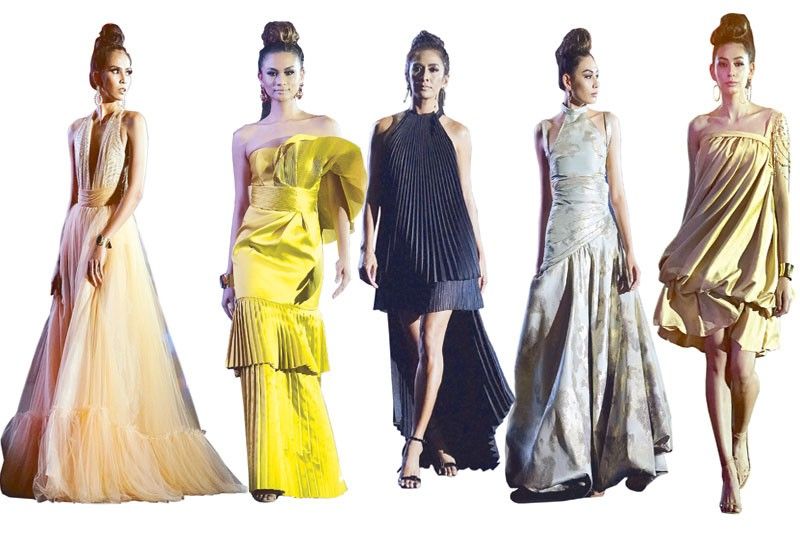 "To fall and rise again, to live another day and start anew."— Pablo Cabahug
Designer Pablo Cabahug recently celebrated his 10 years in the fashion industry with an anniversary gala show titled Rayons du Soleil (Rays of the Sun) held at the PICC Forum in Pasay City. Pablo's outlook in life is symbolically represented by the sun, with its daily beginning and end. For Pablo, his 10 years in the business has been a journey of blessings, looking back and paying forward.
The nostalgic 50-piece collective was a summation of the designer's favorite creations throughout his decade-long career. The well-attended show opened with romantic, flouncy and feminine pieces that progressed to the bold, sexy figure-flattering numbers and ended in a memorable sea of modern black elegance.
"I wanted to revisit and reimagine my favorite pieces with a romantic feel and the ease of different hues and emotions from sunrise to sunset," Pablo shares.
The new collection presents modern designs with flattering lines that define and celebrate form. New silhouettes display the mastery of pleats and tucks through contemporary construction.
This under-the-radar Filipino designer is no new talent in the fashion industry. For a while, he apprenticed under one of the country's iconic RTW designers — Randy Ortiz. Aside from this, Pablo was part of JCA Productions, a team headed by another fashion industry stalwart, top show director Jackie Aquino. Without a doubt, Pablo's exposure, training and experience in the local scene with the best led him into his own brilliance.
After Pablo finally decided to become a fashion designer, he joined a design competition and won the grand prize at the Look of Style Awards, which granted him a scholarship at Central Saint Martins in London.
This year, Pablo Cabahug marked a milestone in his career by giving back to his alma mater, Colegio de San Juan de Letran, which was the beneficiary of the dinner and gala show. Proceeds will go to the construction of the Letran Quadricentennial Building (a commemorative that symbolizes 400 years of academic excellence) and to the Letran scholarship.
With this milestone, Pablo Cabahug looks back to his roots. Like Rayons du Soleil, it doesn't matter whether it's start or end of the day, what's important is to know life is always a blessing and an endless threshold of opportunities. *
(Rayons du Soleil by Pablo Cabahug was co-presented by Asiancare Health System Inc., MNGutierrez Law Office and The Zen Institute. Its partners included Inclusive Credit, Wetalk, KMV Asia Development Corp., VI Group Corp., Datem, Intramuros Administration and Museo de Intramuros, Rupert Signs and Display Services, Solid Wine Marketing, Bed Head TIGI, Happy Skin, Parisian Shoes, Milanos, Salvatore Mann, Koket, Nails by SpaTeaFi, Bellished textile, Signopsys and JCA Productions. Special Thanks to the UST Symphony Orchestra.)
(All pieces from the Rayons du Soleil collection are available at pablocabahug.com and Pablo Cabahug's atelier at 8818 Kamagong St. cor. Sampaloc St., San Antonio Village, Makati City.)