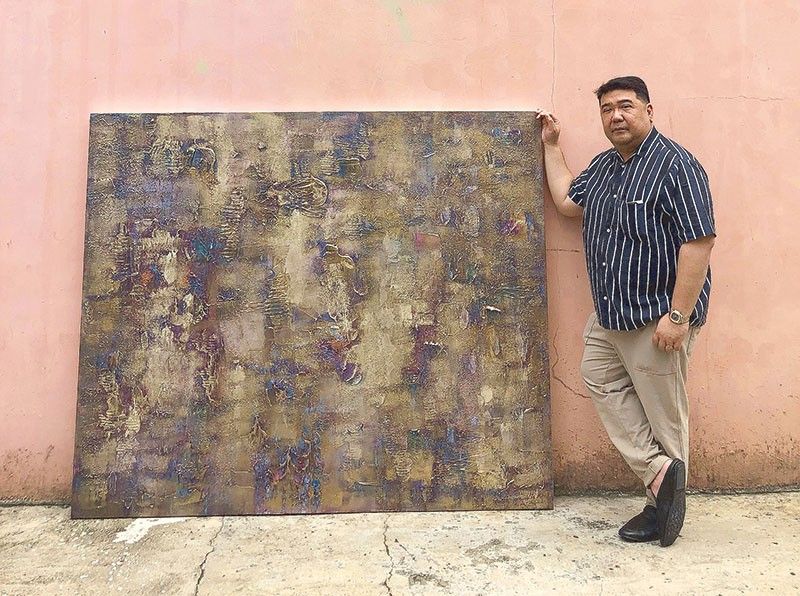 Joy Rojas with his piece titled Nothing in Between, acrylic on canvas, 60" x 72".
Büm Tenorio Jr.
If art were a bug, it had definitely bitten lawyer Joy Rojas big time. He's not complaining. In fact, his love affair with the arts has made him joyful, to some extent, triumphant. In a span of two years, Joy, a self-taught artist, has mounted four solo shows — all sold out. In between, he has also joined group shows.
It's a love bug that keeps him going — Joy's love for painting, a passion he has carried in his heart ever since he was inspired by his late sister Carmelita to paint.
It's a love bug that keeps him sane — Joy's love for his wife Trisha, a lawyer like him, who is the constant source of his inspiration in his art pursuit.
His propensity as an abstractionist was displayed once again at his recently concluded fourth one-man exhibit titled Rising Sun at the Art Center of SM Megamall, where he exhibited more than 50 of his artworks.
"Rising Sun is my first solo exhibit at the Art Center. It is every artist's dream to do a solo exhibit at this venue. My paintings represent my journey in life and how I see the world," says Joy, a cum laude graduate from the University of Massachusetts with double degree in Economics and International Relations.
His exhibit was titled Rising Sun because "it is like a new beginning, a new day, a new chapter in my life as an artist."
His collection of cross paintings is a salutation to the divine, a proof of the goodness of his heart. Joy gives pro bono lawyering services at times. And during his term as general manager of the Philippine Charity Sweepstakes Office, Joy made sure that the budget of his office would be utilized with moral aptitude.
In Nothing in Between (60" x 72"), layers upon layers of gold acrylic, both voluminous and delicate, breathed on the canvas, like a golden offering where kindness and grit is found. In between lines and strokes in Nothing in Between are fundamentals of human existence. The rush of gold on the canvas signifies days of plenty, perhaps indicative of the artist's upbringing.
His Victorious (48" x 18", mixed media) depicts a battle scene of morality. It's subversive in a sense that it seems to fight an institutional or urban decay. On the canvas is a well-fought battle. Like a fairy tale, the good always wins in the end. It's joyful. It's triumphant.
Paris Match 100 (36" x 36", mixed media) has lines that meander here and there, as if depicting the wanderlust of the artist, his proclivity to discover himself further in a foreign land, his tenacity and capacity to love. (France is the artist's favorite country aside from his native land. Japan, too, tugs at his heart and his wife's.)
Joy is on a roll. One can only surmise that at the moment, he's again cooped up in his studio, imagining his next line, stroke, attack on the canvas before him. "I just like to be by myself for an hour to an hour and a half in my studio when I paint. Then I take a break. Then back again," he says of his style when he communes with the canvas.
Will the Seine River make a manifestation on his next artwork? Will the lavender in full bloom in Hokkaido in August inspire him to make an abstract floral apparition in the next? Where will his love for his Trisha bring him next in terms of his creativity as an artist? Only his fifth one-man show will answer those questions. In the mean time, the art of Joy, a passion he has rekindled 10 years ago, will remain clear in all its abstract form.
After all, the philosophy of Joy's art and heart is one that is filled with hope and anticipation. It's in his sobriquet — joy. *
(E-mail me at bumbaki@yahoo.com. I'm also on Twitter @bum_tenorio and Instagram @bumtenorio. Have a blessed Sunday!)