Fashion icon Iris Apfel and Ann Ong.
Product photos by Sefi Curada
Ann Ong's passion for art is only rivalled by her dedication to her artisan workers.
In 2012, the jewelry designer started creating her pieces with one artisan. Ann shares, "My brand mission is to improve the lives of my artisans and to create jobs for them. That's from where I get my focus, my strength and the drive for what I do and my journey as a designer. This job entails a lot of sacrifice and dedication especially when you compete in the global market like New York and Paris. But when you have a mission and you focus on that mission, your journey will be longer. To sustain this journey, I always look back at my mission and vision. My artisans are close to my heart. They are the ones who create the pieces that make my designs come to life."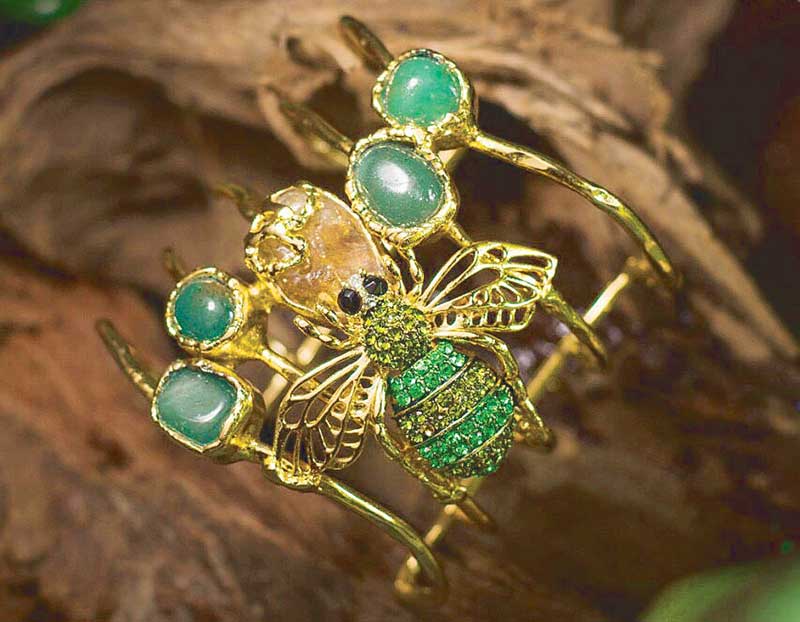 Bee cuff with jade and citrine from the Luxury of Nature collection.
She also believes that handcrafting is a dying industry that needs to be uplifted and livened up. "I strongly believe anything that is handmade has a value and is special. I put a stand in my vision that the world will be proud to wear something made in the Philippines in time."
Ann used brass metal and created a DNA in the global market using salvaged wood, which was honored and recognized in the New York Now trade show in 2016. She was the first Filipina to win the Best Designer for Sustainability in the trade show.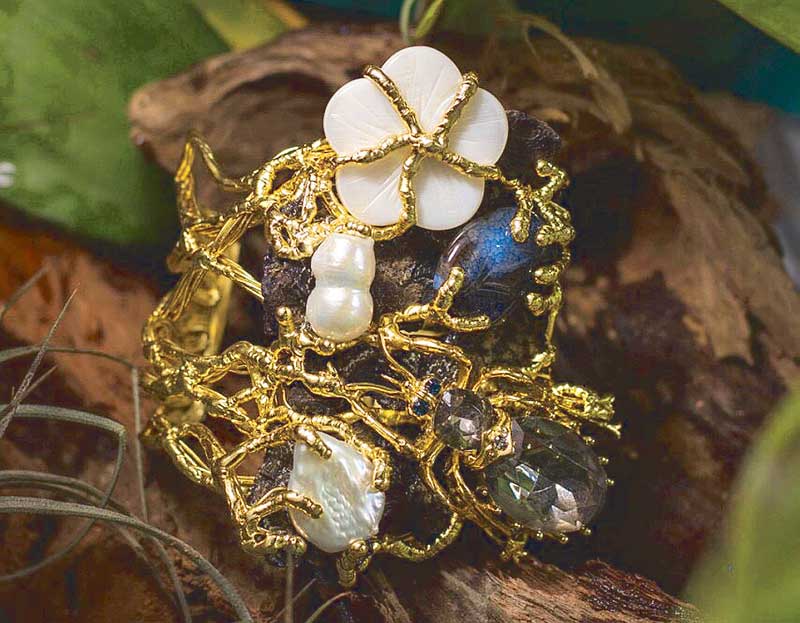 Salvaged wood cuff with insect and pearls from the Luxury of Nature collection.
The three-time Katha awardee first won at CITEM's Manila FAME in March 2012 as the Best Designer for Fashion for her Binanig minaudiere. In October of the same year, her salvaged wood minaudiere won her second Katha. In March 2013, she won another Katha for her coconut twigs minaudiere.
In 2012, Ann started using sustainable materials, which gave her a distinct edge in the international market. Who would have thought that a salvaged wood bag, bamboo minaudiere and coconut twigs could be transformed into opulent, functional art pieces?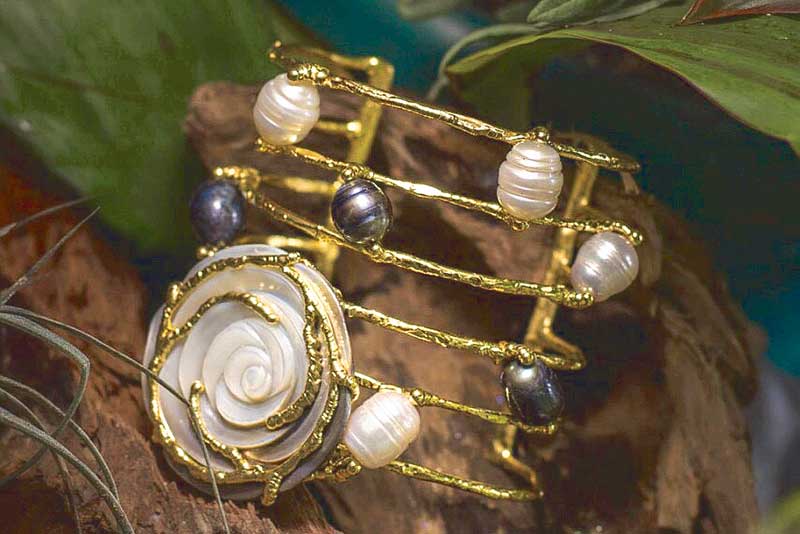 Cuff with Mother of Pearl from the Luxury of Nature collection.
Her love and compassion for nature has been a great influence towards her design aesthetics. Of her design inspirations, this now-internationally recognized designer says, "My inspirations are very simple. Nature has always been my inspiration. You can see the organic, raw designs of every piece. You don't need to go far to get inspiration. Even at your home, you can get inspired. My home is the heart and center of my inspiration. Simply gazing at my plants, reading, and engaging in human interaction are so inspiring that they give off creativity. My travels are also important to me. I travel to get inspired. To know the culture, the way of life of the people are all inspiring to me. Going to churches inspires me, too."
At New York Now's 2016 summer show, Ann had the privilege of meeting her longtime idol, fashion icon Iris Apfel. "She stopped at my booth and bought my French bulldog minaudiere. Iris is a collector of unique pieces and she loves accessories so much. She told me to continue creating unique pieces," Ann recalls.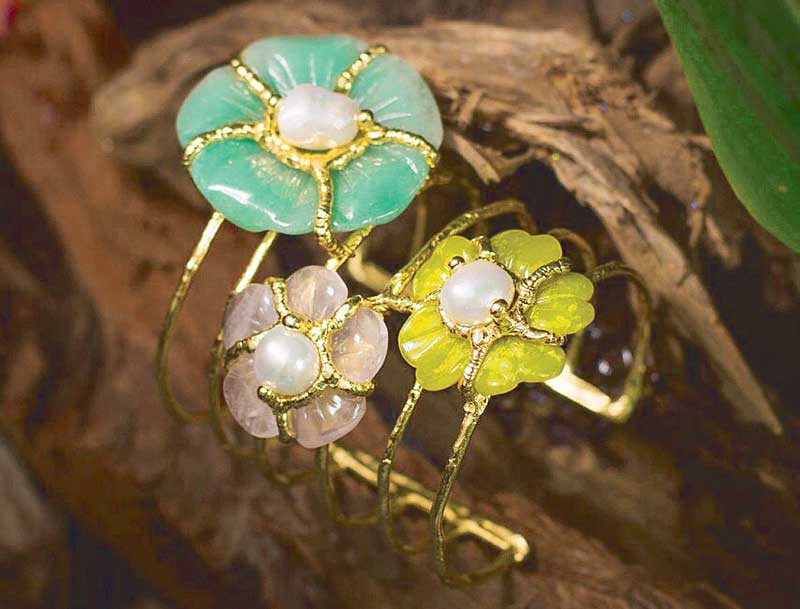 Flowers in jade and rose quartz cuff from the Luxury of Nature collection.
Ann and Iris met again and became close at last year's New York Now's summer show. "After her book signing, Iris told her assistant Juliet that she would go to my booth. As Iris went to my booth, she checked and admired my collections. She ordered some items and that summer, she told me to come to her apartment on Park Avenue. Susan Joven and I went to her unit and it was a 'wow' experience to be at Iris' apartment, she even opened the door for us. It was amazing to meet an icon like Iris Apfel, who validated me as a designer and my unique pieces."
For aspiring artists and designers, Ann has this message: "Ask yourself first if what you do makes you happy. Because if you are happy with what you do, you don't get tired of it. If you are happy, everything follows. For new designers, create a vision-mission for yourself and focus on that. This industry is not all about talent, it also entails a lot of dedication and good business acumen. Surround yourself with positive people. Lastly, always pray, meditate and be grateful. Being grateful every day will bring blessings in your life."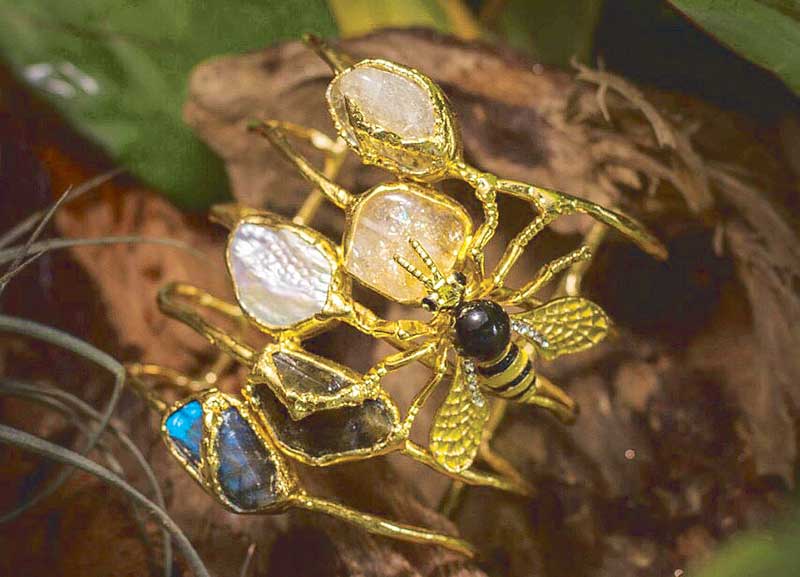 Citrine, pearl, labradorite and bee from the Luxury of Nature collection.
(Follow Ann Ong on Instagram @anngianninaong.)