Herbal mixtures for ayurvedic treatment.
Ayurveda & all that balance
An accomplished lady came to me for a reading. She was suffering from so many subtle aches, pains and illnesses. As we talked, we paralleled her life issues, identifying the reasons that were causing these illnesses to arise. For seven years, she had pushed back her own internal issues to focus on her everyday life — family and career.
So the stress was too much and now, she didn't enjoy her job and life, well, she was in midlife, at a flatland at midlife. She had gerd, asthma, psoriasis, cough, etc., all were focused on specific energy centers that were blocked. She wasn't listening to her spirit crying out for balance, and thus, all these illnesses.
I asked her: is there a song you are so dying to sing? This is a favorite phrase I picked up listening to online wisdom by modern sage Dr. Wayne Dyer. Each person's soul has its unique song it must sing in this lifetime. This may be the specific passion you want to follow, to work for, something that moves you deep inside at the core. My friend stared at me and said she never thought about it. My answer? Well, that is why illness is coming in to make you think about it. And with a homework to connect deeper inside, I sent her off to Arogya, my favorite traditional ayurvedic center for a total body cleanse of 14 days called Panchakarma. I myself have done this and the effect of this cleanse is magical.
Panchakarma is a Sanskrit word that means "five actions" or "five treatments." This is a process used to clean the body of toxic materials left by disease, poor nutrition and environmental toxins. Sometimes, we need to go through the body to just jump-start the process of deepening in spirit. Panchakarma is not only for detoxifying the body but also for rejuvenation, strengthening the immune system, and restoring balance and well-being. Seriously effective Panchakarma treatments also open up third eye centers and bring people to higher dimensions.
When the new year kicked in, I vowed to myself to do a body check, specifically to address my sciatica pain and asthma. My answer was also ayurveda to see what could be done. Happily, a new Indian lady doctor trained in both the western medicine and ayurvedic practice joined Arogya recently and both my friend and myself have been under close supervision seeing results we expect: healing, cleansing and the slow-but-steady elimination of pain.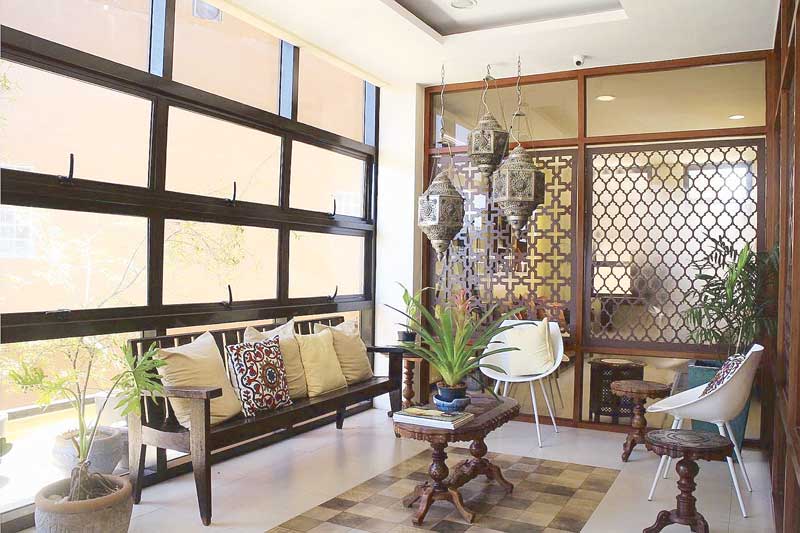 Arogya Ayurvedic Center in San Antonio Village, Makati City.
Trained in vibrational Vedic readings, she reads the pulse and can tell of imbalances in the body. Pulse reading is such an ancient technology of reading the state of the whole person (physical, emotional and astral). From India, this ancient practice found its way to China.
Unique to the ayurvedic treatments are the traditional oils and herbal mixtures, either lathered on the body by two trained therapists simultaneously, pounded with heat, massaged, or even yoghurt dripped on the forehead. The mixtures are absorbed into the skin and into the organs.
Normally, the body has the innate ability to efficiently process and remove these waste materials. However, due to our repeated dietary indiscretions, poor exercise patterns, lifestyle and genetic predisposition, the internal digestive, hormonal, circulatory and nervous systems get disorganized. This naturally leads to the accumulation and spread of toxins resulting in disease. Treatments also purify the tissues at a very deep level.
Ayurvedic is about bringing balance into the body system. But there is really more to this because ayurveda is about the consciousness of life. Bringing veda (which means knowledge) into ayu (which means life). Bringing knowledge to one's life. In other words: it's about conscious living, aware of the spirit and striving, at all times, to keep balance. In diet, in lifestyle, in our vitality. They say health is a gift, a blessing and is wealth. And the definition here of health is not only of the physical body but of mental states, too. This is why ayurveda's end goal is bliss. The totality of the whole physiology — body, heart, mind and spirit balance.
This vision of that perfect balance is what Arogya founders Manel Jose, Elyn Tiu and Janette Co have set out to bring to Manila when they opened Arogya nine years ago. Manel's remarkable healing in India pushed her to offer the traditional treatment to the Filipinos, as the way of giving back.
Arogya now has a new space for the past couple of months, and offers the same traditional healing treatments we can run to just to bring us back to balance.
(Arogya Ayurvedic Center's new location is at 8858 Sampaloc Street, San Antonio Village, Makati City. For more information, call 403-4048 or visit www.arogyamanila.com.)