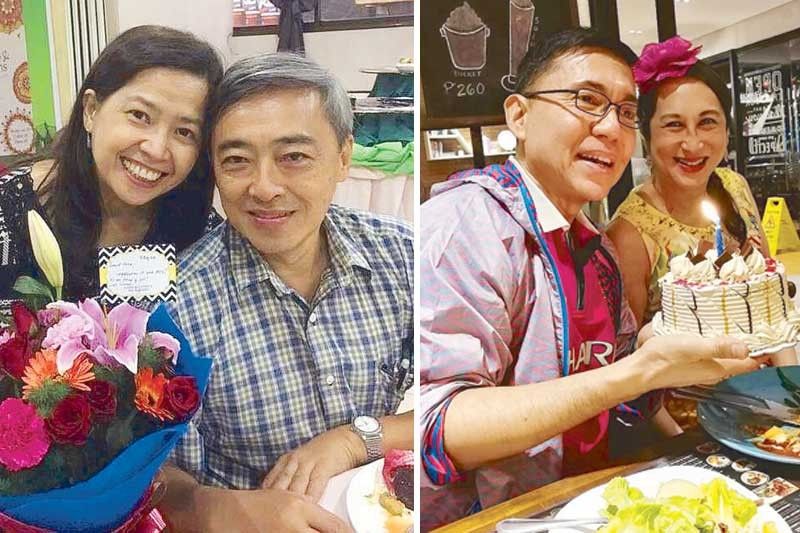 (Left) Angelica and Michael del Rosario. (Right) Birthday celebrator Benny Soliven and the author.
FAMILY JEWELS
-
Michelle Dayrit-Soliven
(The Philippine Star) - January 20, 2019 - 12:00am
Angelica Novales made her first trip to Baguio with her entire family when she was nine years old. She was so enamored with the mountain city of pines that she wished to spend more time there. The opportunity finally came when she passed a college entrance test and made it to her choice of school, none other than University of the Philippines Baguio. Against all odds, she was grateful that her doting parents Dr. Enrique and Milagros Novales allowed her to study and live in Baguio.
College life in UP Baguio was a dream come true for Angie, who enjoyed her freshman year. A big surprise and highlight of her stay there was meeting her future spouse, Michael del Rosario. When her parents learned about Mike, who belonged to a close-knit, entrepreneurial Chinese clan residing in Baguio, they immediately transferred their daughter to UP Diliman in Quezon City for her second year of college.
Mike and Angie nurtured a committed long-distance relationship. They burned telephone wires, as there were no cellphones then. They wrote hundreds of letters to each other and have kept them all. He visited her frequently. In 1981, she graduated with a BS Biology degree. Six months after graduation, she took a short cut to her dream of having an MD after her name. Instead, she obtained a "marriage degree" and ecstatically settled in Baguio with the love of her life as Mrs. Angie Novales del Rosario.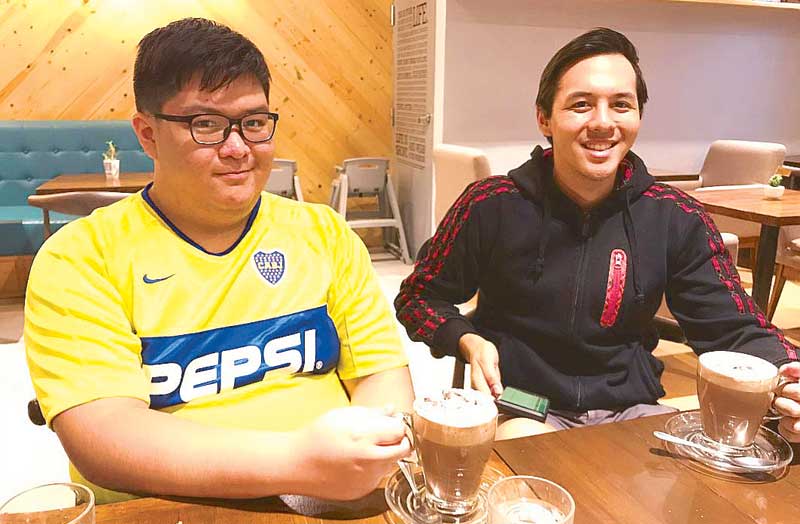 The author's nephew Matthew and son Vincent.
Though their life together is not exempt from ups and downs, it has been 36 years of married bliss for this kind, prayerful couple whom I truly admire. Hardworking and generous Michael became a favorite son-in-law. Their Baguio-based family businesses, which include Veniz Hotels on Abanao and Session Road and VHotel and Apartel on Bukaneg Street, McDonald's, Sunshine Bakeshop, Sunshine Supermart, and Frenchline, which produces sumptuous bread, birthday cakes and a plethora of baked goodies at very pleasing prices, flourished. Their four children — Jennifer Kim, John David, Jessica Ann and James Arthur — whom they call their greatest blessings, graduated from college and have gotten involved in the family businesses. James and his wife Candace Edna have given them a very dear grandson named Conrad Francis.
I had the privilege of meeting Michael in 2005 when he wrote a very insightful book titled My Dearest Children. I devoured the book as it is a family legacy overflowing with loving wisdom from a devoted father to his four children. In 2016, Angie wrote an endearing book titled Daily Doodles and Devotions with the purpose of inspiring, encouraging, and adding joy to life. Both books are real treasures. The ultimate inspiration of this dynamic couple, who also write a weekend column for the Sun Star Baguio, are their children. Both books are dedicated to all of them. It is no wonder that their language of love rubbed off on their children, who conceptualized a delightful place in Baguio uniquely called Quoted Café.
In this very charming venue, where the most delicious, hearty kind of comfort food is served, there are lots of food for thought as well. The place is replete with reflective quotes galore, inspiring books including those written by their parents and creative gifts designed to uplift one's soul. My family and I celebrated my beloved hubby Benny's birthday there. So grateful were we to be able to exchange anecdotes and spiritual experiences with Angie and Michael. We left refreshed and raring to return to Baguio to visit this dear couple once again.
Quoted Café is located on the ground floor of VHotel and Apartel, owned and operated by the gracious Del Rosario family. It is on the ground floor, which makes it so accessible to children and the elderly with ample parking right up in front.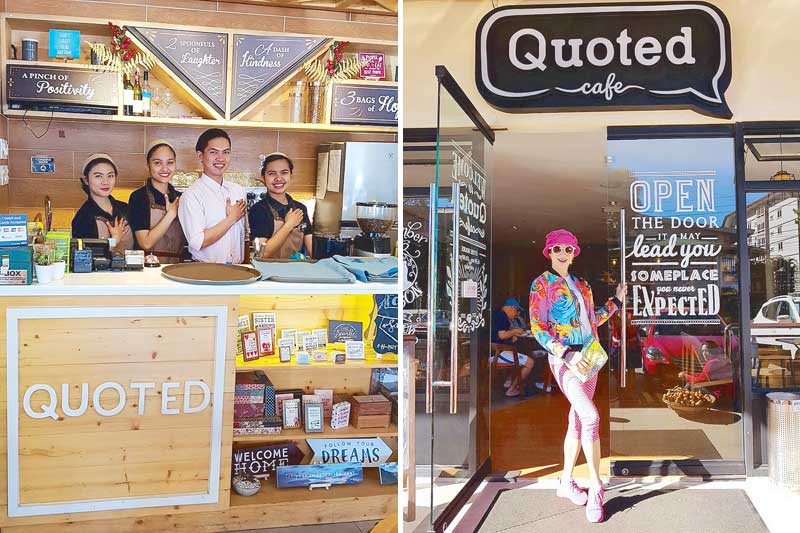 (Left) Quoted Cafe's warm and friendly staff (from left) Carmina Lipio, Joan Colcol, Jerome Marata and Jane Millete. (Right) The author at Quoted Café.
The cool, peaceful vibe of VHotel, with fully equipped kitchen and the fastest Wi-Fi, is a haven for many families like ours. Then we would take a leisurely stroll to nearby Burnham Park, join Zumba dance groups under the pine trees, go biking, visit Our Lady of Lourdes Church, then walk back with huge appetites eager to savor a hearty breakfast at Quoted Café.
I now miss the cafe's tasty homemade beef tapa, Baguio garlic longanisa, daing na bangus and pork tocino served by the warm, friendly staff plated with garlicky mountain rice, eggs cooked the way you like them, raisin bread and the best local coffee. Most unforgettable for me was the blended matcha tea topped with green tea chocolate shavings floating on fluffy whipped cream served in a glass bucket good for four. The salted egg potato fries my nephew Matthew ordered were homemade, light and delicate. The calamari, scrumptious. My son Vince finished his plate of tender lengua in mushroom sauce even before I could take a little slice to taste. The cheesy, beefy nachos overload are great for group sharing. Desserts are enticing, especially when served on the tables decorated with colorful handpainted river stones. These are exquisite, one-of-a-kind artworks done by Angie.
We can hardly wait to go back to Baguio to celebrate with the rest of our family in this special place that exudes good vibes, serendipitous encounters, and beautiful thoughts quoted with love.
* * *
(Would love to hear from you at miladayjewels@yahoo.com.)