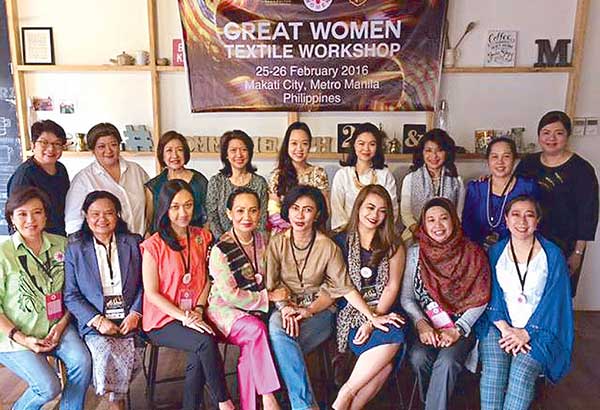 ASEAN Women on textile value chain. In 2016, the UPS and ECHOsi Foundations brought together ASEAN women from the textile supply chain in Manila. (Seated, from left) The writer, Taykeo Sayavongkhamdy of Laos, Xenia Palar of Indonesia, Nanda Pok of Cambodia, Sukmawati Nitta Lestari of Indonesia, Syafenaez Wahid and Zahara Abd Jalal of Malaysia and Ketsuphee Pitupan of Thailand; (standing, from left) Chit Juan, Reena Francisco, Yolanda Sevilla and Erlinda Miranda, Dr. Nguyen Bao Thoa of Vietnam, Mohom of Myanmar, Takakneary Seng of Cambodia, Viengsouth Oula Phetsanghaneand of Laos and Zarah Juan. Not in photo is Camille Escudero.
A SPIRITED SOUL
-
Jeannie E. Javelosa
(The Philippine Star) - August 12, 2017 - 4:00pm
The week that past saw the Philippines holding the 50th ASEAN Ministerial Meeting. In November, the ASEAN Leaders' Summit will be held. The country plays host to ASEAN's 50th anniversary.
It is half a century during which time the regional community has worked its cooperation through three pillars. They are namely: the ASEAN Political-Security Community (APSC), the ASEAN Economic Community (AEC) and the ASEAN Socio-Cultural Community (ASCC). The political, economic and social pillars are the most crucial areas deemed necessary for the progress and evolution of ASEAN and its peoples.
Writing from my space where we push the advocacy of gender, we are bringing something new to the game. We are giving focus to women. Women issues have always been kept under the socio-cultural pillar. This year, we are pushing it under the economic pillar to support the rising global trend of economically empowering women.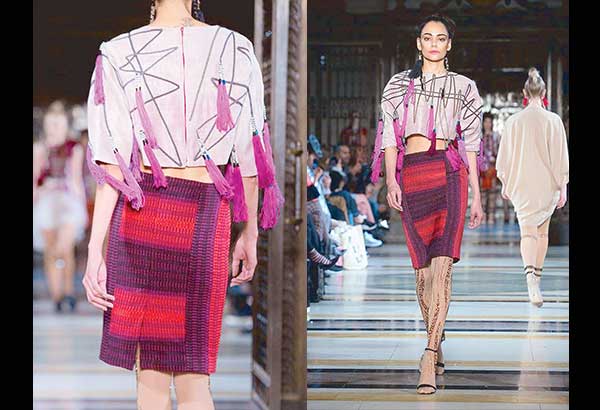 GREAT Women in ASEAN Fusion. The fashion creation of Happy Andrada, a GW Collective member, makes it to Vogue UK and the ramps of London Fashion Week this year. She mixed Philippine Ifugao tribe's woven textiles and Vietnam's Hmong tribe embroidered and woven accessories. Photos by PRASHANTHA YAMPATH
Our country's special program called GREAT Women Project and Brand is at the forefront of this advocacy. It is a successful innovation of public and private sector development partnership between the governments of Canada and the Philippines, and with lead private sector partner for market access, the ECHOsi Foundation, which owns the GREAT Women Brand. With many women entrepreneurs under a collective grouping, GREAT Women is focused on the commercialization of products to global markets under the inclusive business model.
From Aug. 28 to 31, the Philippines will be hosting the ASEAN Women's Business Conference at the Philippine International Convention Center. Four days running, GREAT Women in ASEAN Trade Showcase will highlight the collective of local women designers, producers and micro-entrepreneurs bringing in their items to show and sell. But we will also have our ASEAN network of GREAT Women joining us in both the trade showcase and a special GREAT Women ASEAN Fashion Walk during one of the dinners. These women have come into our network through the help of USAID when in 2014 they enabled our GREAT Women advocacy out into the ASEAN region.
Chronicling this journey is a book USAID and myself as author, will be launching during the conference. Titled Women Beyond Borders: The Beginning of GREAT Women in ASEAN, the narrative chronicles the beginning of the project here in the Philippines. It is also about other women's journey that intersects and continues to come together to create the advocacy gender platform. These are stories of empowerment through collaboration, of enterprise and trade, of the little women on the ground, within the context of the social enterprise space where we, as entrepreneurs, choose to hang our hearts on our sleeves and still sustain profits as we move together. And more importantly, the enabling environment that government and international donor agencies strive to build and sustain, while the private sector and other organizations come in to support and grow.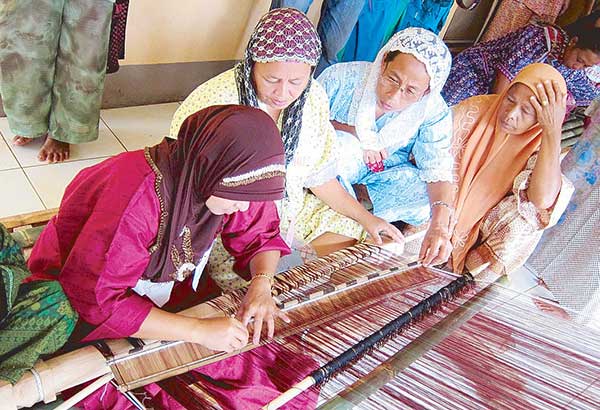 Inclusive business brings micro-entrepreneurs into the global supply chain.
Inclusive business, integrated supply chains, loops of sustainability, regional initiatives — these are all phrases that attempt to describe platforms, a model making sense today. We have seen it continue to work for the small farmers and producers, the start-up entrepreneur, and even with women-led enterprises with expansion challenges. The platform allows the small ones to step on it, for trade, exchanges, mentoring, and skills training for sustainability.
What GREAT Women Platform and Brand can offer ASEAN women entrepreneurs is access to capital growth for their businesses, too. Here, social impact and angel investors may find a viable platform from which to identify blue chip women enterprises or sunrise industry products that needed a push into the market, from green sustainable products and services to responsible luxury products — all produced by women entrepreneurs who have already been pre-screened, brought together by professional trust, enterprise capacity and the overwhelming desire to help create jobs for women in the supply chain.
What I am also excited about as we work within the GREAT Women in ASEAN network of textile weavers, small producers, designers and product developers is to give birth to a global ASEAN design ethos. So, it is not only about sustaining livelihood for the small artisan weavers in the remote provinces of this region, but to find that distinguishing sentiment in the collaboration of the collective. It is a mission to express a new design, production and market strategy thought process. From the diversity of ethnicities and global influences, the challenge is to distill this into contemporary lifestyle products of fashion accessories, home and gift items. Distilled from the ethnicity of tribal design, refined from the traditional artisan craftsmanship, strengthened through a regional supply chain that looks at the strength of each ASEAN country and transformed into items that create statement for functionality, beauty and use in everyday life. And this is how markets will be sustained.
Our GREAT Women in ASEAN fashion designers and producers are coming up with a small collection to initially try to capture this. I am confident it will come together in the very near future. How could it not with the shared passion of all the women we are working together with under GREAT Women in ASEAN? At the 50th year of ASEAN's existence, we are dealing the women card. I know it will be a winner.